Domo Consulting
Supporting Leaders to EVOLVE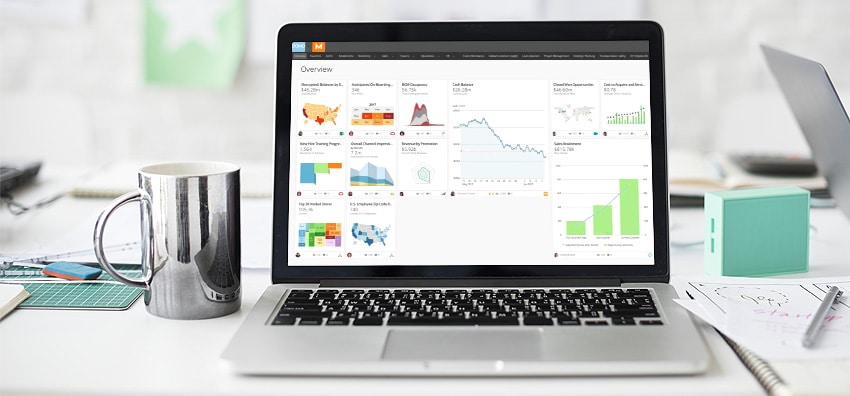 Align Data Around Key Business Objectives
Connect Data From Any Source
Domo is a powerful tool for connecting and combining your business-critical data, leading to actionable insights in seconds. Blast can help you optimize your investment to drive smarter decision making and better results.
Ready to Accelerate Your Path to Actionable Insights?
You realize that dashboards tailored to the roles and departments in your organization is a must to make sound decisions, to remain competitive, and achieve your goals. Yet, many organizations are swimming in a sea of disparate data, have reporting that isn't delivering actionable insights, and many are overwhelmed by the perceived complexity of solving this dilemma. So, where do you start? With a Domo consultant, of course!
What is Domo?
Not all BI solutions are created equal, and Domo is proof. More than just a tool, Domo is a cloud-based dashboard and data visualization platform that turns data into actionable insights —quickly and easily — for better, faster decision making.
Domo connects your team to the vast amounts of data spread across your organization, delivering key insights and opportunities as they arise, with active alerts. This enables you to remain on the pulse of your business and industry. With these tailored findings, you can develop and execute strategies to EVOLVE and be more successful sooner than later.
Accelerate Your Insights + Action
Today's leaders require more than just data analysis. You need insights that drive action — and better return on investment.
Yet many of today's business intelligence tools continue to focus on data integration, and lack the ability to deliver the data in a meaningful way.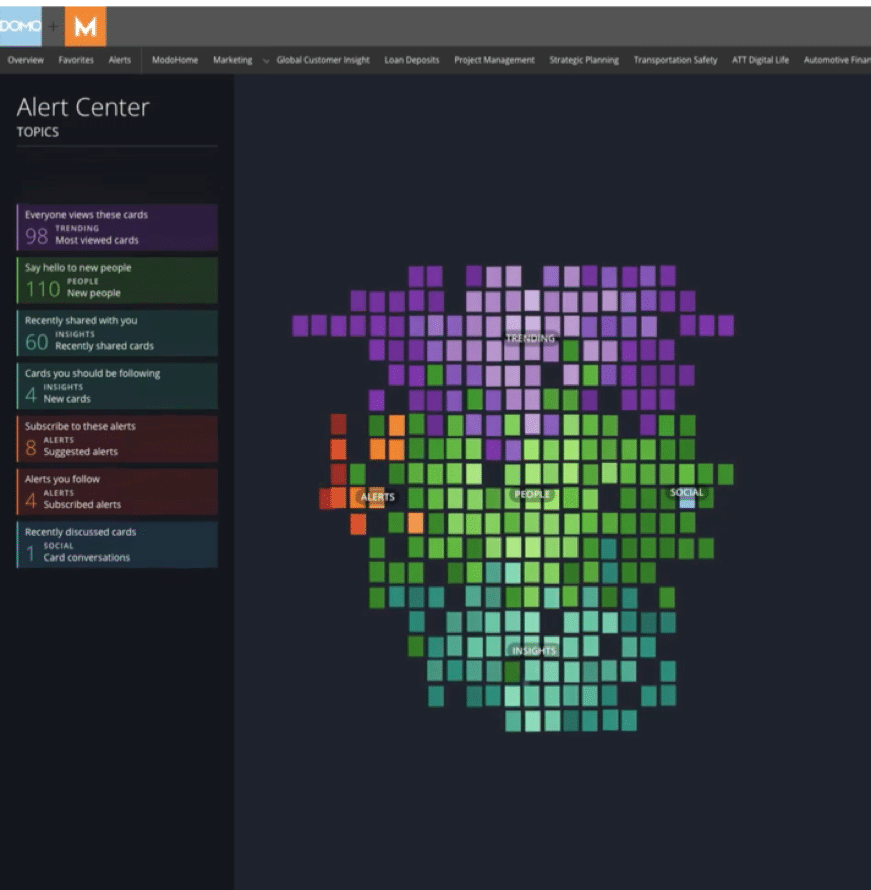 Domo is different.
It provides data management that simplifies data integration and streamlines the visualization using industry best practices and extensive feedback from leaders like you. This dramatically accelerates implementation, supports leaders with alerts and insights, and most critically, promotes action that leads to measurable results.
How? Domo combines real-time data from all of your systems into one all-inclusive, intuitive dashboard. This enables executive decision makers and business users to:
Align your people, data, and processes around key business objectives
Easily connect with your most relevant data, from any source
Collaborate around that data in an open, self-service platform
Make more informed decisions to achieve optimal outcomes
Protect personally identifiable information with strict data governance
Scale infinitely on the cloud as your business grows
Read more about the reasons business leaders love Domo.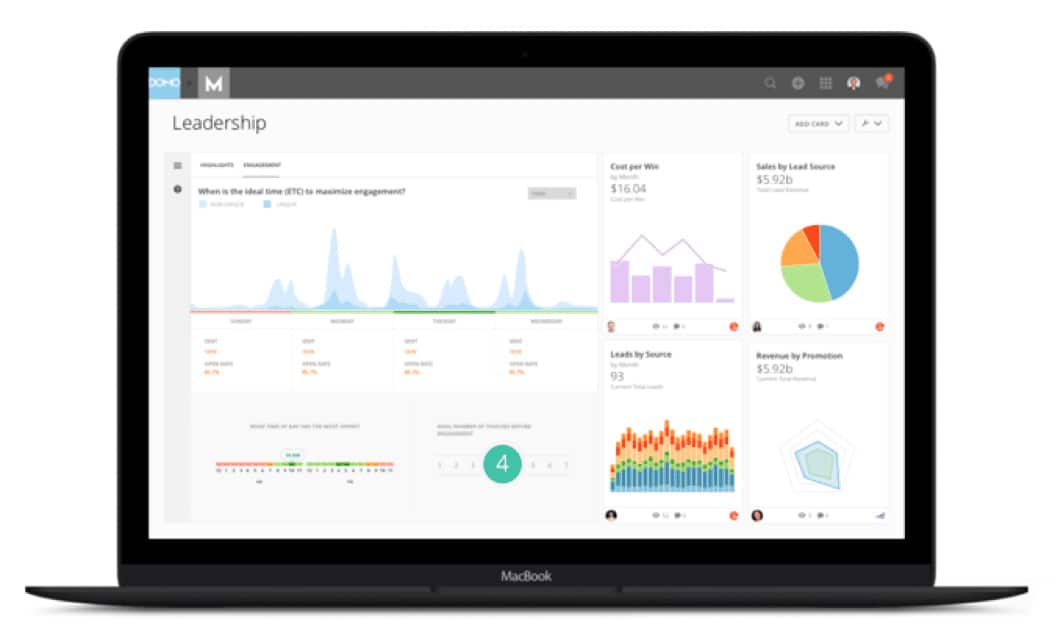 Integrate All Data Sources into a Single Platform
You've got data — lots of it — spread across your organization. Domo makes it easy to integrate data from any source, on-premise or in the cloud, with a flexible array of data connection options. With Domo, you can analyze, visualize, collaborate on, and make decisions on your data, all in one place.
Domo Consulting for Your Industry
With Domo consulting expertise from Blast, you can dramatically increase the results for your specific business using Domo's powerful BI platform. Below are sample use cases* for several of the industries we serve:

Education
Identify at-risk students
Track successful intervention programs
Measure student progress
Manage alumni and community relations

Financial
Consolidate reporting into a single channel
Gain efficiencies of scale
Improve access to data
Maximize ROI

Healthcare / Pharmaceutical
Track the quality of care
Decrease cost per outcome
Increase operational efficiencies
Monitor the effectiveness of new treatments

Industrial Manufacturing
Track your important performance metrics
Monitor products, times, and lines to solve problems faster
Ensure actual costs are tracking properly against budgets
Collaborate across teams, departments, and facilities
Forecast inventory needs and production capacity for increased efficiency

Media & Entertainment
Maximize brand and campaign profitability
Extend reach and frequency
Improve paid social performance
Increase customer acquisition and loyalty

Retail
Understand campaign effectiveness across all channels
Maximize brand and campaign profitability
Optimize acquisition cost all the way through to online purchase

Technology
Increased revenue retention
Accelerated adoption rates
Faster iterations

Travel
Drive customer loyalty
Manage costs
View campaign performance at-a-glance
Track web analytics
*Source: domo.com
Avoid Common Missteps and Ensure Success with Domo
A Domo certified consulting expert will help you optimize your return on analytics investment (ROAI) by helping you avoid common missteps and ensure a sound BI/analytics strategy is executed that results in dashboard reporting that alerts you to what you need to pay attention to in order to optimize your organization.
Leveraging our unique SIOT methodology — strategy, implementation, optimization, and training — Blast's experienced team will work with you to:
Define specific business objectives, identify key business questions, and document your strategy with a supporting roadmap.
Identify your most relevant data, connect to the specific sources, and develop visualizations mapped to your needs.
Drive higher user adoption, increase engagement and governance, and provide continuous optimization.
Train your team to increase self-sufficiency, share best practices, and help EVOLVE your overall Domo capabilities.
Get the Experience you can Trust to Make Your Mark
To succeed in today's business environment, you need to make better, faster decisions, and then take action. Leveraging analytics to power actionable insights will help you Make Your Mark by strengthening your position as a leader within your organization and, most importantly, delivering greater business results.
Our Domo consulting experts are ready to help you accelerate your path to actionable insights. When you are ready, they will provide a demo or answer your questions — whether it's about Domo features, Domo pricing, or the difference between solutions such as Domo, Tableau, Power BI, Google (Data Studio, Big Query, Cloud), Oracle, MicroStrategy, SAS and SAP.
Looking for help beyond Domo?
Check out all of our data visualization solutions and other dashboard reporting consulting services.
Looking for analytics consulting beyond just dashboards?
See the breadth of analytics services provided by our analytics consultants.