Mixpanel Consulting
Supporting Leaders to EVOLVE

By understanding why customers engage, convert, and return, marketers can EVOLVE their organizations and drive better results. Mixpanel, combined with Blast's consulting expertise, will enable you to effectively analyze, measure, and improve your customer experiences.
Mixpanel: Engage Customers, Improve Results


Get more personal with your analytics! is an advanced analytics platform for mobile and the web. It can help you more deeply understand how your users behave on your digital properties.
How is Mixpanel Different?
See timeline activity for specific users (see example to the right)
Survey your audience
Send personal messages to users
Engage users with automated messages based on specific events
Measure lifetime value of customers
Powerful Customer Segmentation and Targeting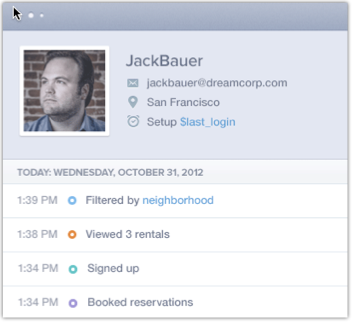 Event Driven Analytics
The platform gives you the ability to measure any action a customer takes on your site or mobile app. By tracking events, Mixpanel allows you to associate properties with those events, and associate profile data with people. Once the visitor profile is set, you can filter the content to target the specific user. This analytics platform is extremely flexible, which is ideal for tracking individual interactions, and the reports available in the interface provide powerful insights down to a specific user.
Mixpanel also provides you with the ability to conduct top-of-the-line mobile A/B testing, so you can develop the best possible version of your application.
More Targeted Interactions with your Audience
If you are ready for more targeted and individual interactions with your audience, based on their needs and interests, we can help you properly setup this leading analytics platform and ensure you are getting the most value out of it.
We'll review your goals to help you set up proper key performance indicators (KPIs) to track so you can measure, analyze, and optimize. With proper training, customization, and strategy you will get the information you need to:
Track product usage
Measure conversion rates
Analyze visitor retention
Build reporting segments on the fly
Send targeted messages based on behavior