Snowplow Analytics Consulting
Supporting Leaders to EVOLVE
Analyze Data With Any Analysis Tool
Join Data From Other Sources
Snowplow is ideal for data teams that want to manage the collection and warehousing of data across all their platforms and channels, in real-time. And with Blast's proven consulting expertise, you can accelerate your analytics journey.
Enterprise-Level Event Data Collection Platform
Snowplow isn't just an analytics platform, it's an event analytics platform. It gives you the ability to capture, store and analyze customer-level and event-level data in your own data warehouse. Snowplow allows you to have unrestricted access to the raw clickstream data so you can segment your audience, in real-time, based on their behavioral data.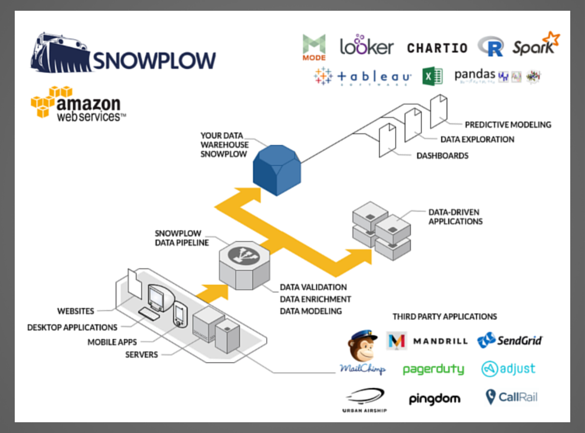 You can use Snowplow to:
Drill down to individual customers and events
Join web analytics data with CRM data
Compare behaviors between cohorts
Segment your audience by behavior
Own your clickstream data
Reprocess data anytime
Scale linearly using AWS
Calculate CLV and Churn
Snowplow Event Analytics Consulting Services
Our clickstream consulting services will allow you to leverage this highly scalable event analytics software with little effort. In partnership with Snowplow Analytics Ltd, we manage all the necessary infrastructure to provide you with answers to your critical business questions, and help you drive action.
Why use Snowplow Analytics?

1. Answer the questions that matter to your business
Snowplow helps you answer the difficult questions that really matter to your business. Questions like:
How long is the customer lifecycle from first visit to purchase?
What is your customer retention/churn?
What is the most common path to signup?
What is your customer lifetime value per acquisition channel?
What is the impact of different ad campaigns/creative and a users subsequent behavior?
What is the first/last channel touchpoint for users who have purchased?
Who signed up more than 3 months ago but never purchased?
What % of users who signed up at a specific time are still purchasing?
Which visitors added products to their cart but didn't finish? What products were they?
2. Own your data in a structured data warehouse
With Snowplow Event Analytics you own your web analytics data in an easy, scalable, and reliable infrastructure that you control. Your data is delivered to Redshift, PostgreSQL or HDFS (Hadoop) allowing you unparalleled flexibility of analysis.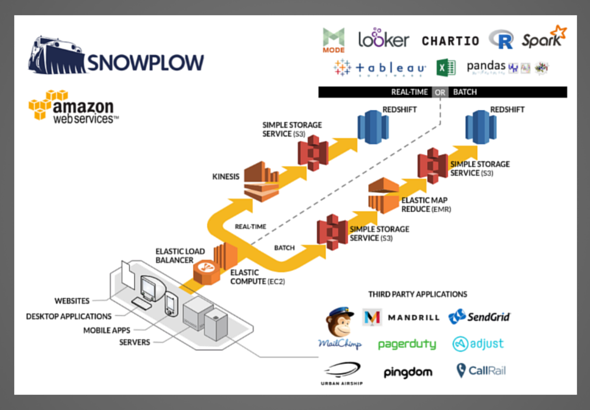 3. Analyze your data with any analysis tool
By delivering your data to a database you own, you have the ability to use any tool to analyze it, including: R, HIVE, Tableau Software, SAS, Python and even Excel or Google Spreadsheets.
4. Join your data with any relevant data set
By delivering highly granular event-level data in your data warehouse Snowplow enables you to join data from other sources including:
CRM data: develop behavioral segments and calculate CLV
Email marketing data: track what emails each user has received and their subsequent on-site behavior
Merchandise data: analyze the types of products that your users have viewed, added to basket and purchased
Ad server data: track not just what ads a user has seen, but their subsequent on-site behavior
How much does Snowplow cost to run vs the competition?
The projected cost of running Snowplow on Amazon Web Services is dependent upon the number of hits (amount of data).