Adobe Dynamic Tag Management Consulting Services
Supporting Leaders to EVOLVE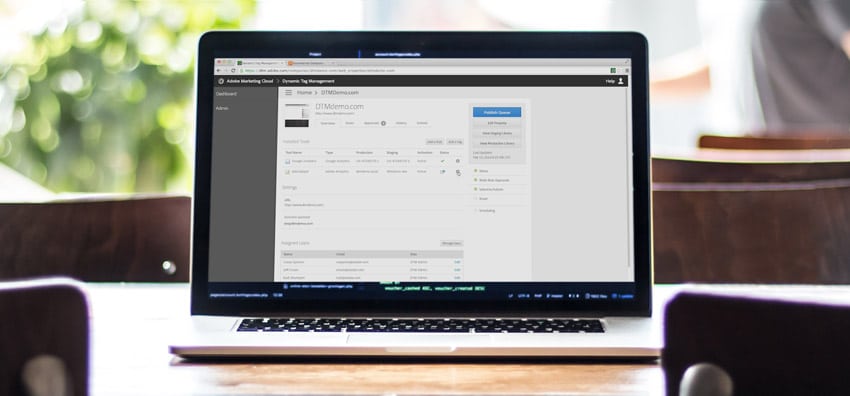 Dynamic Tag Management (DTM) lets marketers quickly and easily manage tags and provides innovative tools for collecting and distributing data across digital marketing systems. It also enables responsive delivery of user-specific content — providing new levels of agility and control to companies seeking to thrive in today's fast paced digital marketplace.
Improve Your Real-Time Reactions
Adobe Dynamic Tag Management can help you optimize your user experience by allowing you to work with any tag, pixel, script, tool, framework, library, content, experience-enhancing plugin, or widget — practically anything.
And with DTM's precise control over exactly when and where in the page you want your technology to go to work, you can optimize responsiveness, site speed, and overall site performance, all without leaving the comfort of the user interface.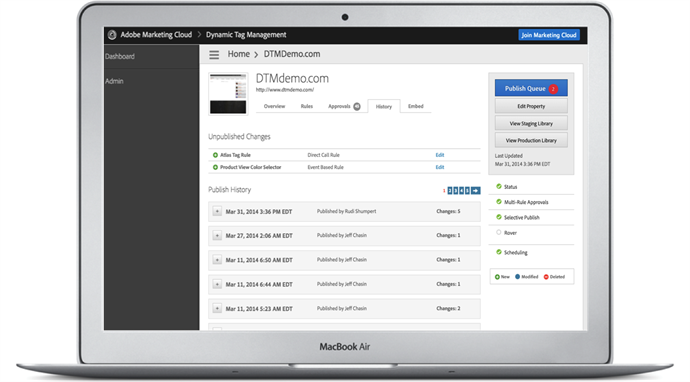 Why Adobe Dynamic Tag Management (DTM)?
Now you can focus on improving your user experience, and conversions, in hours rather than months. At the same time, developers can satisfy requests, optimize code, improve browser compatibility, and tweak their sites in near real-time. With the ability to test on production with no end-user impact, and deploy any time you want, DTM gives you ultimate control.
Features of Adobe Dynamic Tag Management
Works Faster: The average Dynamic Tag Management client reclaims over 95% of the time they spent managing tags in the past.
Site Speed: By removing analytics and marketing tags from your code, your site will load faster and increase your conversions.
Manage Multiple Sites: If you have multiple domains or subdomains, Dynamic Tag Management automates the process for you, configuring your tool settings to handle these scenarios without having to write any code.
Reduced IT Resources: Dynamic Tag Management's simple interface allows non-technical users to manage your tools. Or, if you're IT department still wants to oversee tag management, it lessens the time they will spend on this one task. Either way, IT will be happy.
Mobile Analytics: Dynamic Tag Management provides you with the ability to react to a number of unique interactions, including mobile phone dials from page content, device orientation changes, zooming via pinch/double-tap, and links that trigger native apps.
Adobe Dynamic Tag Management Consulting
Blast is an analytics & marketing company with a large team of experts in Tag Management System Strategy, Implementation, Optimization and Training.
We can help you with TMS selection, establishing tagging needs, tag clean-up and migration, implementation, deployment, post implementation audit, maintenance, optimization, analysis, and training of your team.
Following our proven methodology, we will ensure your organization achieves all the benefits of DTM, is making data-driven decisions, and gets the most out of this tag management solution. If you're unsure about the quality of your Adobe Analytics and DTM strategy and implementation, an audit of your Adobe Analytics implementation is a recommended way to get started.
Learn more about other tag management solutions we work with and how we can help you select the best solution.