Analytics Blog
Supporting Leaders to EVOLVE

5 Data-Driven Content Marketing Takeaways from 2019 Contently Summit
On March 20, 2019, in a packed auditorium at the PlayStation Theater in New York City, I went back to school to learn from some of the top brands and minds in content marketing.
The Contently Summit 2019 was creatively set with a "university" theme, where attendees were inspired to earn a "Masters of Content," degree of sorts, as well as become "Masters of Content." I was among the more than 200 professionals eager to learn and EVOLVE our individual and organizational content marketing acumen.
While no one walked away with a leather-encased diploma, more important, attendees left with a wealth of knowledge, ideas, and motivation. Below, are five of my high-level data-driven content marketing takeaways from the event.  

Takeaway #1: Customer-Centric Content is Key
As a modern marketer, you've undoubtedly been exposed to the concept and best practice of building campaigns around your customer needs, wants, and behaviors. In other words, customer experience is the new business strategy, which applies directly to content marketing. Still, many organizations don't put themselves in their customers' and prospects' shoes when developing and distributing their content, resulting in lots of inefficient, ineffective material.
"…many organizations don't put themselves in their customers' and prospects' shoes when developing and distributing their content, resulting in lots of inefficient, ineffective material."

Click & Tweet!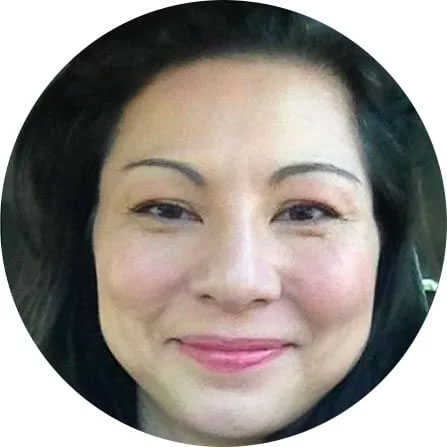 In her keynote presentation on the "The Content Transformation Challenge," Christine Polewarczyk, Service Director of Content Strategy and Operations at SiriusDecisions, offered up a tip, leveraging an Albert Einstein quote: "We cannot solve our problems with the same thinking we used when we created them." Indeed, for marketers to break through and move the needle with content, you need to do something different.
If you're not already doing so, look at your data to gain a better understanding of your customers, what content they like (and don't like), and opportunities to improve the customer, or user, experience. Also, consider some testing and personalization to ensure you're delivering the right content, to the right audience, at the right time.
Takeaway #2: Marketers Must Unite with Data Analysts
Speaking of data, consider it a marketer's best friend. Throughout the 2019 Contently Summit, it was made clear that content marketing is both "art and science," and brands must ace this combination to execute effective strategies and campaigns. By working with your analytics counterparts, marketers can leverage content data not only to discover new opportunities but also to determine what's currently working and what's not.
For many organizations, this is easier said than done. While marketers have access to more data than ever before, harnessing it for meaningful Insights + Action can be a challenge. RBC Wealth Management offered a model for success.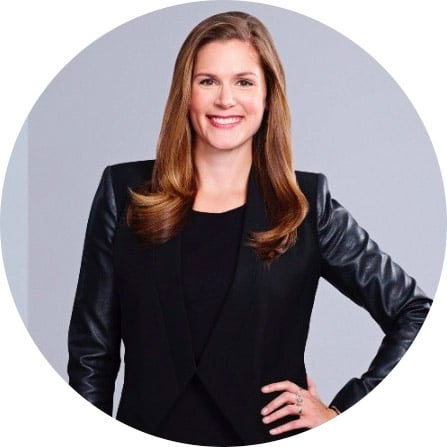 Ashleigh Patterson, Senior Director of Global Content Marketing and Social Media at RBC, has united with her company's analytics team — forming a "dream team," as she calls it — to develop custom dashboards that report on key metrics around users, content categories, leads, traffic channels, campaign performance, and more. This information is then used to help create innovative campaigns and content "built with data."
Simply put, data-driven content marketing, including continuous measurement and optimization, increases the likelihood of engagement, conversion, and ROI, so it behooves you to tap into your internal analytics resources and/or some level of analytics consulting.
Takeaway #3: Storytelling is the Real Thing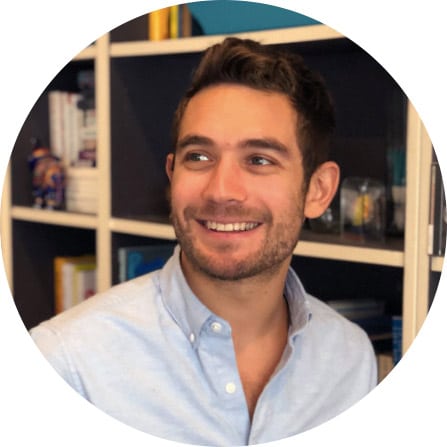 This 2019 Contently Summit takeaway is dear to my heart as a writer. What once seemed like a glorified word for writing, "storytelling" actually has significant distinction and is now a fundamental element for successful content marketing. Every company has a story to tell, and the good ones make your brand more personal, help you better connect with your audience, and drive increased loyalty. Why? As Joe Lazauskas, Head of Content Strategy at Contently, points out;

"Our brains are built for stories. We are hardwired to dramatize, to imagine, and to be pulled into good stories."  — Joe Lazauskas
Without getting too scientific, certain areas of our brains — motor cortex, emotional reaction, imagining sensations, visual image processing — "light up" when we hear or see a story. Stories help us remember, generate empathy, and even bring us together.
Smart marketers understand the need to use stories to connect with their audiences and become more human. Therefore, the ability to tell great stories, including how you Make Your Mark, is critical for any organization or brand that wants to EVOLVE in today's business world. Think of your favorite brands, and chances are you can recognize and relate to their stories. To borrow from the Native American proverb, "Those who tell the stories rule the world."
Takeaway #4: SEO Still Matters, Big Time
As Director of Marketing Strategy at Blast, I was happy, though not surprised, to hear that search engine optimization (SEO) remains integral to content strategy. Some even say they're synonymous to a degree. At a minimum, any content strategy should be informed and enabled by SEO.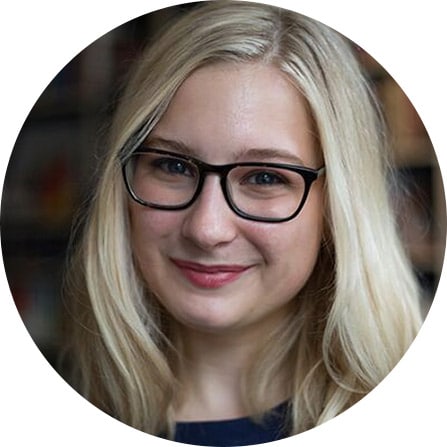 For starters, Kristen Poli, Manager of Strategic Services at Contently, cited that 70 percent of people ignore paid search results, choosing to only click on organic listings. And when we look at the sales "funnel," 63,000 searches are performed per second, 71 percent of consumers use search engines to discover new products and services, and 74 percent of consumers use search engines for product comparisons and transactions. Who says "SEO is dead?"
"…70 percent of people ignore paid search results, choosing to only click on organic listings."

Click & Tweet!
A variety of SEO tactics, from audits and keyword research to on-page optimization and technical improvements, can help increase your rankings, traffic (clicks), and conversions.
That said, you still need a paid media strategy to augment your organic search efforts to boost ROI through greater brand awareness and visitor engagement. If you don't have the expertise in-house, consider partnering with a consulting company that does.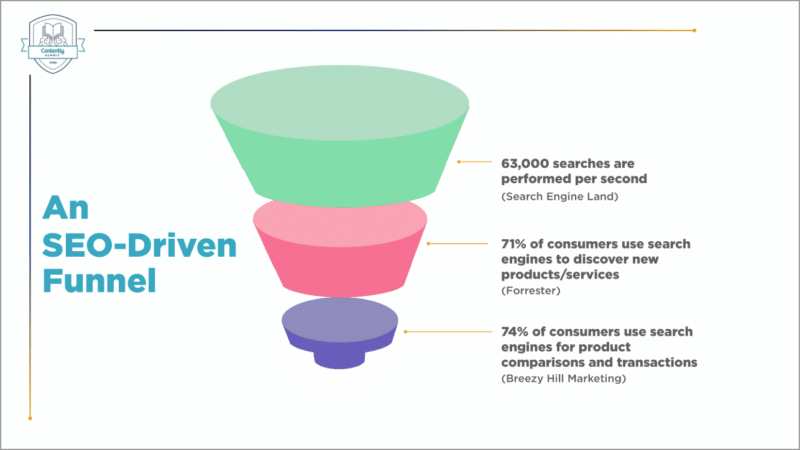 Takeaway #5: Yes, Even You Can Scale
One of the biggest challenges organizations face when it comes to data-driven content marketing is how to execute — and even more difficult, how to scale. Embarking on a full-fledged content strategy may seem like a daunting initiative, particularly for less mature or resource-strapped companies. But the reality is that any organization can get started and continue to grow their content marketing operations over time.
"…any organization can get started and continue to grow their content marketing operations over time."

Click & Tweet!
Begin with the basics, including a documented strategy that aligns your content goals with one or more business objectives, as well as simple personas for your target audiences. Then create a content roadmap, or editorial calendar, based on keyword research and analytics, focused on your most relevant themes.
To create your content, think like a media company and apply editorial best practices to produce timely and worthwhile content. And you can extend the reach of your content, while increasing ROI, using COPE (create once, publish everywhere).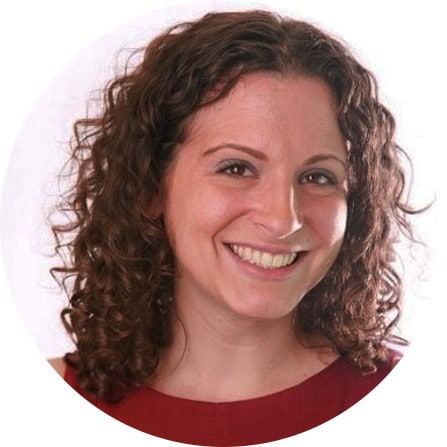 Regardless of the amount of content you're able to produce, remember this, according to Julie Hochheiser Ilkovich, Managing Partner and President, Editorial Operations, at Masthead Media: "Quality matters. Create the best content you can with the resources you have."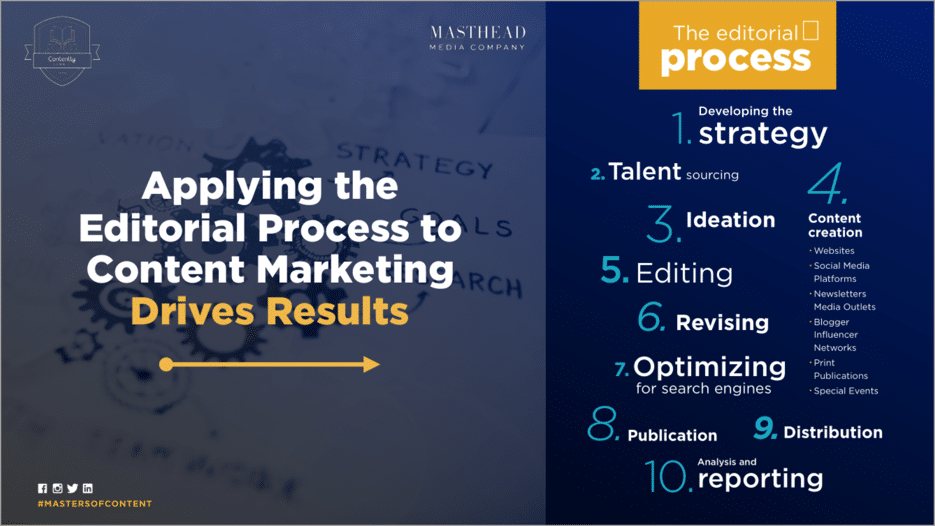 Bonus Takeaway: Swag (Done Right) Is Still Cool
Okay, this actually makes six takeaways, but it's worth mentioning. When it came to showcasing its own brand, at the 2019 Contently Summit, Contently nailed it. Beyond the clever theme, venue decor, and overall program content, the company catered to attendees in a highly personal, relevant way.
This included a bunch of quality giveaways, from pens and notebooks to sunglasses and water bottles, and a classy backpack to carry it all. Without question, this additional touchpoint enhanced the "customer experience" (see Takeaway #1), further connecting me to the Contently brand and inspiring me to make my mark as a "Master of Content."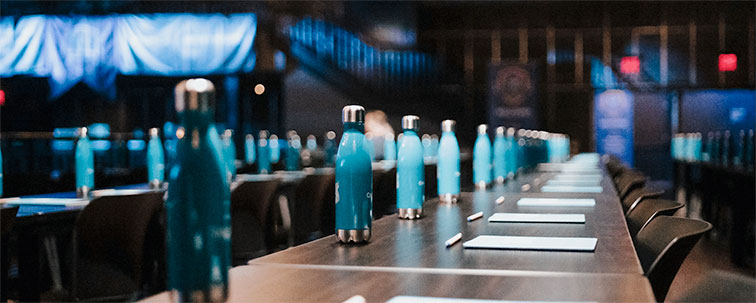 I'd love to hear from other 2019 Contently conference attendees and anyone in the content/digital marketing community on these or other takeaways, as well as additional tips to EVOLVE our organizations through data-driven content.