Analytics Blog
Supporting Leaders to EVOLVE

Top 6 Highlights from MozCon 2011 SEO Conference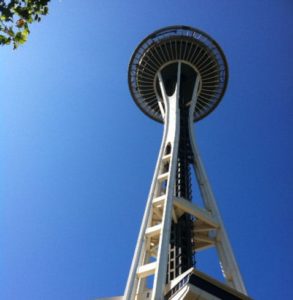 Last week I had the opportunity to visit Seattle, WA to attend SEOmoz's MozCon 2011. MozCon is a three day conference filled with tons of insights about advanced SEO techniques and online marketing from some of the top people in the search industry.
We learned about:
SEO
Paid search
Retargeting
Branding
Content strategy
International search rankings
Social media
Marketing and many other topics.
Rand Fishkin, CEO of SEOmoz, started MozCon off talking about Online Marketing and how it is different than traditional marketing. For a lot of people marketing has a negative connotation along with it because of the interruptions that are caused by their marketing techniques. Online marketing is different since it tries to give the viewer something that they are looking for instead of an interruption. He said that as online marketers, "we are trying to make the web a better place."
1) SEOmoz Upgrades
After his short opening remarks Rand announced a few new features for the SEOmoz toolset.
New SEOmoz Toolbar for Google Chrome is now available. Great news to Chrome users like me who had to switch back and fourth between Chrome and Firefox when I wanted to use the toolbar.
Upgrades to Open Site Explorer
New Social Data available – Facebook Likes and Shares, Twitter Tweets, and Googles +1's
See the most shared pages
New filtering and a custom reports
Improved Linkscape indexing
You can learn more about the upgrades to Open Site Explorer on SEOmoz's blog
2) Marketing Tips
Marketing expert Bob Rains said that "Marketing is all about harvesting hunches."
Here are a few of Bob's rules for creative marketing:
There are no boxes, no hats (white or black), no BS. – Keep away from all of the preconceived notions about online marketing and just do it.
All I know is that I don't know anything – Get rid of the ego and learn something new
The more the merrier – Get all the information you can from all your sources
Junior high for life – Be willing to do the stupid stuff that you did in junior high. Don't be afraid to try new and crazy stuff.
Be a BFF!! Connect with people and be their friend, it's all about relationships
Know when to say when – Knowing when to stop is an art in itself
Fail Fast – Try it to see if it works, if it doesn't then let it go, learn from it and try the next idea.
3) Site Content
During his talk on content strategy Ian Lurie of Conversion Marketing asked, "Why is content the dried turd of the marketing world?"
I have to agree with him on this. I've seen lots of people create the content at the last possible moment when it is one of the most important thing about the site. Ian talked about how important content is to a website and how to produce better content that will get your site results.
Read more about his presentation: Content marketing in a nutshell: Good enough isn't
4) Conversion Rate Optimization
It's great to drive more traffic to your site via SEO, but don't stop there. In order to magnify your sales you need to widen the sales funnel from the top down to increase conversions. Stephen Pavlovich of Conversion Factory gave some great tips on how to improve your site's conversions.
Map out your sales funnel
— Get all the conversions rate at each step
— You will find out what is missing
Find out what step of the funnel you can remove
Find the problem – Find out what what the customers were thinking
— Persuasion is common problem
— Usability
Create a list of the problems and solutions – Grade them by ease & impact
Don't limit your tests to your existing structure/designs – Some times you need to start from scratch
Small or big tests? Innovate with big tests (most), refine with the small tests.
Set up analytics first – Track what kind of effects the test makes.
Use testing tools to run the tests – Visual Website Optimizer, Google Website Optimizer
What if the tests don't succeed? – 75% of all tests fail – Learn from your failures.
The biggest failure is not testing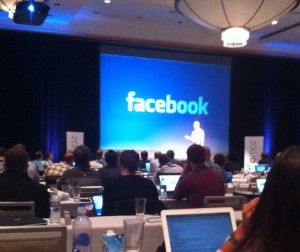 5) Facebook Marketing
Facebook's Alex Schultz talked about Facebook's Hidden Marketing Opportunities. He said, "The web is changing, and it is being rebuilt around people" and social media is going to be the center of the web.
He talked about some different Facebook tools you can use on your web site:
Autologin – Using your Facebook login on various websites
Facebook Insights for developers
Facepile – See which of their friends are using their site
Shares & Likes
6) Rich Snippets – Schema.org
Stephen Weitz, Director of Microsoft's Bing, talked about the future of web search technologies and how web sites can take advantage of these technologies now. He explained how SEO is all about telling the search engines what your web pages are all about.
The problem is that search engines are dumb and have problems with understanding what the content is really about. To help out the search engines Google, Bing and Yahoo have teamed up to create a markup language, Schema.org, that will help them understand the content on your site better.
This is definitely something to follow closely and start using on your site now.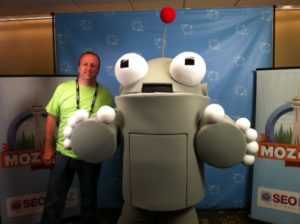 Time to Implement
Now that the conference is over I will be busy implementing many of the techniques and tips that I learned at the conference on our clients sites.
I highly recommend the MozCon SEO conference to anyone that wants to increase their knowledge of search engine optimization and online marketing.
Look forward to seeing you again next year, Roger!
Questions?
In case you didn't get the chance to go, feel free to ask me any question you have about what I learned or the event itself.