Analytics Blog
Supporting Leaders to EVOLVE

Top 5 Questions on Enterprise Google Analytics 360 Suite
With the recent announcement of the Google Analytics 360 Suite comes several questions for existing and new users. As with all things in the analytics industry, change is inevitable, and most of these changes are positive. Are you curious what "this 360 thing" is all about and how it can impact your business?
In this post, we'll answer the most common questions we've heard from our customers and (just in case you've missed all the hype) provide a quick review of the new Google Analytics 360 Suite tools — and how they can help evolve your organization.
Google Analytics 360 Suite Top 5 FAQs
Below are the top five burning questions we've received about the new 360 Suite. If you have others, please reach out to us or leave a comment on this post. We promise to respond.
#1 – Will the change to Google Analytics 360 have any impact on our day-to-day work with the tools, and will new features be available?
Answer: Google Analytics Premium is being renamed to Google Analytics 360 Suite. Along with a slight UI update that allows you to better toggle between the other 360 Suite products, the interface is the same one that you already know and love.
With the introduction of the new 360 Suite tools, it's an opportunity to evaluate and understand if the other tools would provide value to your business (and this can be a positive change to your day-to-day work). Google Analytics 360 is now connected to the other 360 Suite tools.
New features are constantly being developed for Google Analytics and Google Analytics 360. Most recently, the new User Explorer feature was rolled out to allow you to view more granular data in the interface.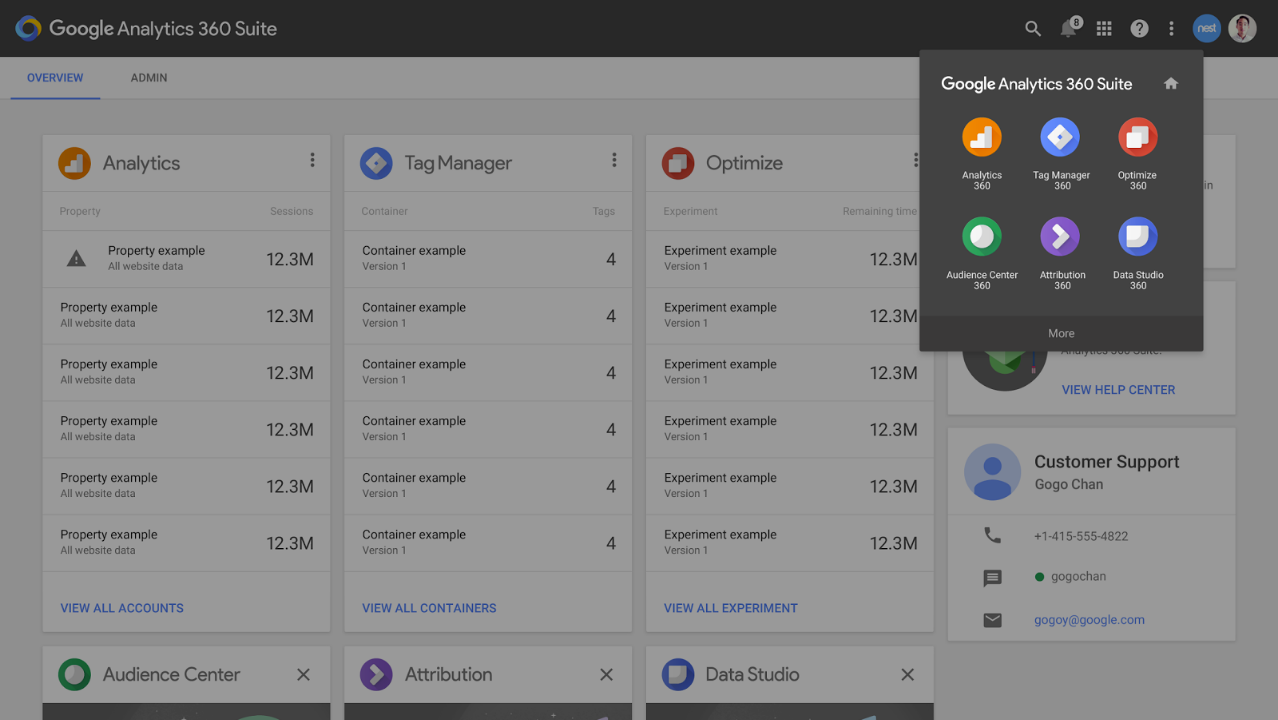 #2 – Do I have to have Google Analytics 360 (Premium) if I want to use one of the other 360 Suite tools?
Answer: You can purchase the other 360 Suite tools independently of Google Analytics 360, but keep in mind that Google Analytics 360 is the centerpiece of data collection that enables richer access to data.
For example, you could leverage Data Studio 360 and connect it to Adwords, YouTube, and Google Analytics Standard (free version), but if you upgraded to Google Analytics 360, you'd have access to unsampled data, more custom dimensions, faster processing, and more.
#3 – How much does the Google 360 Suite cost, and how do I purchase one of the new 360 Suite tools?
Answer: The "360" nomenclature is synonymous with both enterprise and paid. Google has not publicly released any pricing information. All 360 Suite tools (including betas) are paid products. You can connect with our Solutions team to learn more about these solutions and get pricing information.
#4 – Should I use Google Optimize 360 over my current testing solution?

A: This is a great question. Over the years, Google has attempted to launch testing solutions to varying degrees of success. We're confident that the latest product is up-to-par with the other popular vendors.
If you don't use Google Analytics today, then we don't recommend switching to Google Optimize 360. If you do, then it's quite compelling to be able to leverage the behavioral data you collect in Google Analytics to build audiences that can be targeted inside Optimize 360.
If you'd like to evaluate this tool for your business, reach out to receive a personalized demo. Each client we work with has different needs and, for some, Optimize 360 may not be the right solution. Competing products such as Adobe Target or Optimizely (for example) can achieve similar results, so it's best to explore your unique needs with our Solutions team.
#5 – Did Google Data Studio 360 just replace Tableau?
Answer: The new Google Data Studio 360 product does overlap with what Tableau can do, but it's not a replacement. We view it more as a supplemental product. There are many important differences between the products:
Whereas Tableau supports more than 100 data connectors, Data Studio 360 only supports six today. This can limit you, but there are also creative ways to get your data into a supported Data Studio connector (such as BigQuery or even Google Sheets) to overcome some of this limitation.
Data Studio doesn't support many of the advanced features of Tableau, such as highly custom visualizations, time-series forecasting, and more.
Data Studio 360 isn't a truly interactive visualization. Tableau allows very granular controls over drill-down behavior and interactivity.
Data blending and joining is better supported in Tableau.
Here's what we LOVE about Google Data Studio 360:
The native Google connectors, such as Google Analytics 360, are a breeze to connect with and to quickly start creating visualizations. The speed for new users to immediately connect to data sources and then drag and drop dimensions and metrics to create flexible visualizations is impressive. If you've ever tried to connect Adwords to Tableau, you'll love the speed and simplicity of doing this in Data Studio.
Everything is in the cloud, which means you don't have to use a separate desktop authoring tool and then remember to upload to a server (which requires technical knowledge to setup) or to the online cloud. Since your data sources are all in the cloud, there's less confusion as to whether data has been updated too.
The free version of Google Data Studio (non-360) provides up to five reports per user and opens up data visualization to the masses like no other tool has done to date.
Google Analytics 360 Suite Review: What You Need to Know
The 360 Suite is a collection of several existing and new tools that are all connected to give you better insight and ability to take action on your data. Included in the Google Analytics 360 Suite are six tools (some new, some existing):

Google Analytics 360 (existing)
This product was previously known as Google Analytics Premium. It's being rebranded as Google Analytics 360 and serves as the data collection centerpiece for all touch-points and integrates with the other Suite tools very nicely. Google continues to add new features to this great product, but in essence, it's a renaming of the same product and will introduce a slightly modified UI to better connect you to the other 360 Suite tools available.
Google Tag Manager 360 (sort of new)
Google Tag Manager 360 is the tag management tool that allows your business to move quicker by deploying marketing technologies and measurement tools to your site. This is one of the products that Google has not been vocal about in regards to how it's different from the free version of Google Tag Manager.
The short answer is that it isn't that much different today. We do expect changes to the 360 edition that better support enterprises. All 360 Suite products do include a service level agreement, as well as enterprise support.
Google Optimize 360 (new)
Google Optimize 360 is a website testing and personalization tool. This tool does what a lot of other testing tools can do, but there's one huge differentiating factor: it's directly connected to Google Analytics 360 and can leverage user behavioral data that is collected to better target and personalize for specific types of users.
Google Attribution 360 (existing)
While Google Analytics 360 includes some very nice Multi-Channel Funnel and Attribution tools (including a data-driven attribution model), this product takes things to the next level. In 2014, Google acquired Adometry. Google has stated that they've rebuilt the product, and it's now part of this new suite.
If you want to achieve the most powerful marketing mix, this product will get you there by helping you see the value of each of your marketing channel investments and help you discover the best marketing budget allocation. Google Attribution 360 includes optimization and measurement of both online and offline channels: Digital Attribution, Marketing Mix Modeling, and TV Attribution.
Google Audience Center 360 (new)
The Google Audience Center 360 is a new data management platform (DMP) that brings together multiple data sources to give you the insight you need to better understand and market to your audiences. You'll be able to achieve a unified customer view (360) to understand your customers.
This tool leverages Google Analytics 360 data in conjunction with other first-party data, third-party data, your customer relationship management (CRM) data, and more to create rich data stories that then connect to other marketing platforms, such as DoubleClick Bid Manager, so that you can take action on the insights.
The native integration with DoubleClick provides immediate access to Google proprietary data and more than 50 other third-party data providers to give you demographic info, affinity audiences, in-market audiences, and more.
Google Data Studio 360 (new)
A brand new visualization tool from Google? Yes, please! Multiple data source connectors and an easy-to-use editor make this a must-have tool. This new product currently connects to many different data sources: Adwords, Attribution 360, BigQuery, Google Analytics (360 and standard), Google Sheets, and YouTube Analytics. You'll be up and running quickly to build fully customized dashboards that answer your most important business questions.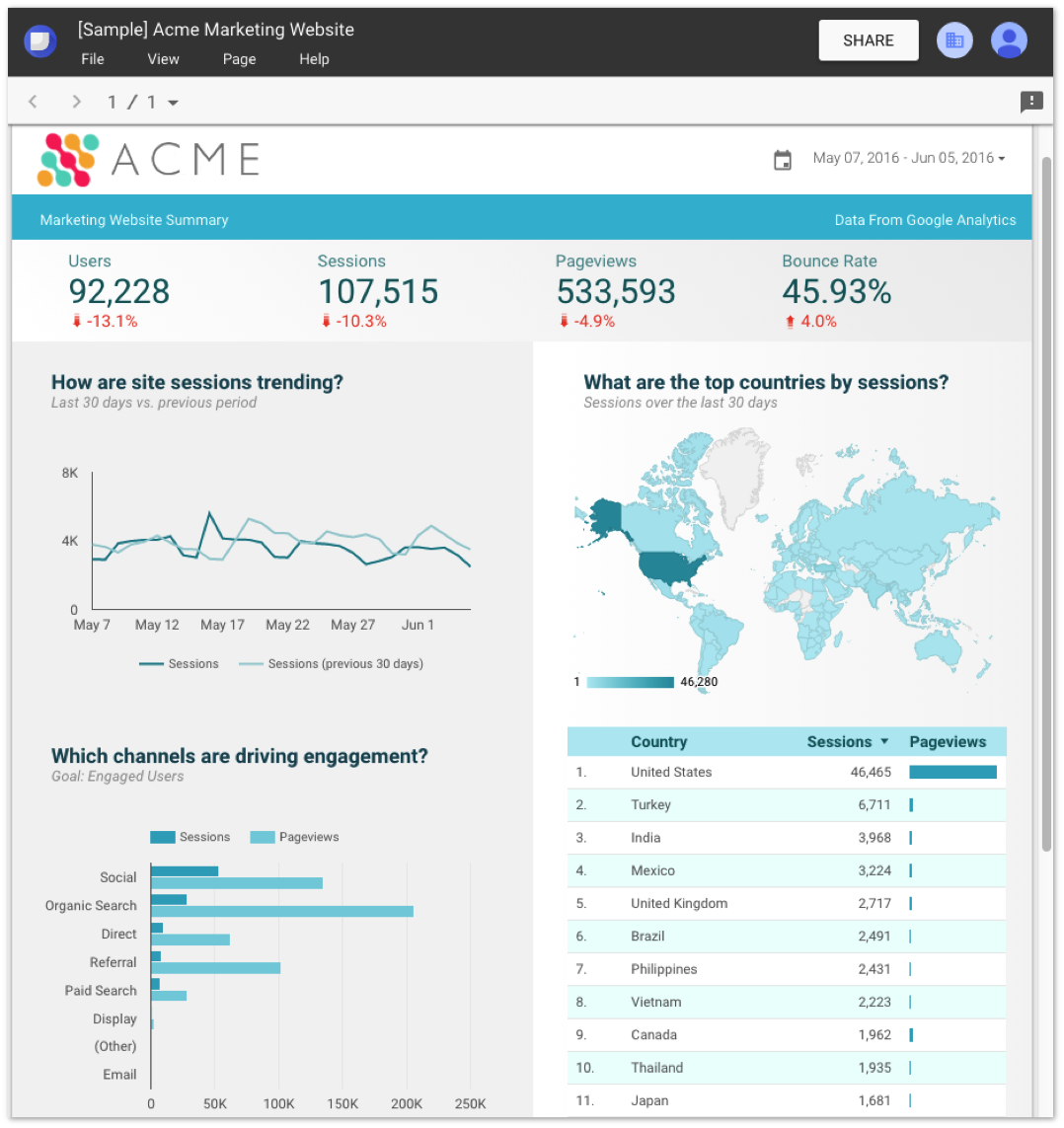 What's Your Data Story?
Hopefully, you're starting to get excited about the possibilities that can be explored with access to all of these new tools. If you're still hesitant to embrace the whole Google Analytics 360 Suite, try mixing and matching complementary products to address your most urgent needs.
Don't forget — please ask your questions about Google Analytics 360 tools and features — we promise to respond. Keep in mind that we can't publish pricing. If you'd like info about 360 costs, a demo, or further guidance with your marketing analytics tool selection, we're here to help.