Analytics Blog
Supporting Leaders to EVOLVE
Adobe Target vs. Google Optimize 360 for Testing and Personalization
Improving the customer experience is a top priority across industries, and it's no surprise that organizations are looking to incorporate testing and personalization as a larger part of their core strategies. With the number of experimentation platforms available, it can be difficult to know which platform is best for your team.
Recently, we've had many organizations reach out to learn more about Adobe Target versus Google Optimize 360. Determining which platform works best for your organization depends on a number of factors, including:
Analytics platform currently in use — Adobe Analytics or Google Analytics 360 (GA 360)
Maturity of your experimentation and personalization efforts
Expected complexity of your campaigns
Preferred statistical significance and counting methodology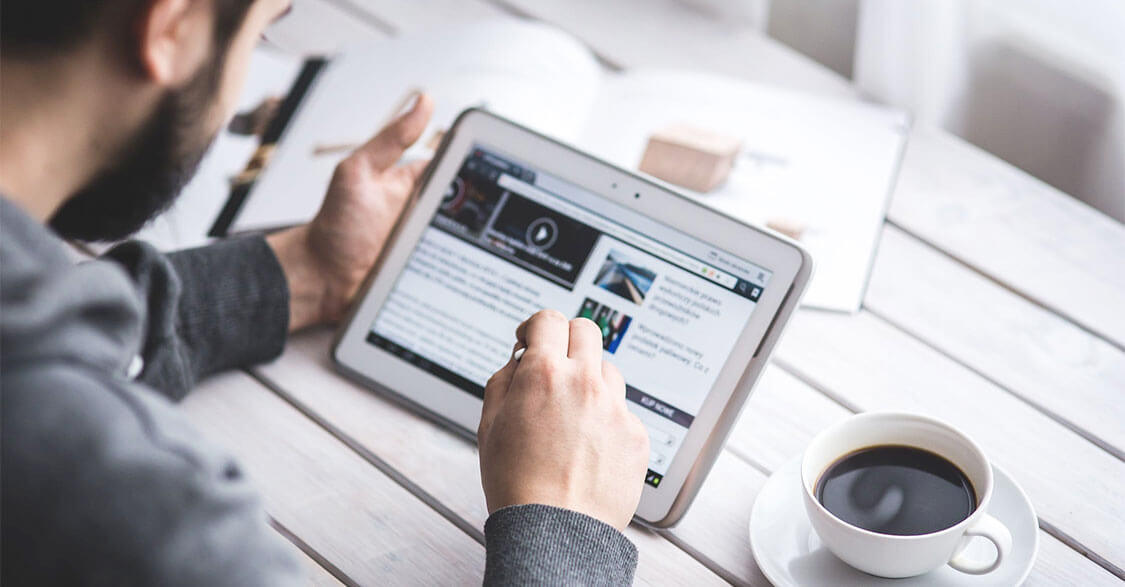 Harness the Power of Integrating Your Experimentation Platform with Your Analytics Platform
Taking into account which analytics platform your organization is currently using is often one of the most important factors when deciding on which experimentation platform to choose. Specifically, organizations tend to value the added benefits of having a seamless integration between the experimentation and analytics platform.

Adobe Target easily integrates with Adobe Analytics using Analytics for Target (A4T). With A4T, your team can act quicker by leverage existing Adobe Analytics audience segments and metrics for Adobe Target activities, instead of having to recreate them in Target. Moreover, A4T makes it easier to perform ad hoc analysis, since metrics and segments for the associated reporting suite are available even after the test or personalization activity concludes. This capability is especially important if your team tends to dive into the details and ask about test performance for other metrics or audiences (ones that may not have been initially selected for the test).
One main advantage of using the A4T integration is having access to Adobe Analysis Workspace for a deeper level of analysis. For example, your team could utilize Workspace to perform a funnel analysis between your Experiences.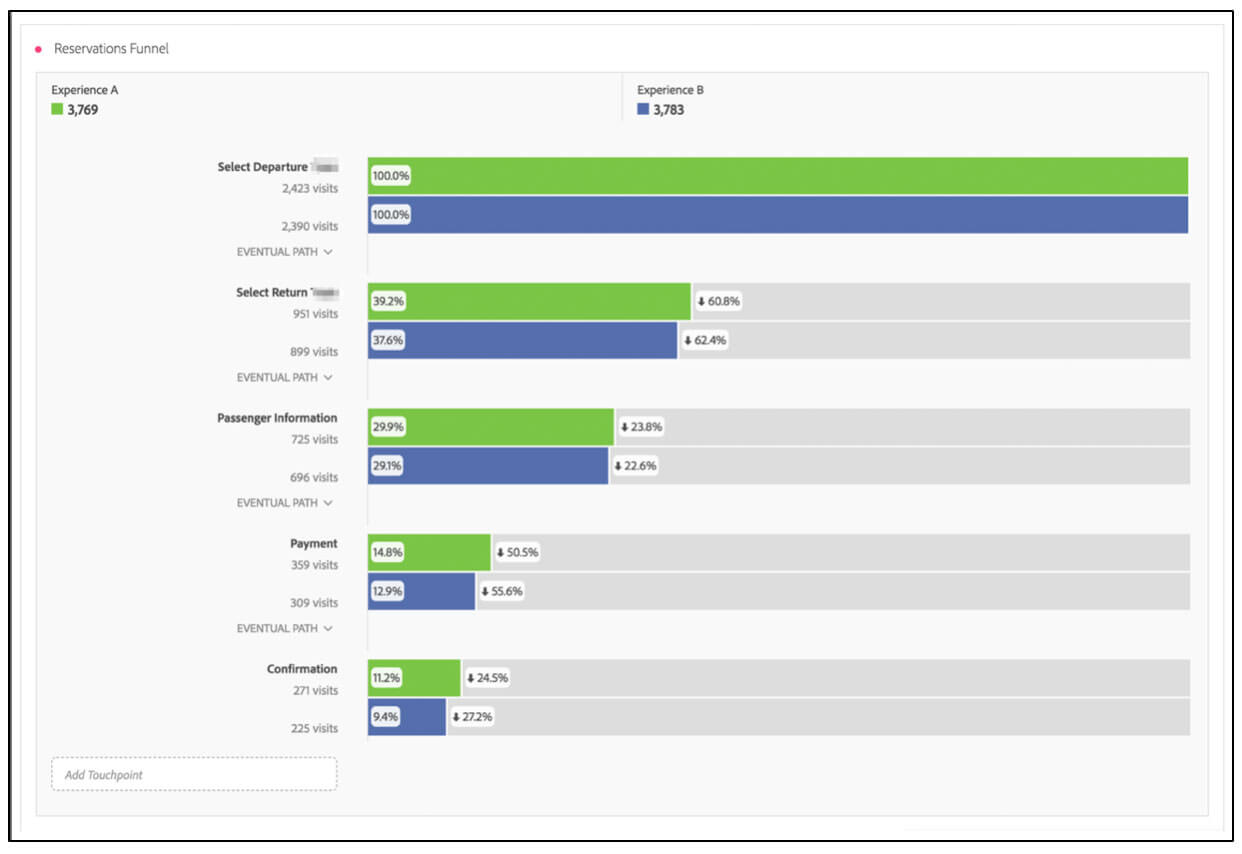 Moreover, syncing Adobe Analytics with Adobe Target sets your team on the path to scale your optimization efforts. Specifically, your team will see greater benefits by integrating Adobe Target with other products within the Adobe suite, such as Adobe Audience Manager and Adobe Experience Platform (AEP). As the demand for hyper-personalized experiences rapidly increases, it'll be important to utilize a testing and personalization platform that has the ability to connect with customer data from other sources that are vital to your organization.
For teams that are already using Google Analytics (GA) or GA 360, there's a native integration with the Google Optimize 360 platform. The biggest advantage of this integration is the simplicity of using Google Analytics Events and Goals for Optimize 360 campaign objectives.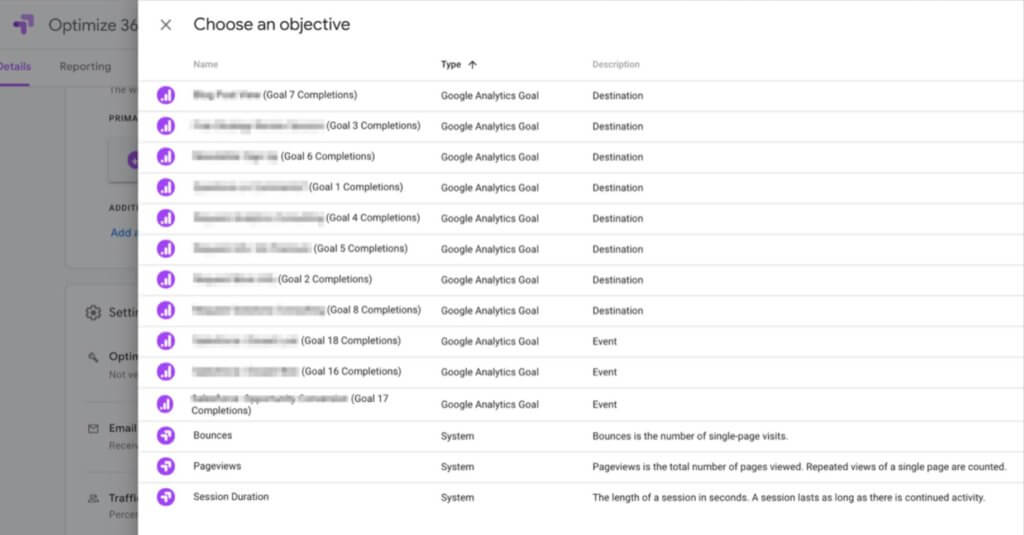 Another key benefit of Google Optimize 360 is that it also integrates with Google Search Ads 360, allowing your team to test and personalize at the Account, Campaign, Ad Group, or Keyword level. In addition, integrating your optimization efforts with Google Analytics enables teams to perform a deeper level of analysis outside of Google Optimize 360. Specifically, your team can create custom reports for test performance, as well as build segments for the different variants and then review performance within Google Analytics standard reports.
Finally, it's worthwhile mentioning that Adobe Target can integrate with Google Analytics, although the implementation isn't as straightforward. On the other hand, Google Optimize 360 doesn't provide third-party integrations, which will likely make it very difficult to utilize your Adobe Analytics platform in your experimentation efforts.
Maturity of Your Organization's Experimentation and Personalization Efforts

Google does offer a free version of its experimentation platform, called Google Optimize (the paid version is called Google Optimize 360). If your organization is new to experimentation or tests at a low frequency (e.g. launch one test a month), then you may want to evaluate whether you need an enterprise-level platform. Google Optimize may be a viable option if your organization wants to "try it out" before committing.
It's important to note that Google Optimize offers many of the features and benefits of Google Optimize 360, but with a few exceptions. For example, Google Optimize limits the number of simultaneous campaigns that are active, which currently is limited to five campaigns. Also, Google Optimize allows your team to select up to three preconfigured metrics for a campaign, while Google Optimize 360 allows 10 preconfigured goals. Moreover, only Google Optimize 360 allows changes to campaign objectives (goals and events) after a test has started. Therefore, using the free version can limit your team's ability to perform ad hoc analysis.
Google Optimize also doesn't allow targeting for Google Analytics Audiences (GA Audiences). As a result, if your team is interested in targeting a group of users who've exhibited specific behaviors on your site (e.g. high spending customers), then you'll need to have access to GA Audiences, which is only available with Google Optimize 360.
Be aware that the difference in capabilities between Google Optimize and Google Optimize 360 is always changing. Here's an updated list of these differences.
For organizations that are more advanced with their experimentation program or expect to have a higher testing frequency, Google Optimize will likely not be sufficient for your needs. Instead, you'll want to consider Adobe Target or Google Optimize 360. Generally speaking, the cost of Google Optimize 360 and Adobe Target will be based on site usage and, as a result, you'll need to reach out for customized pricing.
Expected Complexity of Your Campaign Build-outs
As your organization narrows in on which experimentation platform to choose, it's imperative to go beyond the immediate needs. It's important to have a roadmap for your testing and personalization efforts to truly understand what your organization's needs will be over the coming years. As part of that roadmap, your team should understand the types of campaigns they'll be interested in executing both in the short term and long term.
Adobe Target and Google Optimize 360 are on par in terms of offering certain test types, including A/B/n, multivariate, redirect, and multi-page tests (currently in beta for Google Optimize 360). In addition, both platforms support single page applications, as well as server-side testing for mobile apps (Note: Server-side testing for Google Optimize 360 requires Firebase).
As organizations look to improve the customer experience, the ability to personalize is essential, and both platforms provide this capability. However, there's a noticeable difference in executing personalization campaigns. Specifically, Adobe Target allows you to create customized experiences for more than one audience within one Experience (XT) activity. In contrast, Google Optimize 360 only allows one customized experience for the targeted audience.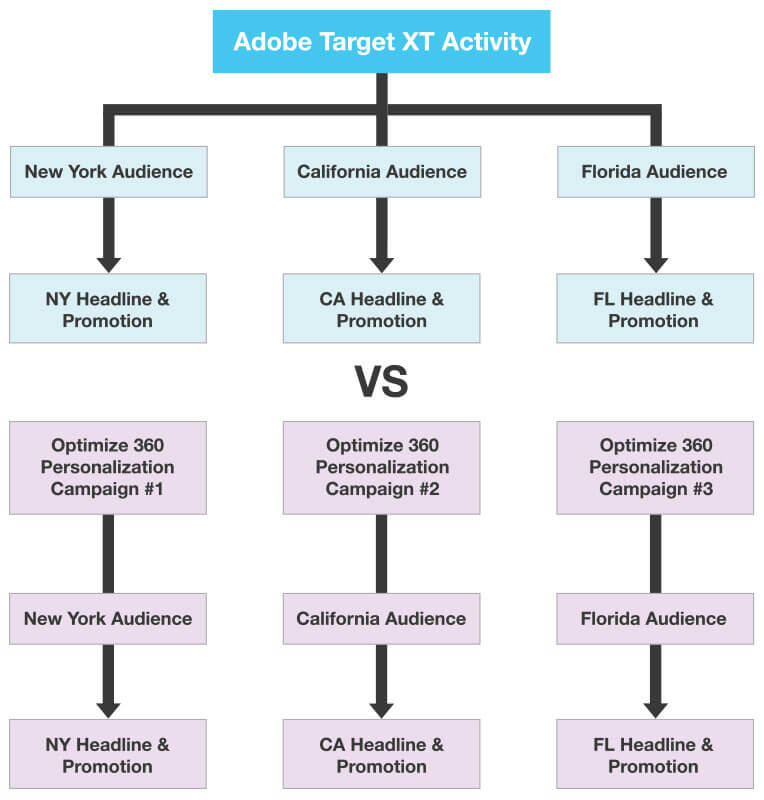 At first, this distinction may not appear to be significant, but over time, this may lead to greater inefficiencies. For example, having to create a personalization campaign for each targeted audience can increase the level of effort in managing multiple campaigns over time. Further, with Google Optimize, having multiple personalization campaigns runs the risk of quickly hitting the limit on the number of simultaneous campaigns allowed. Even with Google Optimize 360, while it allows for more than 100 simultaneous campaigns, by default it only allows 24 campaigns per Analytics view. To increase this limit, your team will need to make an additional request.
If your organization is interested in going beyond manual A/B testing and looking to incorporate AI/machine learning or other automated capabilities as part of your roadmap, then Google Optimize 360 won't suffice as it doesn't currently offer such features. On the other hand, Adobe Target provides several different automated activities types, such as Auto-Allocate, Auto Target, and Auto Personalization.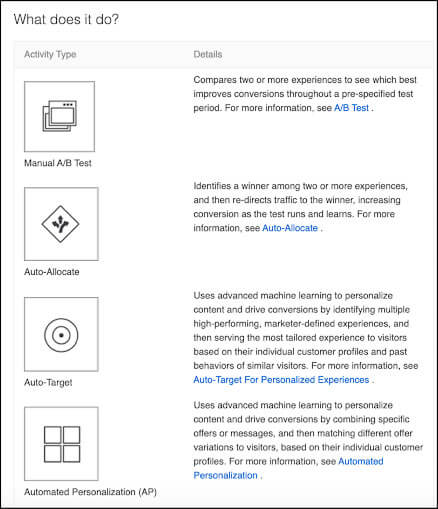 Moreover, integrating Adobe Target with other Adobe products, such as Adobe Experience Platform (AEP), will allow your organization to leverage Adobe's AI (known as Adobe Sensei) across the customer journey and ensure your personalization efforts are in sync.
Preferred Statistical Significance and Counting Methodology
In looking at statistical significance methodology, the main difference between Adobe Target and Google Optimize 360 is that Google Optimize 360 utilizes the Bayesian inference approach, while Adobe Target uses the Student T-test for manual A/B tests. In essence, the Student T-test uses only data from the current experiment to make predictions on underlying truths of the experiment results. On the other hand, the Bayesian inference combines data from the current experiment, as well as past knowledge of similar experiments, to make a conclusion about the current test results.
When it comes to statistical significance, there isn't one calculation or methodology that's universally approved. If your organization will rely on test results to make important business decisions, it'd be worthwhile to determine what statistical significance methodology works for your needs and, most importantly, ensure that your team understands how to properly interpret those test results.
The other aspect to consider with regards to analyzing results is the counting methodology. Google Optimize 360 only provides results at the session level, while Adobe Target provides more flexibility, including counting at the visitor, visits, and activity impressions level.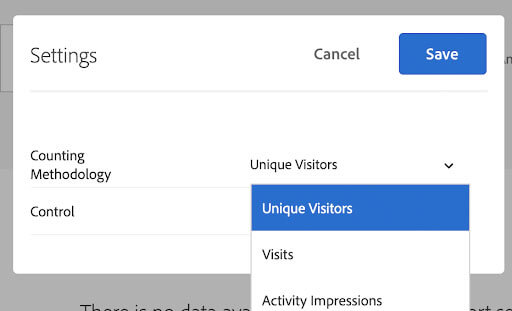 Your team will need to evaluate whether session-level data will suit your experimentation efforts or if additional flexibility in analyzing results is necessary.
Invest in the Right Experimentation Platform for Short and Long Term Success
Evaluating your experimentation and personalization needs based on the factors above should help your organization identify which platform, Adobe Target or Google Optimize 360, will work best. Below we provided a high-level comparison between the two testing and personalization platforms:
Capabilities
Adobe Target
Google Optimize
A/B/n Testing
Redirect Testing
MVT Testing
Multi-Page (Funnel) Testing

(beta)
Automated Testing (e.g. Auto Target)
WYSIWYG Editor
Responsive Editor
Behavioral Targeting
Server-Side Testing APO
via Firebase
Server-Side Mobile App Testing
via Firebase
Personalization Capabilities
Product & Content Recommendations
3rd Party Integrations – Web Analytics
Google Analytics Only
3rd Party Integrations – CDP, DMP, CRM & Data Onboarding Audiences
GA Audiences
(Optimize 360 only)
Platform Implementation – Synchronous Loading
Platform Implementation – Asynchronous Loading

(optional anti-flicker script)

(optional anti-flicking script)

Free Version Available
Restrictions on Targeting metrics & number of campaigns
As mentioned earlier, it's important to keep in mind not only the immediate business needs, but also how your organization plans to scale your efforts in improving the customer experience over time, such as incorporating AI/machine learning or integrating data with other solutions. Blast and our team of analytics consulting experts is here to help your organization during this evaluation process, including working with your team to create an experimentation and personalization roadmap before deciding on a platform.
Once your organization chooses a platform and is looking to hit the ground running, we'll collaborate with you to launch your experimentation efforts with our Experimentation Quick Start Solution.