Analytics Blog
Supporting Leaders to EVOLVE

Rich Snippets – Why You Should Use Them
What is a rich snippet?
If you are like me, you have been noticing some new things happening on Google, Bing and other search engine result pages. Many of these changes are related to the use of rich snippets, which is html code markup that improves the display of search results and makes it easier for people to find the best web content.
Check out these interesting examples…
When you do a search for "Hitchhiker's Guide to the Galaxy book" on Bing, you can read reviews for the book directly on the SERP (Search Engine Results Page). You also see the name of the author, the book's rating, and if the SERP link goes to the hardcover or paperback version.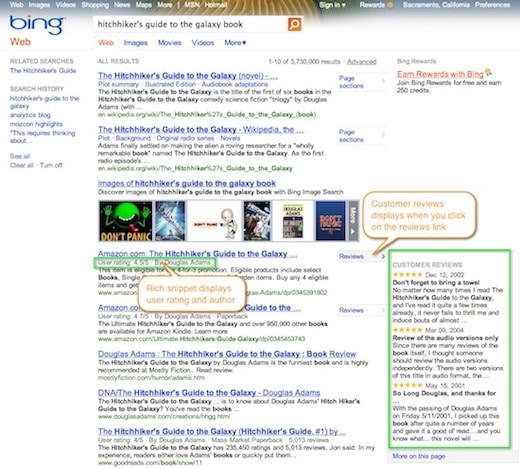 If I want to check out what concerts are coming to my town, I search for "Marysville Concerts" and I can see who will be here next month without even going to the site.

Since I was getting hungry, I searched for "banana bread recipes." The search listings had photos of banana bread and I was able to filter the results by ingredients, cook time, and by calories. Wow, how cool is that!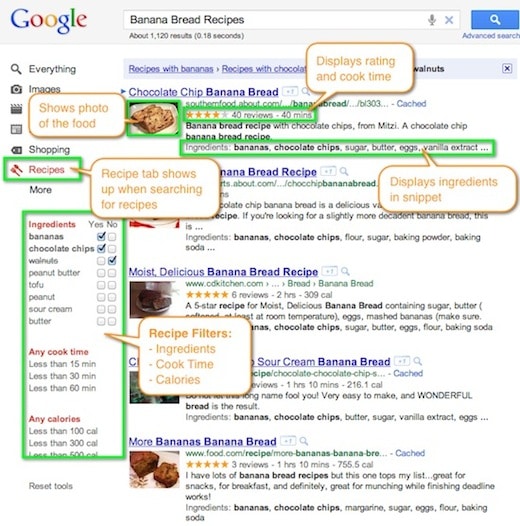 Rich snippets have even started to appear on some blog posts like this example that shows a photo of Avinash Kaushik when you do a search for "web analytics blogs."

You will also find rich snippets appearing for reviews, authors, people, locations and all kinds of products. This is just the beginning. Rich snippet sightings have been increasing and will become much more common in the near future.
Why do I want my listings to have rich snippets?
To increase your organic traffic! Your traffic will increase for two key reasons:
Differentiation from the Competition – When your listings have the added rich snippets features they will stand out more with the added photos or other features. This will increase the clicks your search listings receive and long-term will improve your SEO efforts by increasing rankings and overall traffic.
Help Search Engines Better Understand and Value your Content – Improve content relevancy and weighting for search engines by providing more structured data. It will improve your local search marketing results. You will also get better quality visitors since the visitors will have more information about your page before they click on your link.
How do I get rich snippets on my listings?
If you want your listings to start showing up in the SERP with Rich Snippet information you are going to have to start using some additional markup code in your HTML. There are many types of markups that you can use on your site including;
schema.org
microdata
microformats
and RDFa.
Currently, you can use any of these but schema.org is the newest and is the markup style we recommend since it has the support of Google, Microsoft (Bing) and Yahoo.
You can check out the Schema.org site for good examples and direction on how to implement it in you code. Google also provides some good documentation and tools to use to help implement the various markup code in its Webmaster Tools Help pages.
Why do I need to markup my website?
Because search engines are dumb. Until Google becomes self aware and goes all Skynet on us, we are going to have to help their search bots figure out what content is on our site, what it all means, and what content is more valuable for users and search indexing. The rich snippets markup tells the search bots which part of your content;
is the name of the product
how much it costs
what kind of rating it has
who made it
how many you have in stock
and many other things.
What else do I have to do?
OK, you have your site all marked up, tested with Google's Rich Snippets Testing Tool and you are all ready to go. Now you just have to submit your site to Google and give them a few example pages and you are done.
After you submit your site to Google they will review it. According to a Q&A video by Matt Cutts of Google it will take about a month or so for your rich snippets to start to appear. He said that eventually they want to get the review process down to a few days, but it is something that they are currently working on.
Feel free to post questions you have about rich snippets and we will provide free tips to help you out. Please share comments regarding any successes you've achieved, challenges you have faced or anything else interesting related to rich snippets.
Rich Snippet Resources