Analytics Blog
Supporting Leaders to EVOLVE
Don't be Misled by Averages – Use Advanced Segments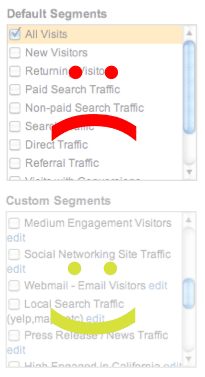 Are you segmenting your analytics data?
If not, you are in the dark using averages. Averages are useless and holding you back. As Avinash Kaushik, Google Evangelist, says, "Segment or Die!"
In this post, we will discuss how to segment your website user traffic to benchmark and measure site activity patterns with a few of our favorite advanced custom segments in Google Analytics. This will help you better track big picture trends and help you to optimize your site by allowing you to more easily discover where your site is succeeding or failing to please your site users.
What are Advanced Segments?
Just in case you aren't familiar with advanced segments in Google Analytics, they provide you the ability to break down misleading metric averages into actionable insight.
For example, we recently helped a client create geographic based segments for;
San Francisco (where they are located)
the Bay Area (the area they service)
California (the far reaches of their service area)
and Outside California (areas they definitely don't service).
When looking at their Average Bounce Rate it was excessively high.
However, when the Bounce Rate was broken down and evaluated based only on visitors from San Francisco, the bounce rate was extremely low. Thus segmenting the data allowed us to see that there wasn't as much of a site issue as there was a traffic quality issue. Instead of being misled by the metric average that gave the client the impression that they should be focusing on improving their site, the client now understands that the real focus should be on driving more users from San Francisco to the site.
Google Analytics provides a variety of default advanced segments that are quite useful. Here is a list:
New Visitors
Returning Visitors
Paid Search Traffic
Non-paid Search Traffic
Search Traffic
Direct Traffic
Referral Traffic
Visits with Conversions
Mobile Traffic
Non-bounce Visits
Some of the most valuable segments are based on source and when you are ready to dive deeper like we did in the example above, you can now create an unlimited number of custom advanced segments per account. Custom advanced segments are no longer limited to 100 per account as they were in the older version 4 Google Analytics interface.
Segments are Retroactive!
The beauty of advanced segments is that they are retroactive. Unlike a filter or goal that is only applied from the date created moving forward. This is extremely useful when analyzing a site that doesn't have robust goal tracking in place. Segments allow you to mine historical data which could have limited value if your Google Analytics wasn't properly configured with goals by a Google Analytics Certified Partner.
How to Create and Use Advanced Segments
In the upper right section of the Google Analytics interface above the date range selector, you will see the advanced segments selector. Below is a screenshot of the advanced segments selector that allows you to select up to four segments by which to filter your report.

Our intent is not to teach you the basics of advanced segments. If you are new to the concept of segments, please read the Help Center article on creating advanced segments.
Advanced Custom Segments to Measure Site Activity
Ready to stop being misled by averages and get some real insight? Let's take a look at one example of how custom segments can provide more insightful information than aggregate data. The following segment share links are for benchmarking and measuring site activity on your site to identify patterns of happy users and frustrated users.
It is important to note that a low activity user can be a satisfied user. For example, here are two scenarios that could fall into the low activity segment and not be considered a negative;
if your site quickly provides the answer to a user's question
or is a blog with an interesting article that they enjoyed but didn't have time or interest in other information at this time.
Of course, if someone has a positive interaction with your website it should be your goal to keep users on your site for more than one pageview. If your site is a blog and monetizes traffic then you want to make sure you entice users to read additional posts on related topics.
Segment Share Links
Below are Google Analytics share links so you can import these advanced custom segments into your Google Analytics account to segment your data and get more actionable insight. (Note: sharing segments only works when using the old version 4 interface and does not yet work in the new version 5. This should be available in the new version of GA soon.)
Keep in mind that these are generalized activity segments that are a good place to start. Down the road you can fine-tune them to your site for even more detailed analysis. For example, high activity on an ecommerce site is likely going to be different from a blog.
Segmented Metrics on Google Analytics Dashboard
This is a basic view of the power of these activity segments. You can quickly see that the low activity visits are disproportionally high and that these visits are mostly new visitors for this blog. It is true that blogs often only get one pageview, but a higher number of new visitors should be viewing more than one page on their first visit if they are finding the blog of significant value. At least this client now has a benchmark for their site activity levels and can now continuously monitor how site changes impact the ratio as they attempt to decrease the volume of low activity visits.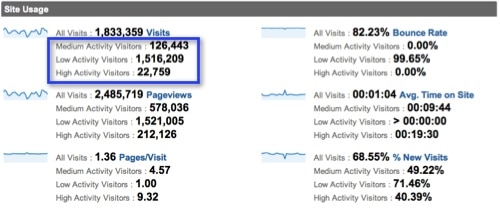 The Next Step to Becoming an Analytics Analysis Ninja
The next level beyond measuring site activity is understanding intent and engagement. If you understand what the users intent is and how engaged they are you will be able to provide truly actionable recommendations that will raise you to the level of an analytics analysis ninja!
Engagement is challenging to define and measure since it is highly qualitative. Plus, it requires advanced customization per website to track detailed user interactions with your site. In a follow up post, we will share ideas on how you can (quantitatively) track engagement by identifying signals on your website that help you to decipher between a good and a bad user interaction. Stay tuned!
If you have any segments to share or thoughts on these advanced custom segments we have shared please post a comment. Happy Segmenting!