Analytics Blog
Supporting Leaders to EVOLVE

Top 10+ Analytics Tips from Accelerate Conference 2011
First…What is the Accelerate Conference?
A great event! The first Accelerate Conference (2011) at UC San Francisco Mission Bay was a fantastic "fire hose" of analytical insights and observations from a variety of the top minds in the analytics industry.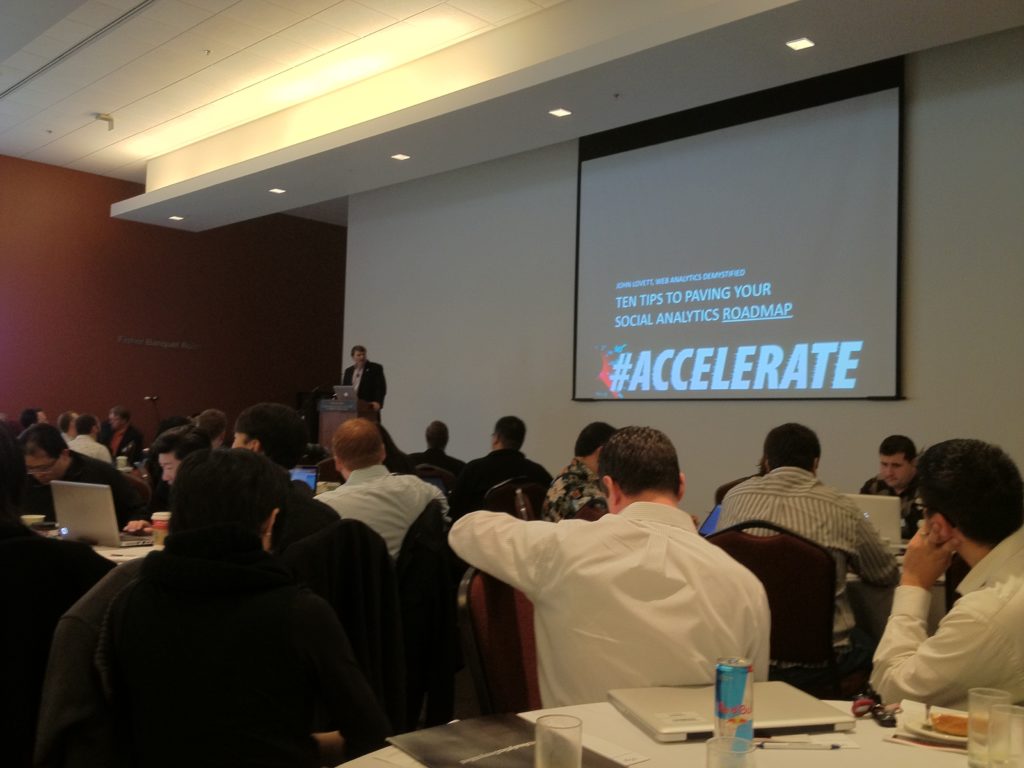 The atmosphere was absolutely beaming with excitement and positive energy.
I still laugh when I remember my favorite inside joke during a technical issue with a presentation, "Hit the Space Bar" (audience) and Eric Peterson responds, "Bastards." It was all in good fun, of course.
I was a big fan of the fast paced "Ten Tips in Twenty Minutes" format which provided clear tips in an entertaining, story telling approach.
It's Just a Means to an End…
It was no surprise that mobile and social were two of the main topics, but it was interesting that the central theme of the conference was conversion. Thereby reminding me that analytics is really just a means to an end. With that end being, Business Optimization.
Top 10 Analytics Tips
Without further ado, here are ten great analytics tips that will help you optimize your business. Yes, some of these tips are obvious, but we can all use a reminder from time to time.
#1) Taste the soup – Use the website. If you don't actually use the website you will probably miss obvious issues with tracking and conversion. (Adam Greco, Web Analytics Demystified)
#2) Data driven design but PROTECT creativity – Must play well in both worlds of creative and IT. (James Niehaus, Director of Optimization and Web Analytics at Symantec)
#3) Tag Management Solutions break down barriers and improve load time with fewer DNS calls and ability to stop unresponsive or slow loading scripts. This is the best way to turbocharge your analytics and integrate behavioral data (CEM). (Brandon Bunker, Sony)
And as Eric Feinberg, from Foresee, said, "Performance Kills." It is your fault if you let external integrated sites like social sharing functionality loading delays slow your site down.
#4) Integrate, integrate, integrate – If you want to get full picture and be able to innovate in order to fully optimize your business, you need to integrate analytics with Voice of Customer (VOC), Session Replay and testing for complete Customer Experience Management. (Chauncy Maddox, Dell GOAT (Global Online Analytical Tools))
CEM = Analytics + Testing + VOC + Session Replay
#5) Metrics for every team – Establish Dashboards and KPIs for each team in your organization (e.g. SEO, Email, Social, Conversion, Localization, Community, Display, PPC, Web Production, etc) in order to provide more valuable analysis and demonstrate value provided by each team. (Bill Macaitis, SVP of Online Marketing, Salesforce)
#6) Benchmark – Know your place by benchmarking against yourself, competitors and industry. Don't forget about indirect competition. Just because you don't consider an entity a direct competitor doesn't mean you won't compete against them for visibility in search. (Gautam Madiman, Autodesk, Web Analytics & Optimization)
For example, we often see where universities dominate a search engine results page for a target keyword even though it has a commercial opportunity and our clients want to gain visibility against these formidable websites.
#7) Calibrate – As June Dershewitz, Apollo Group & WAA Board Member, said, "Data is dirty, dirty, dirty." Important to work towards ensuring data confidence meaning that similar data in various data sources such as CRM, Financial and Web Analytics data such as financial transactions are aligned. Data doesn't have to be 100% accurate but there should be a reasonable confidence level that everyone is comfortable with.
Remember that analytics should be about identifying trends and providing insight into how to optimize your business in order to provide a better experience for your users which will translate into better profitability. It is not about tracking the exact activities and details of users at a level that interferes with their privacy. If we as analysts don't respect this we may lose the right to track the essential data which helps everyone.
#8) Map migratory patterns – Document common online and offline migration flows to ensure you understand how users are interacting with your organization. (Eric Feinberg, Foresee)
For example, here is a mapping of one potential migratory pattern:
"Customer" > "Web (at home)" > "Mobile Local/Maps (on the go)" > "Mobile Web (in store)" > "Mobile Social (in store)" > "Transaction is Made (in store)"
#9) Understand the reality of resource limitations – Everyone has them…embrace it. This is what makes the final analytics tip so important. (Ben Gaines, ESPN)
#10) Prioritize and re-prioritize based on quantifiable metrics. (Ben Gaines, ESPN)
Want more Tips from #Accelerate?
Ready for more tips? If you want more…in the fashion of the firehose delivery at the conference, I have included these additional Top Tips:
Top 3 Analytics Tips for Companies
Top 3 Analytics Tips for Agencies
Top 3 Mobile Tips
Top 3 Social Analytics Tips
Top 3 Facebook Tips
Top 6 Conversion Analytics Tips
Enjoy, and don't forget to share! Plus, let us know if you have any comments or questions regarding any of the tips.
Top 3 Analytics Tips for Companies
#1) Clarify questions you want to answer – Think about what it is that you are really trying to do. (Adam Greco, Web Analytics Demystified)

#2) Share your business with your agencies/partners – Think of them as part of your internal team…with proper context they can better help you. (Ben Gaines, ESPN)
#3) Propose Ideas aligned with business goals – When selling your ideas, tell better stories that are aligned with business goals to influence executives to sell for you. Have a vision…to align with organizations vision and strategy. (James Niehaus, Director of Optimization and Web Analytics at Symantec)
Top 3 Analytics Tips for Agencies
#1) Understand organization politics (avoid going after a sacred cow) and goals (ensure aligned measurement goals) (Bill Macaitis, Salesforce)
#2) Learn from finance – CFO is a trusted advisor to the analyst. (Michael Gulmann, Expedia)
#3) Design around today – Don't try to change the organizational structure or culture. (James Niehaus, Director of Optimization and Web Analytics at Symantec)
Top 3 Mobile tips
With the explosion in mobile, there was no doubt that it needed to be one of the main topics of the conversation. Eric Feinberg, from Foresee, stated the obvious mobile tip, "Get in or Die!" and delivered these great, forward thinking tips on mobile.
#1) Be visual and branded! – Be visual with mobile user experience and maintain your branding. Don't bore and don't be afraid to challenge convention. Then again, don't forget to ensure you at least provide a basic mobile optimized experience. Don't blow it like Tylenol and Trident Gum.
#2) Align with and understand mobile intent – Believe it or not, even the most trivial products are searched online and users want information relevant to their mobile intent.
Consider the scenario where a tired mother is at the store shelf around 11pm and needs simple to access information in order to select the proper medicine for her for sick, crying child. When you understand that this mobile intent exists, you can create a more useful experience for users searching on the go at the store shelf.
If you deliver, you will make a positive impression on your audience that they won't soon forget!
#3) Provide a custom experience for each device – Great advice, but I disagree that one should create physically separate sites on different domains. This is resource intensive, cost intensive and dilutes SEO authority.
This can be done better with Responsive Web Design which drastically reduces costs, simplifies maintenance and improves SEO authority by consolidating all authority on one domain.
Top 6 Social Analytics Tips
Great, simple tips to think about before you embark in social, or if you're struggling in social, you might want to pause and reset with these fundamental social analytics tips. (John Lovett, Web Analytics Demystified)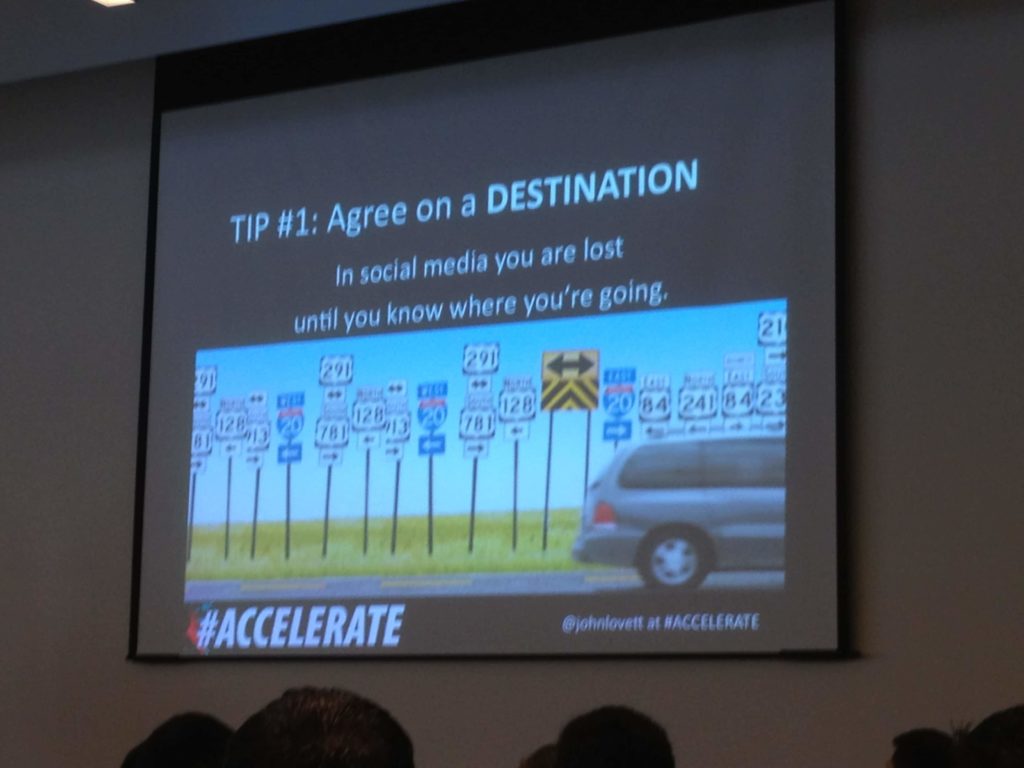 Agree on a Destination
Set Proper Expectations
Know your audience
Plan for desired outcomes
Document your Journey
Skip the vanity metrics
Top 5 Facebook Tips
Here are some valuable Facebook tips from Justin Kistner, Director of Social Products at Webtrends.
#1) Images are crucial in Facebook ads – Facebook ads are only effective for a limited time period (often only 3 days)
#2) Offers go in ads to fans only (not wall) – Get better results and respect the quality of your social conversations by using ads to deliver offers. Your fans will appreciate it and you will enjoy a much higher CTR and conversion rate at a lower cost:
.05% Average CTR of ads to non-fans
.35% Average CTR of ads to fans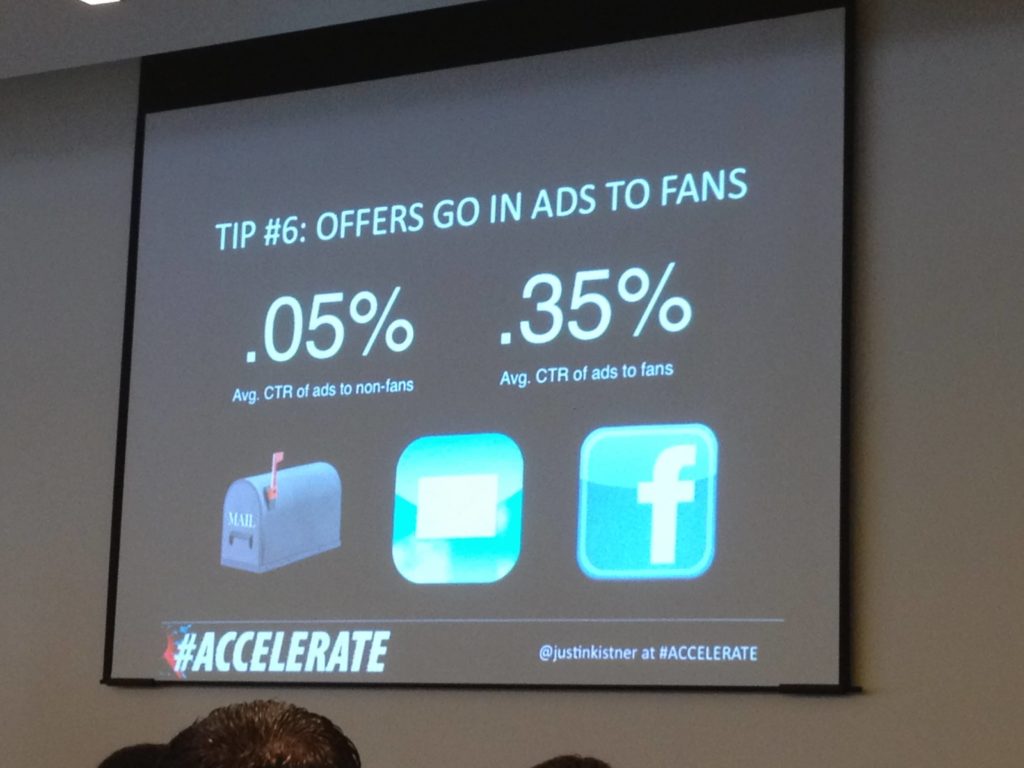 #3) If it starts in Facebook it should stay in Facebook – This provides double the conversion rates versus sending people directly to your website. You can use frames to use existing web site content or content easily produced and managed in WordPress.
Once you have sold the user and provided enough context, they can then be compelled to visit your website to perform transaction or other desired action.
#4) Pass ad targeting parameters in order to segment site behavior when integrating sites & apps.

#5) Target Facebook users with Open Graph Actions and Objects – Targeting interests is outdated and insufficient. When integrating sites & apps you can target based on verbs and/or noun combinations such as I have read this book or watched movies on hulu. A reading app may define the ability to "read" (action) a "book" (object). To illustrate further, here are two specific targeting examples:
target users who 'listened' to 'cold play' song on 'spotify'
target users that 'watched' 'Terminator' on 'Netflix'
Learn more about Open Graph Actions and Objects on the Facebook Developer Site
Top 6 Conversion Analytics Tips
#1) Allow people to consume where and when they want. (Eric Feinberg, Foresee)
#2) Use campaign tracking to track complete, end to end conversion. (Eric Feinberg, Foresee)
#3) Think agile and iterate. (Michael Gulmann, Expedia)
#4) Listen while testing – Integrate voice of customer (VOC) with your testing tool to get optimum insight into the factors influencing conversion. (Michael Gulmann, Expedia)
#5) Knowledge management of (test) learnings – Win or Lose, you always learn with testing. Some tests will fail and this is why you test. To learn! Hopefully, you already know this but the majority of organizations don't seem to have embraced this. (James Niehaus, Director of Optimization and Web Analytics at Symantec)
To be clear this means that you need to store and publicize the good and bad of test learnings. (Michael Gulmann, Expedia)
#6) You need better error messages and don't forget all errors are your fault. Problem with internet connection on mobile phone and your site/app fails. Be prepared because it is your fault…even though technically the carrier failed. The user doesn't know or care that it is someone else's fault so fail gracefully. (Eric Feinberg, Foresee)
Evolution of the Analytics Industry
Okay, I gave you way more tips than you bargained for, which is what the Accelerate Conference gave me. #Accelerate was all about sharing tips to help to accelerate the evolution of the analytics industry. Kudos to Web Analytics Demystified!