Analytics Blog
Supporting Leaders to EVOLVE

How to Choose a CDP and Questions to Ask Before You Buy
So your company wants to buy a customer data platform (CDP)? Just grab a ticket, and we'll pull one off the shelf. Oh wait, it's much more complicated than that. There are more than 100 companies that describe themselves as a CDP, the market has been flooded, and it's become difficult to distinguish between the real customer data platforms and the imposters. Before you jump into the world of customer data platforms, let's take a step back, talk about the basics, and understand what you should look for before you invest.
What is a CDP?
According to the CDP Institute, "A customer data platform is packaged software that creates a persistent, unified customer database that is accessible to other systems." At Blast, when we're talking to clients, we describe a CDP as an infrastructure investment, rather than a packaged software. I'd describe a CDP as the brain for the decisioning of your digital customer experience across channels. This technology solution is capable of collecting data from multiple online and offline sources, and matching them to a single customer profile that you can act on. A true customer data platform should be able to act on both known and anonymous profiles.
A CDP is an infrastructure investment, rather than a packaged software.

Click & Tweet!
Why Do You Even Need a CDP?
A customer data platform is designed to build a single customer profile. The power of this unified view is that it creates a single source of truth for customer behavior transactions and can help predict future customer actions. CDPs are different from traditional data management systems or parts of your marketing stack; they collect and segment customer data in real-time. With a CDP, you can respond to customer behaviors within seconds of them interacting with your brand, offering personalized user experiences for large groups or at a 1:1 level. According to the Salesforce State of Connected Customer Report, "75% of customers expect companies to use new technologies to create better experiences." A customer data platform, when combined with technologies like personalization, will help provide those custom experiences that help build loyalty and relationships.
While there may be other tools that enable personalization, what differentiates a CDP from both customer relationship management systems (CRMs) and digital marketing platforms (DMPs) is its ability to understand both identified and unidentified users throughout the customer lifecycle and act on those customers. This allows you to use the information you have about your most loyal known customers, and to nurture your unknown customers. What journeys did they follow? What marketing channels did they respond to? What promotions are most effective? A CDP will not only lead to operational efficiencies, it'll unlock information about your customer cohorts that were previously unavailable.
A CDP will not only lead to operational efficiencies, it'll unlock information about your customer cohorts that were previously unavailable.

Click & Tweet!
Are You Ready for a Customer Data Platform?
The answer really is: it depends on a few factors. Here are some questions you can ask to help determine if your organization is mature enough to add a customer data platform to your marketing stack:
Do you know what your use cases are? Determining your use cases will not only help you evaluate tools, it'll also help you build a business case for purchasing a CDP.
Do you have a testing/personalization program in place? One of the main benefits of a CDP is the ability to take action on the segments or audiences that are identified. CDPs help by readying data for use, which is the first step in personalization.
Do you have first-party data? When you're working primarily with second-party and third-party data a DMP is likely a better solution.
Do you want to deliver a consistent brand experience across all channels? CDPs connect the dots, unifying data across multiple known and unknown sources building a single customer profile.
If you answered "yes" to all these questions, then your organization is ready to take advantage of the benefits a customer data platform can offer. If you have not yet determined your use cases, then you're not far behind; you could be inspired by starting your search.
What to Look for in a Customer Data Platform?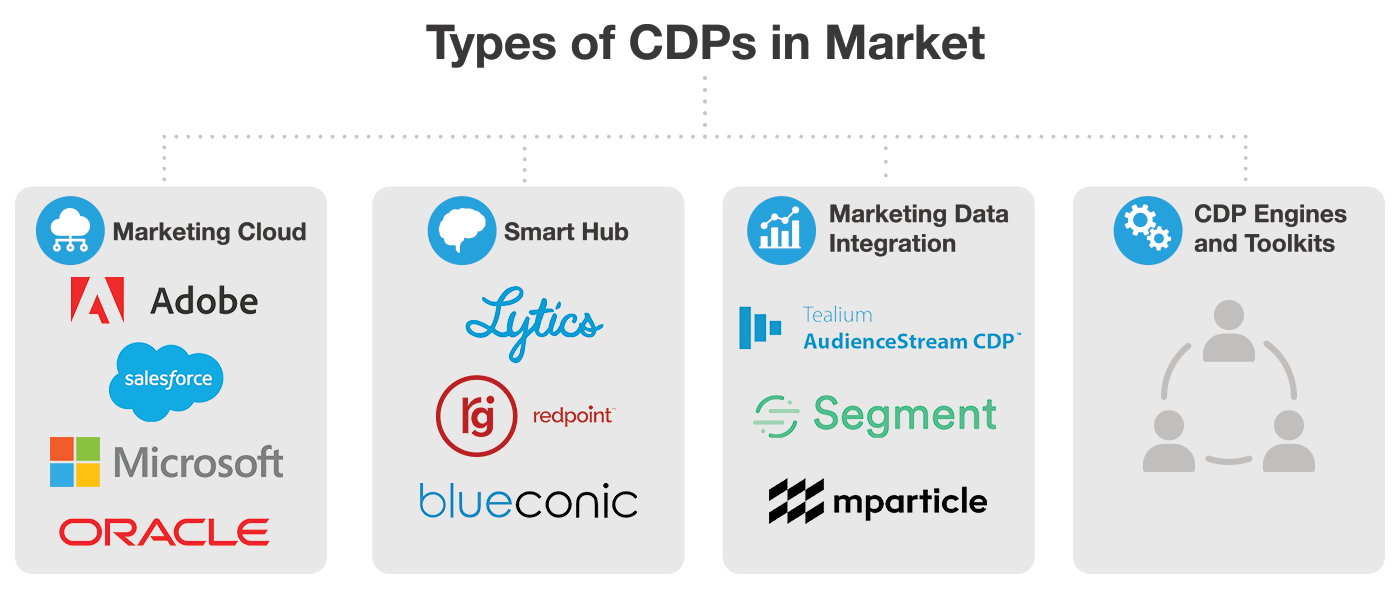 What Types of CDPs are there on the Market?
Gartner has grouped all CDPs into four categories; Marketing Cloud, Smart Hub, Marketing Data Integration, and CDP Engines and Toolkits.
Marketing Cloud – These are newest to the market. Well-known cloud providers such as Adobe, Salesforce, Microsoft, and Oracle all developed their own solutions due to the growing popularity of CDPs. They're part of a larger marketing stack and have the strongest integrations within their own ecosystem.
Smart Hub – These vendors emphasize marketing orchestration and personalization from a single interface. Some of the most established CDP vendors fall into this category. Established vendors include Lytics, Redpoint, and BlueConic.
Marketing Data Integration – Data Integration CDPs give you more control over your data and data governance, while still providing flexibility and ease of use for marketers. The leaders in this category, including Tealium, have a background in data ingestion and are constantly developing new connectors for sending and receiving data, making them truly agnostic. Much like Smart Hubs, this category contains some of the most established vendors and are often considered "pure play" CDP. Look for leaders such as Tealium AudienceStream, Segment, and mParticle in this category.
CDP Engines and Toolkits – This category includes the open-source solutions that will support company-led "build" initiatives. Think of these solutions as flexible foundations to build a customer data profile in-house with less emphasis on the marketing features.
Keep in mind that most of the CDPs on the market today were originally something else, like a marketing automation tool, CRM, or DMP. Understanding the history of a vendor and their technology can help you understand whether they can help you achieve your goals.
Does it Support Real Time Data?
As data flows into your CDP, you should expect customer profiles and segments to be updated within a few seconds. It's not just the known customer profiles, but also the anonymous ones. That's the important detail; you want to be able to personalize an experience for known and anonymous customers in real-time, across multiple technologies.
Security and Compliance Features
With all available first-party data collected in one system, a CDP can help enable your organization's ability to respond to General Data Protection Regulation (GDPR) and California Consumer Privacy Act (CCPA) customer data access requests.
Beyond GDPR and CCPA, there are numerous industry-specific regulations, such as Health Insurance Portability and Accountability Act (HIPAA), and organizational standards that you may need to adhere to also. If your industry or company has specific privacy needs, you may be starting with a shorter list. That doesn't mean you need to sacrifice quality. There are still great tools that will meet the strictest security standards, including on-premise and private cloud solutions.
Identity Resolution and Visitor Stitching
The best feature of a CDP is that it has the ability to create a customer profile based on users' behavior across devices, including attaching anonymous user behavior to known users once they're identified (reverse stitching). This is really the unique feature that differentiates a customer data platform from any master data management solution.
Attributes and Segmentation
Your CDP should provide different methods for handling segmentation; you should have the ability to assign customers to segments based on fixed and dynamic attributes. Users should fall in and out of segments in real-time to ensure that the experiences they receive are most relevant to them.
Ability to Integrate with Your Technology Stack
A CDP should do more than meet your needs today. It should be able to meet your needs long term. When choosing a solution, don't confine your selection to your initial use cases, as you'll outgrow those quickly.
Make a list of all the tools in your marketing stack.
Make a list of all the data sources your marketing team uses to enable your marketing stack (CRM, ERP, databases).
Make a list of offline or retail data that you wish you could use but have never figured out how to integrate.
Make a list of all your advertising platforms/channels (DSP, DMP, TV attribution, and ad buying)
A CDP should do more than meet your needs today, it should be able to meet your needs long term.

Click & Tweet!
If you find yourself trying to make the decision between two tools, the one that'll integrate with more of your technology stack out of the box should win. You want to look for a tool that has built-in web "hooks" and bi-directional connectors. This will allow you to continue to add integrations. A tool that doesn't fit your business needs will result in high resource and ongoing cost.
Does the Vendor have a Roadmap?
When researching tools, ask the vendor about their roadmap. You want to know that they're planning out features and integrations for the next year. You don't want to buy a tool that's not in ongoing development. A good roadmap also indicates that the vendor is addressing ongoing bug fixes and providing support to their customers.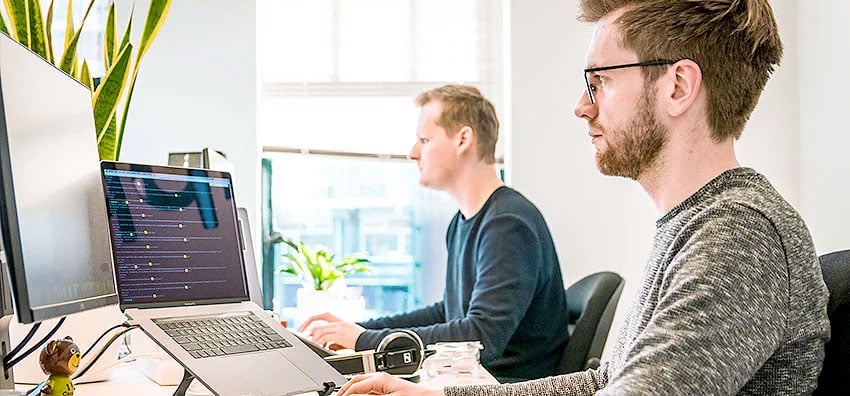 Should I Build or Buy a CDP?
This is a common question. When you look at the core functionality requirements of a CDP, you need to assess your organization's resources and maturity for technology development. As you can see, a customer data platform is far more than a data warehouse. If your company decides to go down the path of building, you need to ensure that it'll support the major components of an enterprise CDP that we discussed above.

As a general rule of thumb, Blast recommends that if you can find a mature tool that meets 75% of your requirements, then you should buy.
Choosing and implementing a customer data platform can be a daunting process. We understand that companies, regardless of their industry, aren't alike. Reach out to our experts for any support you need, whether informally discussing, or formally selecting, managing, or evolving your CDP practice.