Analytics Blog
Supporting Leaders to EVOLVE

Adobe Summit 2020 Top Sessions and Takeaways
Each year, Adobe hosts its annual, week-long, action-packed Adobe Summit conference in Las Vegas, Nevada. Unfortunately, due to the current COVID-19 pandemic, the industry could not gather physically for this year's event. Adobe was swift in moving its digital experience conference online and conducted the on-demand event on March 31, 2020.
Although we weren't able to meet face-to-face with our data-loving peers, we remained excited to learn about Adobe's new product innovations, experience management solutions, and other inspiring developments. If you haven't yet viewed the program, our Adobe consulting experts who did have highlighted their top sessions and takeaways.
You can still view Adobe Summit 2020 on demand for free — a unique opportunity focused on delivering superior experiences, and time well-spent.
Server-Side Capabilities from the Adobe Experience Platform Edge Network
Joe Christopher
Vice President Analytics
Session: Meet Alloy.js and Never Tag for an eVar or Mbox Again
Speakers: Cory Spencer, Brandon Pack
Corey Spencer's and Brandon Pack's session on the future of data collection was one of my favorite sessions this year. Adobe Analytics data collection (as well as collection/usage of all Adobe products) is about to massively change. This connects to other announcements regarding the Adobe Experience Platform and how it'll begin to shape into the underlying data storage for all of Adobe's products.
There were a lot of great announcements in this session, including:
Simplification and performance increases from a single javascript library (alloy.js) and a single beacon sent to Adobe
Total control of your data from the first millisecond to the last
Built-in consent
First-party domain for data collection and cookies
But, what was perhaps the most interesting announcement of all was the support of server-side capabilities from the Adobe Experience Platform Edge Network. As was mentioned in Trend #6 of my Top 7 Digital Analytics Industry Trends for 2020, server-side tracking is increasing in importance as organizations begin to look at security, performance, and data privacy. This feature is built directly into Adobe Experience Platform Launch and allows you to configure not just server-side endpoints to Adobe Solutions, but also out to any endpoint that accepts a POST/GET request. This means that you'll be able to send data to any analytics or marketing vendor that can accept a server-side beacon (even if it isn't Adobe). Further, when you add in Launch's extension development environment, I'm sure we can expect vendors to build templates to make this as simple as possible.
When it comes to Adobe Solutions, such as Adobe Analytics, they've stated that you'll use Processing Rules to map data from the Edge Network data (the data sent to Adobe Experience Platform is sent in one central data model, called Experience Data Model — or XDM). This is why the session had the captivating title referring to no longer tagging an eVar again, which is sort of true, but you'll still need to map the data to an eVar via the Processing Rules interface. Collectively discussing this with Blast's Adobe consulting experts, we hope that Adobe provides a better way (perhaps in Launch directly or via an API) to manage this variable assignment instead of in Processing Rules, which has an aging interface and is often used in incorrect ways. We look forward to seeing how this continues to evolve!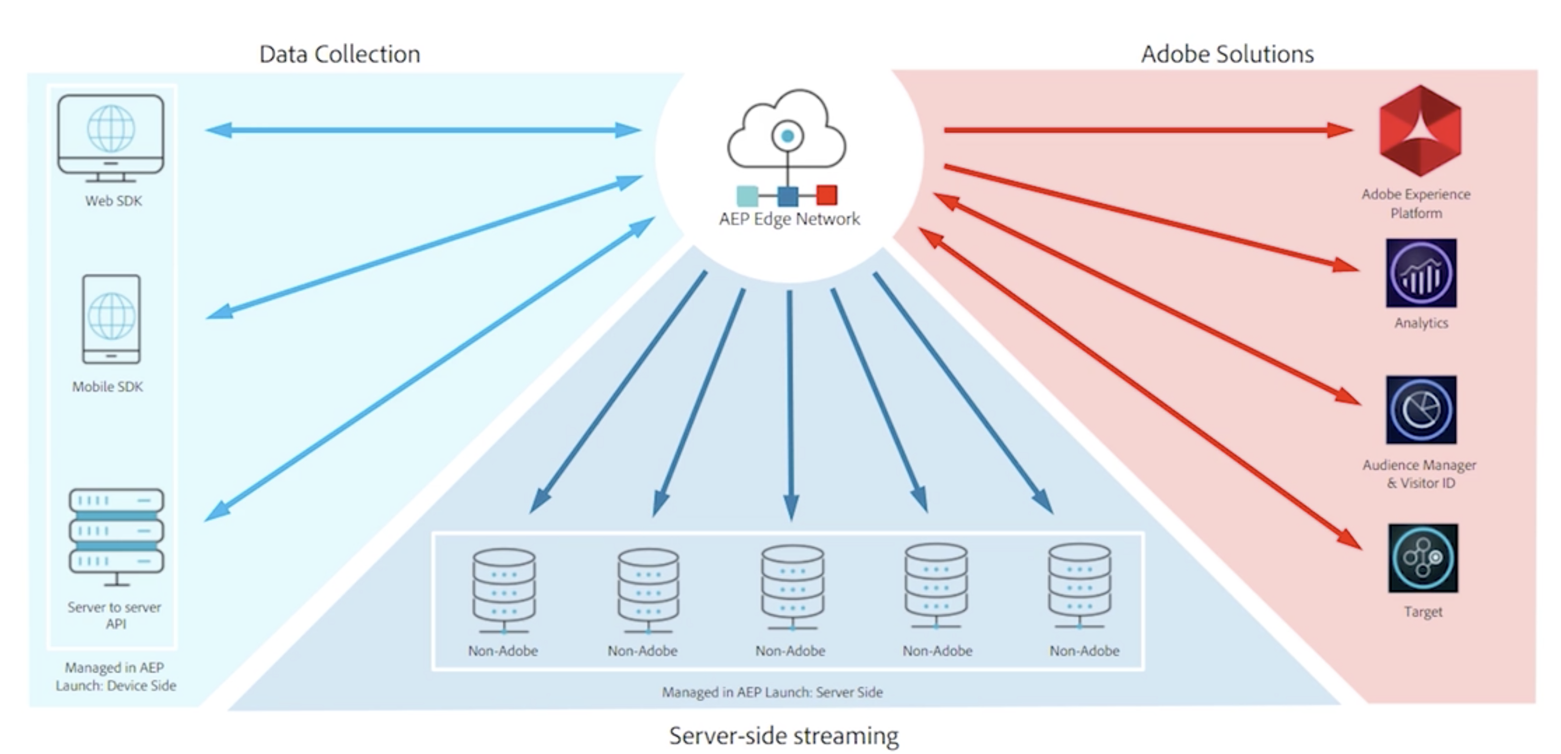 Our team is very excited to help our clients leverage Adobe's new alloy.js javascript SDK to serve useful and quality data to the Adobe Experience Platform — as part of our evolving experience management consulting services.
Innovative Customer Journey Orchestration
Jill Stolt
Senior Analytics Strategist
Session: Sneaks – Project Bon Voyage
Speakers: Erin O'Connor
Sneaks always stand out at Adobe Summit as "go-to" sessions in my opinion — a great way to see what's coming ahead in Adobe Analytics. As an Adobe Analytics consultant, I get a lot of questions about Customer Journey and Conversion Optimization. In this session, Erin O'Connor demonstrates Journey Orchestration in #projectbonvoyage — Adobe's Sensei tool that leverages artificial intelligence (AI) and machine learning (ML) to help optimize your Customer Journey.
Marketers set up the journeys they want customers to follow, and the goals they're trying to achieve: Conversion, Engagement, or Reduce Churn. Adobe tracks users as they flow through the various paths (based on audience) and can show which audience on which path is performing as hoped.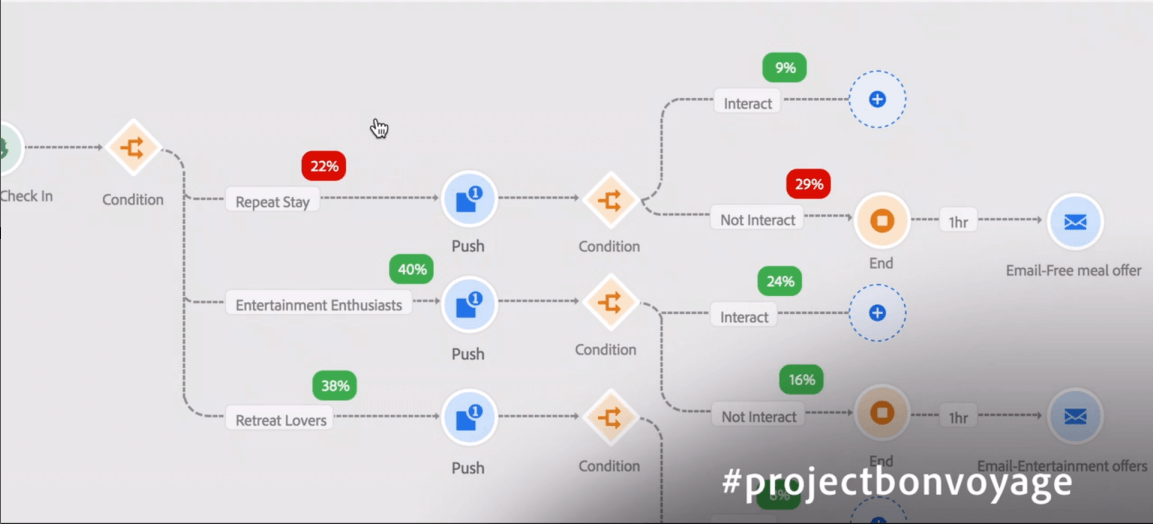 You can see the performance of your touchpoints in realtime — in this example, the Push notification — and optimize for that specific audience. By making adjustments in realtime and understanding the expected impacts of those adjustments, you can offer your visitors the best experience possible.
Customer Journey Analytics Will Be a Game Changer
Aimee Bos
Senior Director, Analytics Strategy
Session: Customer Journey Analytics: The Omnichannel Future of Adobe Analytics
Speakers: Trevor Paulsen, Jen Lasser
Customer Journey Analytics is an add-on for Adobe Experience Platform customers who also have Adobe Analytics. When most of us think about the Adobe Experience Platform, we think of the Real-Time Customer Data Platform. Customer Journey Analytics should not be overlooked, as it's just as impressive. Piggy-backing on the existing Adobe Experience Cloud, it enables analysts to provide a wealth of actionable insights without the constraints of data silos. Over the past five years, Adobe has built a robust data and insights platform combining the tools within Adobe Analytics, such as segmentation and Analysis Workspace with the Adobe Experience Platform data preparation, query service, and data science capabilities.
Trevor and Jen dive deep into what work is required in Adobe Experience Platform to support Customer Journey Analytics. Using the Adobe Experience Platform, you can combine your online data, such as Adobe Analytics with offline data. Adobe Experience Platform also provides a standard schema. Gone are the limitations of eVars, props, and events allowing you to blend your digital data with offline customer experiences. You can blend as many data sets as you like using connections, including blending multiple Adobe Analytics report suites into a single data set.
Data Views are the secret sauce of Customer Journey Analytics. They allow you to set time zone and sessionization, as well as persistence and attribution on any components in the connection. All of these settings are non-destructive, just like with a virtual report suite. Mind blown!
Finally, Trevor and Jen walk through what the data will look like when visualized in Analysis Workspace. All of the features that are available in Analysis Workspace for Adobe Analytics are also available in Customer Journey Analytics, with a few updates. Occurrences, Visits, and Unique Visitors are now Events, Sessions, and People to align better with offline data models.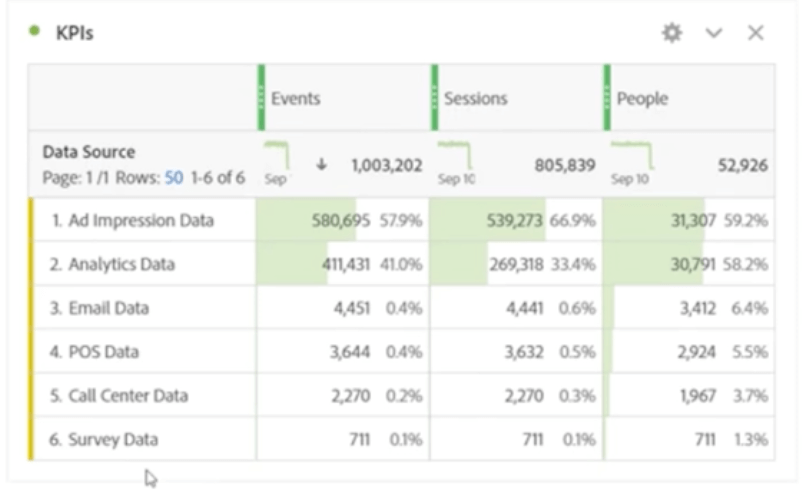 More importantly, you can now compare online and offline data side by side. Or for those of us who've been trying to compare data from multiple brand websites side by side, only to be forced to rely on Adobe Report Builder, Customer Journey Analytics is now the answer to your problem! We finally have a full picture business performance in one visualization.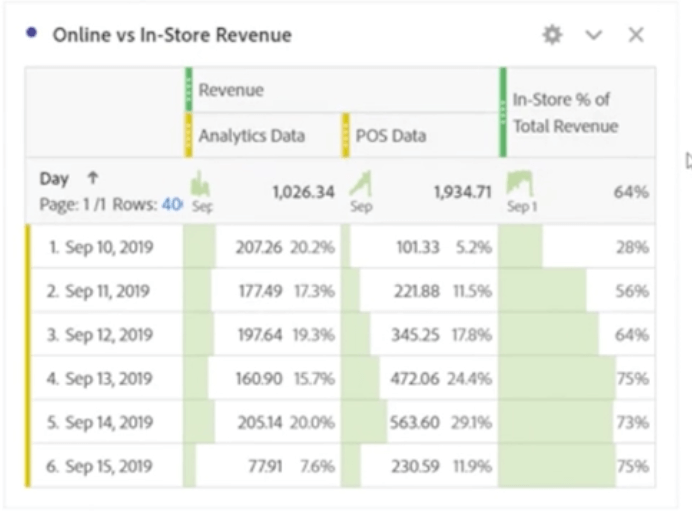 Customer Journey Analytics has game-changing features. When you combine it with the other applications that are available in the Adobe Experience Platform, such as the Real-Time Customer Data Platform and activation tools such as Adobe Audience Manager and Target, it'll be an unmatched toolset. It's both easy to use for analysts who don't know SQL, but also flexible enough to allow data science teams to collaborate and provide modeling, such as propensity scoring to enhance segmentation. I'm looking forward to implementing Customer Journey Analytics with my clients.
Honorable Mention: Segment Scout is a Time-Saver
Session: Sneaks – Project Segment Scout
Speakers: Aaron Shields
It was great to see the usual sessions such as "Sneaks" on the agenda. For anyone who has not attended Adobe Summit in the past, Sneaks is where Adobe product managers and engineers demonstrate new ideas, and the audience gets to vote on their favorite ideas. My favorite Sneak was Segment Scout, presented by Aaron Shield. Segment Scout is a natural language processing tool that's built into the existing segmentation tool in the Adobe Experience Platform. Aaron demonstrated creating an Advanced segment in Adobe Analytics. If you don't use Adobe Analytics every day, you probably know what data is available to you, but you may not always know what variable it's captured in. With Segment Scout, you can use the search bar to search for a term, for example "vehicle wrap," and it will display the variables that contain that data.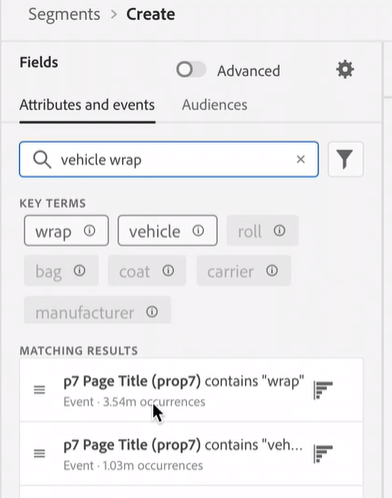 Segment Scout also allows you to create complex segments based on a statement. For example, if you asked Segment Scout to build a segment of "People who search or view vehicle wraps in the last 30 days but haven't viewed the studio page," it would create a complex segment. This feature is a time saver — my favorite kind! Anything that makes an analyst's job easier gives us more time to find and deliver those valuable insights for clients.
Identity Is Key to Balancing Privacy and Experience
Josh Barratt
Senior Analytics Implementation Consultant
Session: Adobe Experience Platform Identity Service: Evolution of Identity at Adobe
Speakers: Brian Pong
Identity is evolving, and I've really enjoyed learning about the evolution of identity in Brian Pong's session on the Adobe Experience Platform Identity Service. Brian kicked off this session by doing a short retrospective on what has happened in the past few years, from the rise of first-party data to the maturation of the Customer Data Platform (CDP). Now, in 2020, we have "The Year of Identity."
The explosion of CDPs, data privacy laws, and tracking prevention has meant that our clients are hyper-focussed on identity and reaping the rewards that it can provide. Identity powers everything in the Adobe Experience Cloud, and without it, true personalization would be nearly impossible.
Furthermore, identity is the backbone of many other aspects crucial to your experience business, such as:
Understanding the customer journey
Retargeting
Customer profiling and segmentation
Consent
But data privacy laws such as General Data Protection Regulation (GDPR) and California Consumer Privacy Act (CCPA) and tracking prevention such as Intelligent Tracking Protection (ITP) means identity is an enormous and costly challenge with massive legal implications. As such, companies are looking for a significant return on investment.
Taking a quick step back from Adobe's identity service, the concept of identity broadly brings together many things in the online and offline worlds, such as:
Logging into a website or app
Giving consent for data to be collected and used
Forms of offline identification such as passports
Tracking cookies and digital identifiers, pseudonymous or not
Social media presence
Interests, preferences, and opinions
The other people you are connected with either physically (such as family and friends) or digitally (such as on Facebook)
Given the right technology, it's possible to incorporate most of these as attributes that you use to build your customers' digital identity while respecting their privacy and consent preferences. And let's not forget that identity could describe a business, as well as an individual person.
What does Identity mean to Adobe?
"Identity ties the behaviors, attributes, and keys that describe a person, household, or business. Identity helps marketers better understand entities in their entirety and communicate with them across all channels. Adobe helps customers leverage identity in a simple and flexible manner" — Brian Pong, Adobe
Identity presents many challenges, and traditional identity enablement is a "hot mess." If you delved into this world already or even considered it, you've probably asked questions such as: How do you handle Personally Identifiable Information (PII)? Should you do hashing? What data formats should you use? And how do activation partners handle identity?
This traditional approach to identity has been far from perfect and may not have even solved the particular use-case that you set out with. This can be really frustrating throughout an identity project, but particularly in the middle where you haven't been able to guarantee that it 'ill work.
Simplifying the identity challenge is crucial to guaranteeing a return on investment, and Adobe is trying to simplify it into a three-step process:
Set up Adobe Experience Platform — This includes most of the steps to enable identity and where most of the heavy lifting is.
Describe at least two use-cases (activation via a particular solution).
Validate results. How do you build trust?
You'll come across a lot of window dressing, even in this three-step process, so let me boil it down for you. Adobe's identity solution IS Adobe Experience Platform. Once you set up Adobe Experience Platform, the rest will follow.
So, how is Adobe connecting identities? How are they handing identity stitching?
Currently, Adobe offers two types of identity graphs: Co-op and Private. Co-Op is only available in North America, but now has approximately 100 subscribers who are contributing to the Co-Op graph.
Both of these graphs use two types of identity stitching:
Deterministic stitching — You log into a website from two different devices.
Probabilistic stitching — This takes into account other signals, such as not logging in but having the same IP address.
Both of these forms of stitching are used to create the identities that belong to a person, and probabilistic stitching for private graphs is due to be released later this year.
But there's more, including different identity solutions depending on who you are interested in (individuals, households, or businesses), and they are investing in household graphs later this year.
For businesses, and tying individuals to businesses, there's multi-entity segmentation, which allows you to tie individuals to accounts or individuals to opportunities.
To conclude, identity is a difficult topic to understand and is often a "black box." Building trust through transparency is critical for delivering incredible customer experiences, so later this year you'll come across other features in Adobe Experience Platform, such as an identity graph viewer that will allow you to inspect your identity graphs, validate the ingestion of the data, see how identities are combined, optimize this process, and fix errors.
Honorable Mention: Simulation Can Transform the Retail Experience
Session: Sneaks – Project Clothes Swap
Speakers: Ayush Chopra
Agreeing with Aimee Bos, I think Sneaks is one of the best parts about Adobe Summit. I always love seeing the new innovations that the smart people at Adobe come up with, and it never fails to ignite my passion for innovation. However, while I'm usually blown away at the Sneaks keynote (and entertained by a comedian), once it's over and I reflect on things outside of the auditorium, I struggle to envision how to actually apply this for my clients.
This year, I think there's one Sneak where the applications are clear, and it has the potential to be a game changer in the retail industry, particularly for clothing companies. I work with clothing companies that have fast-moving product catalogs, and they constantly face the challenge of catalog management, such as conducting photoshoots and then producing a variety of web-ready images for their new products.
This creates strain on marketing and merchandising departments when they're building the content for the new product pages on their website. Photos have to be taken, uploaded, edited, and produced for web and mobile devices.
Photoshoots (including the models) are costly, and this can limit the ability to personalize the customer experience around product imagery. If you want to photograph the same pair of jeans on a variety of models, for example, strain and costs will start to spiral as the length of photoshoots, number of models needed, and quantity of images you have to process increases.
That's before we even get to determining how we'd actually show the right image to the right person at the right time (#activation).
Introducing Clothes Swap: a next-generation clothing simulator that simultaneously reduces costs, streamlines catalog management, and increases conversion through personalization.
Clothes Swap is based on the concept of a product simulator and a model simulator. Instead of photographing the product on a model, you photograph it separately and then use Clothes Swap to simulate how it would look on the model.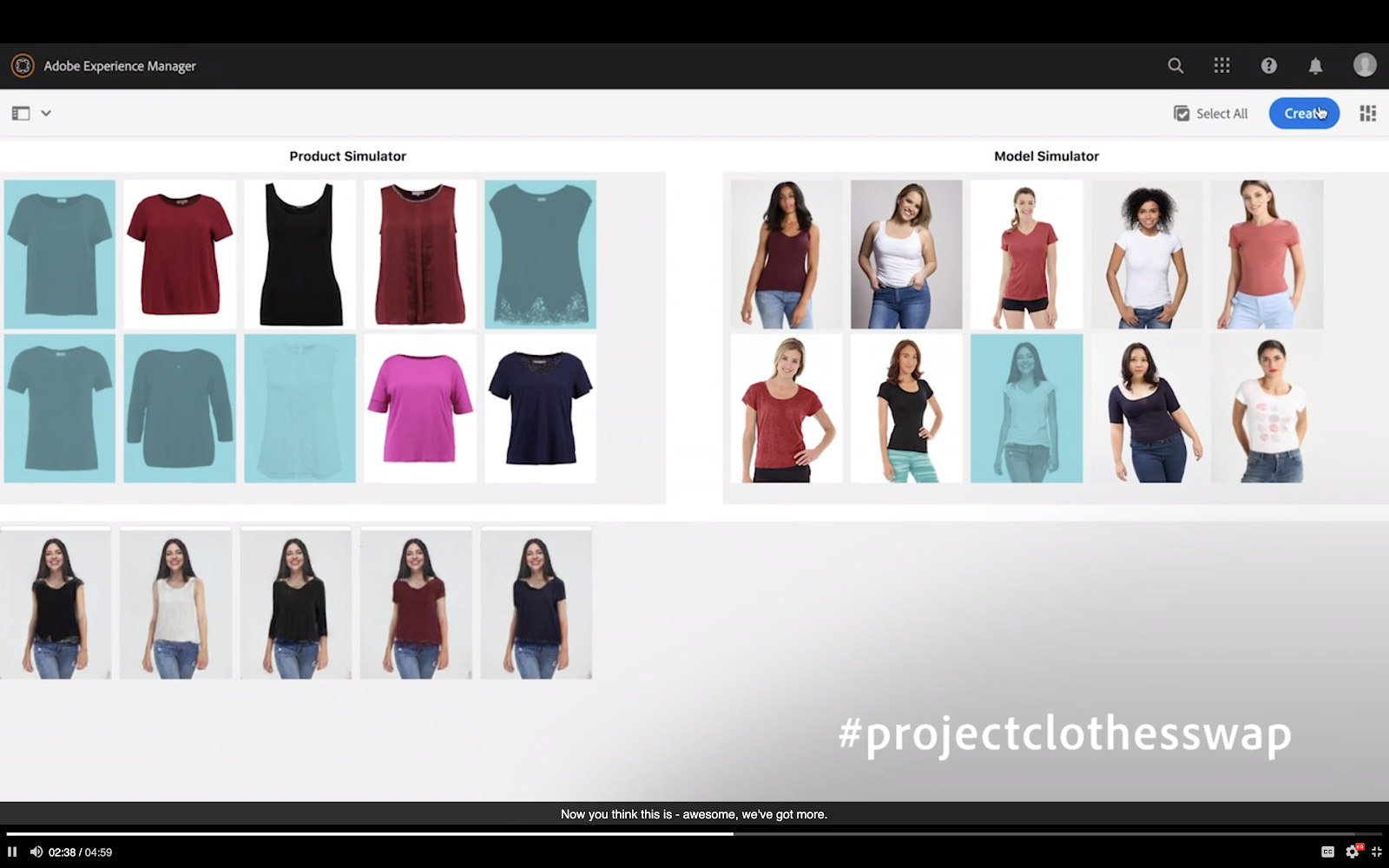 The results shown in the Sneaks video are impressive, but in practice, I don't think it's going to look as good as your current product imagery — yet. The "yet" part is key here because this is the future. As this sort of technology advances, we'll be able to get closer and closer to a simulation that is indistinguishable from a real photoshoot.
So how can we use this to personalize the customer experience? Here are some ideas:
Let users simulate clothing combinations. Enable them to see how a pair of jeans would look with a particular t-shirt, online, before they buy.
Proactively show clothing combination simulations to upsell products. Instead of "Here are some products you might also like" or "Products frequently bought together," consider "We think this t-shirt would look great with that pair of jeans. Check out what it would look like."
Display all product images to a customer in their size. Imagine your whole shopping experience is personalized with product imagery of models wearing only your size, or the size of the person you're buying for.
Change the model. There may be reasons why you want to personalize the model you show in your product imagery. For example, maybe you sell your products in many different countries and want to show models of different ethnicities depending on region.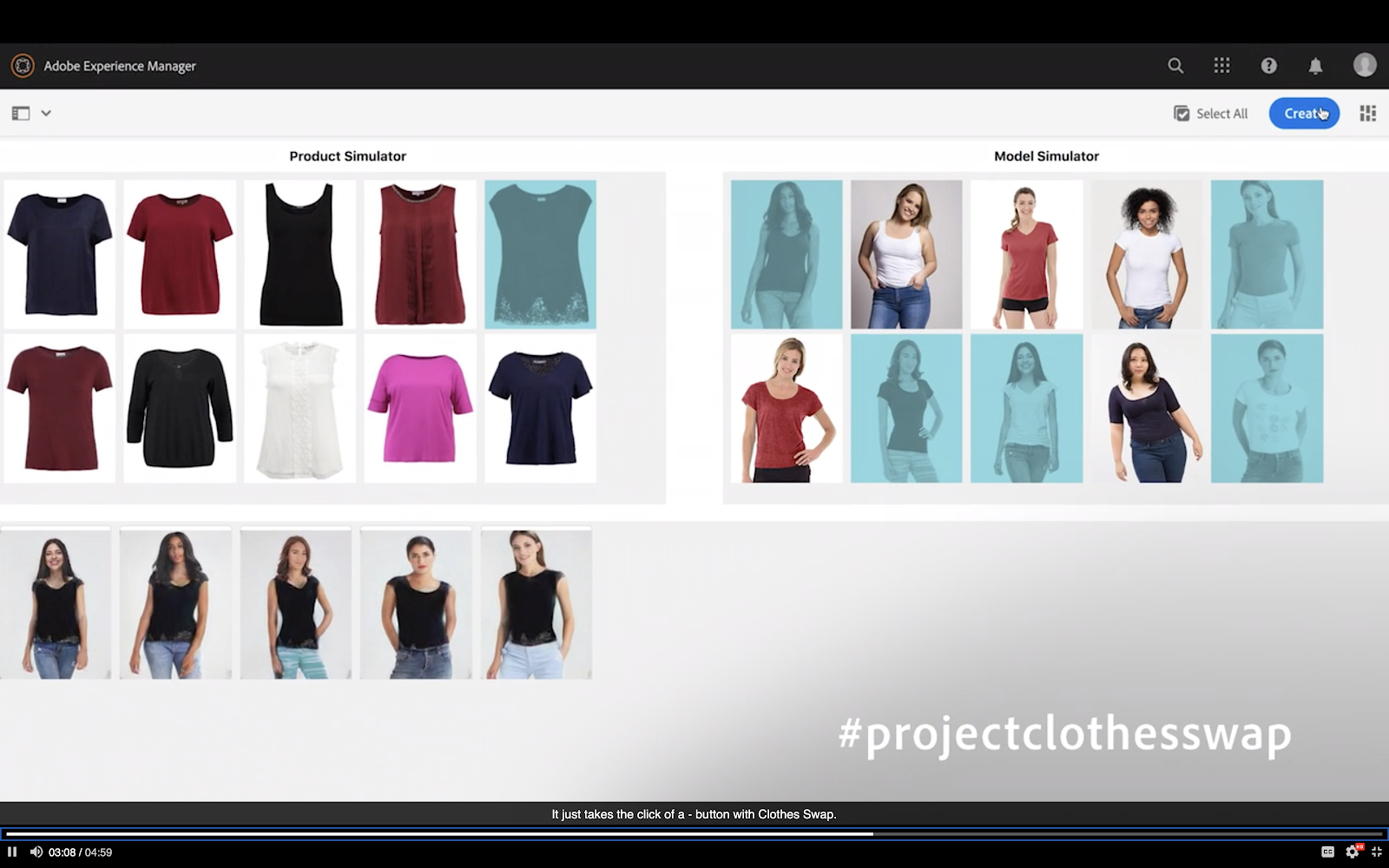 Yes, Customer Journey Analytics is Legit
Brad Millett
Senior Analytics Strategist
Session: Customer Journey Analytics: The Omnichannel Future of Adobe Analytics
Speakers: Trevor Paulsen, Jen Lasser
Elaborate on Aimee Bos' praise for this session on Customer Journey Analytics…if you've been to a tech conference, you're used to hearing presenters call relatively mundane features "game changing" or "revolutionary." It gets to a point where words begin to lose their meaning. This means that, when you truly find something that is worthy of those words, you've got nowhere else to go when looking for hyperboles.
That said, this is one of those moments where "game changer" is truly appropriate. Trevor and Jen truly showed a handful of features that will fundamentally change the way we do analysis in the future. Here are a few of the features they showed and how I can see them used with some of my clients:
Merging data across multiple report suites. As Trevor mentions here, this goes far beyond just visualizing two report suites next to each other in Analysis Workspace. It even goes beyond pulling data from two different report suites into Report Builder and performing calculations in excel. Here, they're actually merging the data based on cookie IDs. This means that, if you had a website and an app, you could use the same user ID across the two report suites and merge all of the data into one data view. You could then very easily create fallout reports and device pathing reports across devices, across platforms.

No more unique value limitations. This means that, when you merge the data across those report suites (or begin adding in other data sources), you can look at data for single users, even if you have hundreds of thousands of IDs. You no longer need to go to Data Warehouse and schedule a report, then wait five hours for it to show up in your FTP server, then sift through that data in another platform outside of Analysis Workspace. You can look at all your data in Analysis Workspace. Or, even better, if you're feeling adventurous, you can go directly to the query service within Adobe Experience Platform and run SQL queries on the clickstream data. Right. There. There's no need to set up a data feed and perform complicated ETL processes to load that into your own database. All of this may seem trivial, but just these changes will save hours upon hours of setup and waiting, freeing you to simply work.
Data Views are your new best friend. When you connect your data sources to Adobe Experience Platform, as long as all of the data sources have timestamps and the same IDs to identify people across datasets, all sessionization and attribution calculations are applied to the data non-destructively (just like virtual report suites). Here's what that means practically: Let's say you have your typical online web data and you also have your in-store point of sale data. You could change the persistence of your marketing channels to then show which marketing channel gets credit for the in-store purchase for your user.

Ability to integrate advanced analysis models created with R (for example) to supercharge your analysis and segmentation.In this example, Trevor shows how he has integrated propensity scoring models into his segmentation. The best part about this, however, may be the simple fact that this is all available in Analysis Workspace, where the rest of the analysts already work. This means all of the impressive work that your data scientists do won't be limited to whatever delivery method they're used to (e.g. PowerPoint presentations, emails, etc.). Instead, it can live in Analysis Workspace, where everyone, not just the data scientists, can benefit from it.
This is just a glimpse into Adobe Experience Platform and Customer Journey Analytics, but it's already clear to me that this is a toolset that's second to none in its capabilities and potential.