Analytics Blog
Supporting Leaders to EVOLVE

Why You Should Still Attend (the Digital) Adobe Summit 2020
Like nearly every other conference scheduled for the coming weeks, Adobe Summit 2020 has been impacted by the COVID-19 situation. And while the industry won't be gathering in-person for this always-enlightening affair, we remain excited as Adobe has moved it to fully digital event: Summit Live.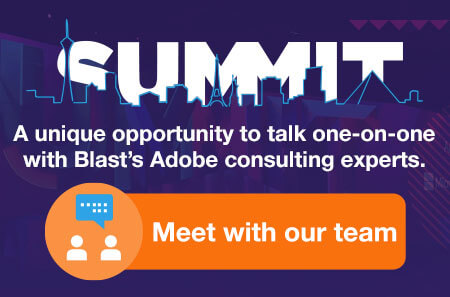 Adobe is all about "experience," and Summit Live — March 31, 8:30-10:30am PDT — is sure to follow suit.
Though we were hoping to connect with many of you in Las Vegas, we'd still love to meet with you virtually — now or later — and discuss Adobe solutions, and how Blast can help optimize your customer experience.
In the meantime, some of our Adobe consultants (who were previously planning to attend in-person) have each picked a Summit Live session they're most excited about. If you're planning to view the online event, keep these sessions in mind.
Recommended Adobe Summit Sessions
Due to the changing nature of this event, specific sessions are to be determined, and we'll update this post as Adobe finalizes its Summit Live schedule.
Aimee Bos
Session Name: L780 – Create Digital Experiences in Real Time
Speaker: Daniel Wright, Technical Marketing Engineer, Target, Adobe
Sal Daoud, Group Product Manager, Experience Platform, Adobe
What Aimee is excited about:
"Right now, the Customer Data Platform (CDP) space is overflowing with offerings, and Adobe is the newcomer to the space. One of the keys to a successful CDP is the ability to provide real-time data for immediate activation. Unlike other sessions, this one is a lab. I'm excited not only to see Adobe's Experience Platform (AEP) in action, but also get more opportunities to dig into some innovative features including advanced segmentation and customer journey analytics."
Brad Millett
Session Name: L728 – Analyze Your Customer Journeys
Speaker: Andy Powers, Principal Consultant, Success Services, Adobe
What Brad is excited about:
"Analyzing the customer journey is something that has always interested me. In fact, when I was a part of the Analytics Idol competition at Adobe Summit 2017, that was one of the topics I discussed and eventually wrote a blog post about. So much of what we measure with digital analytics tools is very granular. I don't think we zoom out to look at the entire journey of a customer and all their various touchpoints often enough. I'm always excited to learn how others are accomplishing this level of visualization, and especially how they are utilizing it to improve their own customer journeys and increase ROI."
Josh Morrow
Session Name: SS2 – Creating Exceptional Experiences in Healthcare
Speakers: Thomas Swanson, Head of Industry Strategy & Marketing – Health & Life Sciences, Adobe
Spencer Cross, Director, Product Management – Digital Experience, Change Healthcare
Geeta Wilson, CEO, Consumer Society
William Krause, Vice President – Emerging Solutions, Change Healthcare
What Josh is excited about:
"Healthcare has been a challenging industry due to tough data and privacy regulations, but it's ripe for disruption and innovation. I look forward to learning from leaders in the healthcare industry that have been successful in delivering highly-personalized, extraordinary experiences to their customers on the web."
TJ Webster
Session Name: S624 – Meet Alloy.js and Never Tag for an eVar or Mbox Again
Speakers: Corey Spencer, Director, Product Management, Adobe
Brandon Pack, Director of Software Development, Adobe
What TJ is excited about:
"Though Adobe makes fantastic tools, implementing them can be a little tricky. Since many of these tools are from acquisitions, each implementation is very different from the next. Adobe has made some progress in making all of these implementations "talk to each other," but it can still be frustrating to get them to fire in the right order so that they grab the right data from other Adobe JavaScript libraries.
Also, updating Adobe libraries can be a huge pain, especially when you have Adobe Analytics, Adobe Target, and Adobe Audience Manager. With Alloy.js, Adobe is promising one JavaScript library for all these tools. Not only that, but only one server request will be sent for all of these tools, with mapping to reach any tools happening server-side. So, Alloy.js will not only make implementation easier, but also improve the speed performance of any site that migrates to it."
Naveen Kunchavaram
Session Name: S110 – Customer Journey Analytics: The Omnichannel Future of Adobe Analytics
Speakers: Trevor Paulsen, Principal Product Manager, Adobe
Bret Gundersen, Director, Product Management, Adobe
What Naveen is excited about:
"With the growth of mobile and wireless devices, multi-channel journeys and attribution is challenging. Customer journey analytics can be a great extension for organizations that import Adobe Analytics data and stitch it with other datasets to create an omni-channel data lake. This session will expand the perspective of data blending with Adobe Experience Platform tools and Data Science Workspace for actionable use cases."
Luke Johnson
Session Name: S611 – Brave New World: Life After the Cookie
Speakers: Ben Beard, Group Product Manager, Adobe
Fernando Alfaro Montesinos, Senior Technology Architect, Telus
What Luke is excited about:
"It's a perilous time for the digital advertising industry, as current-state technology faces an all-out assault on two fronts: the proliferation of data privacy laws and browser-led restrictions on user identification. While many companies are slowly adjusting to the new legal and technical realities of GDPR and CCPA, the future of cookie technology is still very much uncertain, and the status quo of targeted advertising will continue to change dramatically. I look forward to hearing from experts at Adobe on their vision for a new, privacy-centric approach to digital advertising and, in particular, how Adobe's new Experience Platform tools will conform to this changing landscape."
Meet & Share All Things Adobe
We hope these summit sessions spark your interest, as well. If you watch any of them and would like to discuss the underlying Adobe products, takeaways, or would like to chat about what you heard, please request a 1:1 meeting with one of the above Adobe consultants.
If you have your own 2020 Adobe Summit sessions that you're excited about, please share them in the comments!
Look forward to opportunity to connect and share in our passion for Adobe solutions and optimizing experiences.