Analytics Blog
Supporting Leaders to EVOLVE

Why Google's Page Experience Update Matters
Optimizing a website is a lot like running a farm; they both require constant effort. If you put in the work, you'll be periodically rewarded. But sometimes even after a whole season of fertilizer, irrigation, and fungus control, a swarm of locusts will show up and destroy the fruits of your labor.
The next big Google search update might be a swarm of locusts, or it might be a gentle summer rain, depending on how well you prepare. Luckily, there's time: the update is called Page Experience, and will roll out in May, 2021. Google has promised to give six months warning prior to this particular search update out of respect for those who might be overwhelmed with coronavirus-related issues — plenty of time to perform a readiness assessment of your site.
What is Page Experience, and What Does it Want?
In short, Page Experience combines existing user experience (UX) signals with another set of metrics called Core Web Vitals.
The Page Experience signal will be new, but Google's obsession with user experience and computer/human interaction research is not. From an anthropological perspective, the internet is another dimension where people live their lives, not just another marketing platform. Juicy stuff to a company composed of scientists and engineers.
Setting Google aside for a moment, user experience is important because there's just way too much competition online. Your customer isn't going to wait for an image to gradually reveal itself on your site when they can just as easily try one of the other 400 million. If your website is difficult to navigate, the user will get frustrated and transfer feelings of animosity toward the brand. Likewise, if the experience is easy, quick, and includes puppies, they'll rave about the company that gave them a rush of oxytocin.
User experience is important because there's just way too much competition online. If your website is difficult to navigate, the user will get frustrated and transfer feelings of animosity toward the brand.

Click & Tweet!
Why Google Really Cares About Your Site
Imagine a friend has set you up on a blind date. The date arrives an hour late, doesn't apologize, and spends the evening texting an ex. The next time you feel like going out, you're not likely to call that friend when you can just as easily ask another (less popular) friend to set you up.
Google doesn't want to be a bad matchmaker. They want customers as much as any other business, and they didn't recruit billions of daily users — viewing 30 billion paid ads — by sending people to sloppy websites.
Google doesn't want to be a bad matchmaker. They want customers as much as any other business, and they didn't recruit billions of daily users — viewing 30 billion paid ads — by sending people to sloppy websites.

Click & Tweet!
Hence Page Experience
As mentioned, Page Experience will combine existing UX signals with another set of metrics called Core Web Vitals. Existing UX-based ranking metrics include:
Mobile-friendliness
Safe-browsing
HTTPS-security
Intrusive interstitial guidelines
Core Web Vitals consists of three metrics:
LCP (Largest Contentful Paint)
FID (First Input Delay)
CLS (Cumulative Layout Shift)
Put all of these together, and you have Page Experience. Let's look at what those metrics are in humanese:
Mobile friendliness = A page that's designed to be easy to use on a smartphone. Graphics shouldn't run off the side of the page, text should be large enough to read, and links should be spaced far enough apart that an average-sized adult can click just one at a time.
Safe-browsing = Lack of harmful content (e.g., no virus-riddled downloads or attempts to trick people into giving up their personal information).
HTTPS-security = The domain has an up-to-date security certificate. Googlebots will avoid ranking URLs that start with "http" rather than "https," and there's evidence that having external http links on a site can be detrimental to SEO.
Intrusive interstitial guidelines = Pop-ups are used only when least likely to annoy the user.
LCP = Essentially, the time it takes to load the page's main content.
FID = The time it takes before the user can interact with a page. (Google's official description claims it "quantifies the experience users feel when trying to first interact with the page." Think about that.)
CLS = The amount of space that a visual element might move while the page is loading. If you've ever accidentally paid off your entire credit card when you only meant to make the minimum payment, you'll understand this metric.
Incidentally, Google Analytics provides data on other metrics that indicate a good or bad user experience, such as Bounce Rate, Pages per Session, and Session Duration. It's useful to review these on at least a monthly basis to get a basic sense of how users are reacting to your site. As you work to improve the Page Experience elements, Bounce Rate should also improve.

Warning: This Google Search Update May Bore You
Adapting to Page Experience won't be easy for everyone. If your organization's website is housed in a content management system with a drag-and-drop editor, you may need to hire a developer to help implement improvements. For example, speeding up page load is no longer just a matter of resizing and compressing images (though you should definitely still keep doing that). Google's PageSpeed Insights tool offers suggestions like "serve static assets with an efficient cache policy" and "avoid chaining critical requests."
If you're lucky enough to have a developer or two on your team, then your biggest challenge might be just getting them to learn about Page Experience and prioritize the changes needed to optimize your site.

Message to developers: Please decide to care about SEO. Organic traffic has a high ROI, saving the company more money to spend on holiday bonuses. Thank you.
Google does offer plenty of resources for developers, as well as tools to help smooth the transition:
There'll be further updates to Lighthouse and PageSpeed Insights.
Google Search Console now includes a Core Web Vitals report for relatively easy reference.
Core Web Vitals will be integrated into third-party SEO tools (we're already seeing it in Screaming Frog).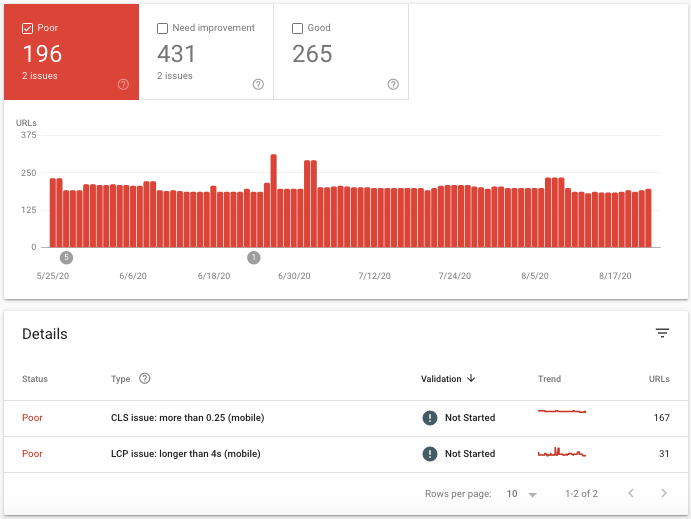 How to be Successful with Page Experience
If you want to stay competitive in the SEO space, it's important to take advantage of the early notification so you can plan what might turn out to be significant site changes. These are the three elements that predicate success:
Information: Find out as much as you can about page load speed, mobile usability, and Core Web Vitals using the Google-provided tools mentioned above.
Recommendations: Get the data translated into insights and a strategic plan.
Implementation: Collaborate with developers early on so they know why Page Experience should be a priority.
Blast recently did a Page Experience readiness assessment for an e-commerce client that actually revealed how manageable their efforts were going to be. They had already been addressing page load speed issues, so the only real surprise was the cumulative layout shift. By reformatting a rotating banner, that problem will be eliminated on most pages throughout the site. Problem solved.
What Do You Mean, There's More?!
There's another part of the update that almost feels like a stowaway: Web Stories. You may have seen Web Stories in the SERPs before, but they were previously only rankable if built with AMP. AMP, which stands for Accelerated Mobile Pages, is a Google platform for publishing pages that load ultra-fast on mobile devices. If you see a search result that has a tiny bolt of lightning in one corner of the image, you'll know that page will load as soon as you even think about clicking it.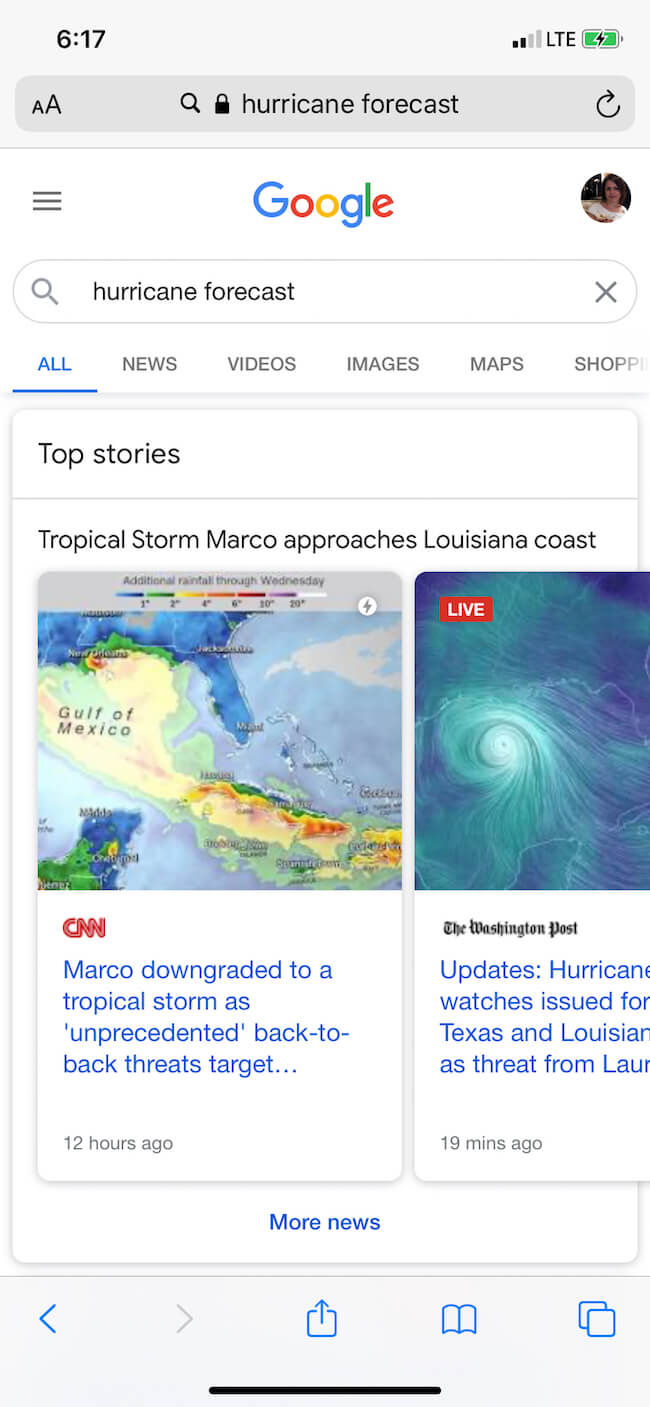 With the new Google search update, non-AMP pages will be able to rank as a Web Story, which will present some unique opportunities. The idea is to offer rich content that creates an immersive (and presumably positive) experience for the user. If your team can create content that meets this criteria, as well as the usual SEO ranking factors, plus Page Experience metrics, you might be rewarded with a highly visible spot in the search results.
Oh, there's one other caveat: Web Stories must comply with Google News content policies, even though they can be editorial or monetized. So if you can create an immersive experience that allows people to virtually "try on" your brand of shoe umbrellas, you can include links to sell the products — as long as you're transparent about what is or isn't sponsored content.
So why is Web Stories packaged up with Page Experience in this update? It's a continuation of the themes Google has been focused on for SEO over the past few years: mobile friendliness — including quick load times — ensuring a positive customer experience. There's definitely a theme here, if not a direct association.
If you're wondering how to go about creating Web Stories, there are a few story-building tools and plugins available for building AMP pages. When the new update officially rolls out, and probably sooner, they will most likely expand their capabilities beyond the AMP platform. Keep an eye out for a whole new slew of rich content tools to play with. Just remember — adding too many plugins to a site can slow down its load time.
In Summary: Don't Panic
The next big Google search update will officially roll out in 2021; Google has promised six months warning and has already begun providing the tools you'll need to prepare. You can still get ahead of this. In fact, many company websites are still just trying to catch up with mobile usability issues, even though mobile-first indexing made the scene at least two years ago (the date was different for different sites). If that's the case, this is a great time to assess and update all potential search issues at once. If you're not sure about the search-friendliness of your site, an SEO audit would be a great place to start.