Analytics Blog
Supporting Leaders to EVOLVE

How to Track Local Search in Google Analytics
In a local search campaign, wouldn't you like to be able to easily track the impact of your efforts? By creating a Local Search Advanced Segment in Google Analytics, you can easily isolate and measure the quality and quantity of the local search traffic. It will allow you to evaluate local search as a channel and evaluate each local traffic source.

Local Search is an increasingly important channel in an overall online marketing campaign. When we perform SEO audits, it is essential that we understand what channels are performing or under-performing. At a minimum, we setup segments and analyze channels such as:
Social Networking
Local Search
Press Release/News
Webmail/Email
In this post, we will share how to setup an advanced segment to measure your local search channel and answer questions like:
Where do opportunities exist in local search?
Am I receiving traffic from local search?
What local search sites are sending the most traffic?
What local search sites am I not receiving traffic from?
What local search sites are sending quality traffic? (if your visibility is low for a specific site, and that site is still driving quality traffic, this represents a big opportunity!)
Don't be Misled by Averages
As with the creation of other advanced segments, the key is to break down site activity to achieve actionable insight. Don't be misled by averages in your analytics data.
Note: If you are new to the concept of advanced segments, you might want to start by reading this post on the value of google analytics advanced segments.
Instructions to Setup Local Search Advanced Segment
Based on your specific needs you will likely need to customize this local search advanced segment. This example is a great starting place that has served us well.
Keep in mind that there are minor differences between the current and new version 5 Google Analytics user interface.
Open "Advanced Segments"
Open the "Advanced Segments" by clicking at the top of the Google Analytics interface:

Create New Advanced Segment
Click the "Create New Advanced Segment" link to open the Advanced Segment Edit screen.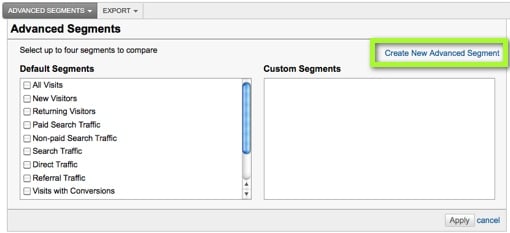 Configure the Advanced Segment
Find the "Source" dimension in the left-hand menu under "Dimensions > Traffic Sources" and drag "Source" into the spot shown above. (Note: If using version 5, leave it on the default "include" setting.)
Change Condition to "Matches Regular Expression"
Enter the Value – this value will match Google Maps, Bing Maps, Yahoo Maps, and a wide variety of local based review and directory sites:

"yelp|citysearch|maps|local|insiderpages|zagat|yellowpages|superpages|mapquest"

Click link "Add "and" statement" and again drag "Source" into the spot shown above.
Change Condition to "Does Not Match Regular Expression" (Note: If using version 5, change the default "include" setting to "exclude.")
Enter the Value – "localhost"
Name the segment – Enter a name for the segment. Something like "Local Search (yelp,maps,etc)"
Test the Segment (aka Preview Segment in version5) to ensure it works (more information to follow)
Finally, click 'Save Segment'
Test the Segment

Our test of the segment worked perfectly. When testing the local search advanced segment, if you get ZERO visits, you need to do one of 3 things:
Check Referring Traffic – Go to "Traffic Sources > Referring Sites" report and see if you are receiving any traffic from local or map sites listed in the regular expression. If you are, then double check that you followed the instructions above. If everything looks good and you still get zero results, let us know and we will give you a hand.
Is Local Search Relevant? Determine if you are a locally relevant business like a retail store, restaurant, and professional service business. If you are then you need to start a local search campaign to start driving traffic and authority from these valuable traffic sources.
Cheat – Take the easy way out and use this advanced segment share link to easily add this local search advanced segment to your Google Analytics account:

http://www.google.com/analytics/reporting/add_segment?share=Ny4ckC8BAAA.RD_MY1rbVaEf7ayaUJLvVIJCRdM6R79_8fueGzLGkL14rgprV_dHPMkIO1qWeba8ZP0u2FTkPF15RW76Naof-Q.m2AEKbLgfuR5nc92jUM8VA
Now put on your Analytics Ninja Suit and Analyze!
Open the "Advanced Segments" window at the top of the Google Analytics interface:
Check the box for the "Local Search (yelp,maps,etc) segment
Uncheck the box for the default "All Visits" segment (later you can re-check this box and compare your overall traffic to this local search segment)
Now, if you visit your "Traffic Sources > Referring Sites" report in Google Analytics with your new segment applied, you will see a report similar to the one below.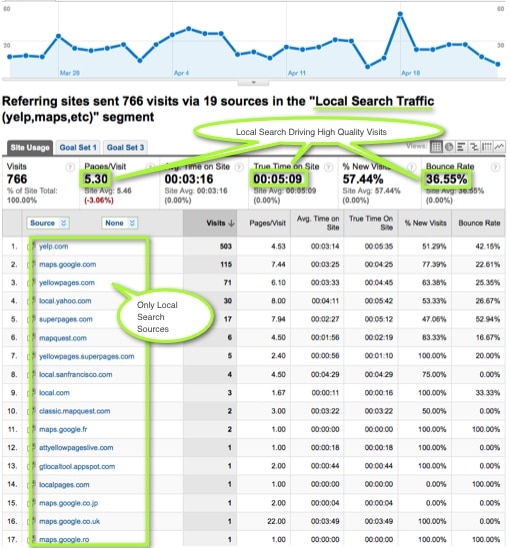 As you can see in this report, Local Search traffic is driving high quality visitors who are bouncing at a low rate and staying on the site for over 5 minutes. Next I want to find out if this organization has maximized their local search visibility, or more likely is there a lot more traffic available by optimizing local search listings.
Be sure you compare this local search channel to other channels to see how each is performing. This way you can evaluate the return on your current marketing efforts and see how you should adjust your strategy to take advantage of different opportunities.
Need Help with Local Search Marketing?
If you would like help from expert Google Analytics Consultants, here are a couple recommended starting points:
Not sure how well your local search is performing? Then you might benefit from a local search audit.
You haven't done any local search optimization? Then learn more about how we can help you with your local search marketing.