Analytics Blog
Supporting Leaders to EVOLVE

Google AdWords Tips: Structured Snippets
Give your customers a better idea of your services and website content before clicking your ad!
With structured snippet ad extensions, you can highlight specific features of your products and offerings to help your customers know if you've got what they're looking for.
What Structured Snippets Look Like



How Structured Snippets are Formatted
Before we dive too deeply into formatting, let's address the elephant in the ad extensions guide:
How are structured snippets different from callout extensions?
At first, it may be difficult to tell how these 2 extensions are different. They are very similar in function and appearance. The main difference is that structured snippets use predefined headers and categories.
Here's a handy chart (originally featured on "Google Inside AdWords") that shows the difference between callouts and structured snippets: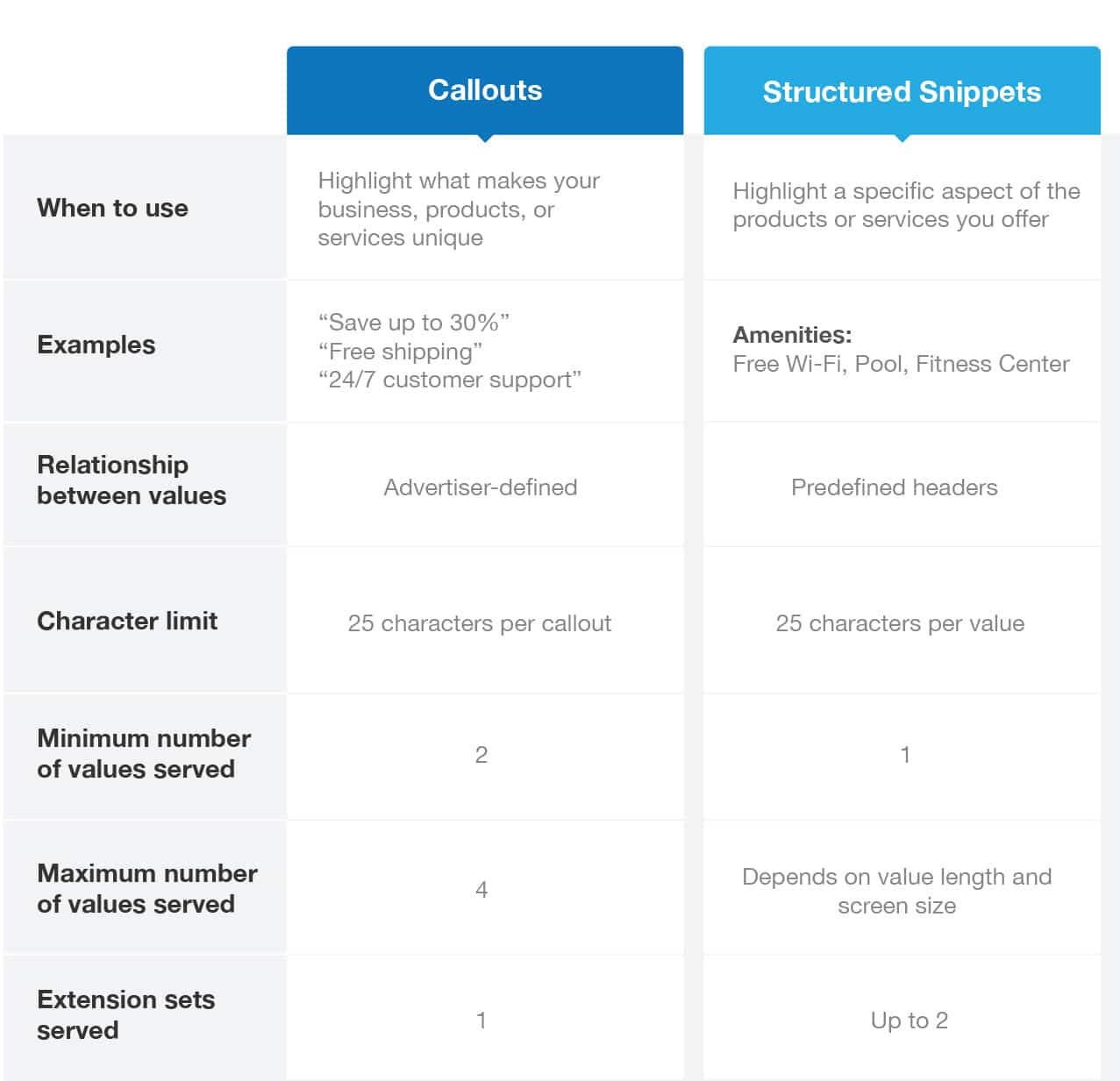 Your structured snippets will need to fall into an existing category. As of January 2016, your options include:
Amenities
Brands
Courses
Degree programs
Destinations
Featured hotels
Insurance coverage
Models
Neighborhoods
Service catalog
Shows
Styles
Types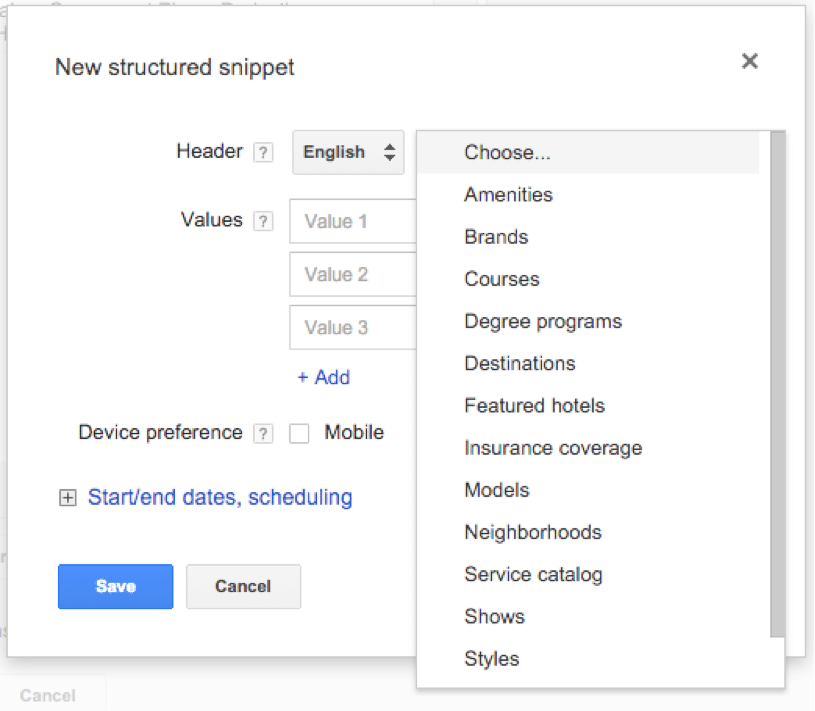 We keep seeing sneak peaks of other categories (officially named "headers") as well. It's best to choose snippets that naturally lend themselves to your available headers – don't try to force them! As an example, let's look at 2 ads selling tickets for the musical Hamilton:
Yes, these are shows (on Broadway)! This is relevant to someone looking for Broadway tickets.

These snippets are not amenities, and they duplicate callouts. (It's also not clear why Google is choosing to show "Tho…" rather than omitting that last value.)
In the context of a theater, a "Shows" snippet makes a lot of sense; it highlights other content a visitor could find on the site. "Amenities," however, doesn't accurately describe the values shown in the second ad.
How Structured Snippets are Useful
As with all Google AdWords extensions, review extensions let you:
Get an extra line of text to communicate your value.
Increase your CTR, thereby boosting your Quality Score and lowering your costs.
Structured snippets are also a great way for advertisers to control a snippet extension, piggybacking off the successful dynamic (automatic) snippet extension that was rolled out in 2015.
Specific benefits of structured snippets include:
AdWords may make additional or exclusive structured snippets available (such as with Black Friday and Cyber Monday in 2015)
Structured snippets can be scheduled, so you can run timely information in your ads without having to rewrite them
As of Dec 2015, you can now run 2 sets of structured snippets concurrently (for 2 additional lines of text)
Strategic Tips
Remember that extensions are not guaranteed to run (even in top positions).
Make sure that the values included in your snippets do not duplicate callout, sitelink, or ad messages.
Google recommends using as many relevant headers as possible for testing
How Structured Snippets Work
Costs
There's no additional cost to run Google AdWords structured snippet ad extensions. Clicks on your ad to your website incur normal charges.
Setup
Structured snippet extensions can be created at any of these levels:
Account
Campaign
Ad group
Keep in mind that the most specific level will always override the more general.
Constraints & Recommendations
Each value can be up to 25 characters
Your extensions should not duplicate content from your ad or other extensions
Snippets must be family safe
Snippets are supported globally, but are currently available in English only
How to Evaluate Performance
Structured snippet ad extensions don't get clicked, so to evaluate performance we look at how often the extension was seen, and the clickthrough rate of the ad (not the extension).
You can analyze the performance of ads that showed callouts from the Ad extensions tab. The Clicks column provides click data for your ad headline when callouts were displayed.
Steps to review your structured snippet performance:
Select a campaign with structured snippets. Then, click the Ad extensions tab.
Choose View: Structured Snippets from the "View" drop-down menu.
You'll see a statistics table that contains data on the ad's performance when the callout appears.
Analyze the success of your structured snippets to see which ones are enhancing ad performance and optimize your under performers.

Take Action
First, review the performance of your existing site links to identify opportunities for structured snippets.
Follow the instructions above to create account, campaign and/or ad group structured snippets. Keep in mind that with only 25 characters for each value, sometimes careful crafting is needed to fit the specifications.
Once your structured snippets are uploaded and approved, they can start to run the same day.
At Blast, we support leaders to evolve their organizations by answering their business questions, and helping them do more of what works and less of what doesn't. This impact increases the probability they will achieve their goals and outperform the market.
Keep in mind that analytical insights don't provide value, unless you take action. If you're interested in help to take action, learn more about how we can help optimize your paid media advertising.
If you're interested in tips on how to take action and improve performance in digital marketing, read the complete series of high impact Google AdWords Tips and other digital marketing tips that demonstrate our commitment to "Take Action!"