Analytics Blog
Supporting Leaders to EVOLVE

Elevate Your Customer Experience with Adobe Target Personalization Capabilities
These days, organizations are increasingly looking to adopt technology that will help their teams scale their personalization efforts. Understandably so, teams are prioritizing artificial intelligence (AI), machine learning (ML), and automation as part of the answer.
The benefits of using AI/ML are appealing considering increased customer demand for brands to provide a highly relevant customer experience (CX). The most significant benefit of AI/ML is the ability to digest a vast amount of customer data to obtain deep meaningful insights and individually personalize based on the evolving customer profile. The key here is that AI/ML accomplishes this in a fraction of the time it would take humans to do so manually.
The most significant benefit of AI/ML is the ability to digest a vast amount of customer data to obtain deep meaningful insights…

Click & Tweet!
While diving head first into AI/ML may be tempting, it's important for organizations to strategize about scaling personalization efforts in a reasonable and efficient manner. For example, as part of this strategy, it's essential your team understands the underlying data requirements (often the data layer) needed to support personalization. Ultimately, your organization needs to evaluate how a personalization platform's various capabilities can be utilized to help your team begin to scale efforts in the short term and then accelerate to achieve hyper-personalization over time. 
Adobe Target has consistently been recognized as a leader in personalization. The Adobe Target platform can support a wide spectrum of personalization, beginning with manual segmented personalization with their Experience Targeting (XT) activities. Where Adobe Target truly stands out is the various types of automated campaigns it offers, including:
Auto-Allocate
Auto-Target
Auto-Personalization
Recommendations
The primary benefit of using the Adobe Target platform is that it enables your team to get started with automation in the short term. More importantly, your organization can continue to leverage the platform as your personalization efforts evolve. To get a better understanding of how Adobe Target can be incorporated into your organization's roadmap to improve the customer experience, we've provided an overview of the different automated activities below.
Fast Track Experimentation with Auto-Allocate Activities
Target's Auto-Allocate activities leverage advanced statistics to help identify a winning experience as the test is running and then automatically redirects visitors to the winning experience. Using this type of automated activity helps your team reach winning results faster.

One of the key benefits for using Auto-Allocate includes having less cost and overhead that's normally incurred when running a manual A/B test and trying to determine a winning experience. For example, with a manual A/B test, your team must spend traffic ("cost") at a fixed allocation (e.g. 50:50 split) to measure performance, and the activity must run its course to determine a winner. With Auto-Allocate, your test isn't restricted to the fixed allocation over the test duration. Instead, having your test's traffic allocation optimize in real-time enables your team to get results faster and with less traffic. 
Another key benefit of using Auto-Allocate is that it enables your team to scale your testing frequency. Ultimately, faster tests result in a greater capacity to iterate and further optimize the customer experience. It's also worth highlighting that, since organizations are relying on test results to make business decisions, it's imperative that those results are reliable. To that point, Adobe's algorithm guarantees 95% statistical significance on experiences identified as winners. 
Overall, the Auto-Allocate activity has a broad application. It can be used with any A/B test, whether you're trying to optimize messaging, layout or functionality. The ideal use case is when a team wants to identify top performing experiences.  If instead, your team is more interested in understanding the differences between all experiences, including low performers, than a manual A/B test is better suited for this purpose.
Serve the Best Experience Every Time with Auto-Target
Adobe offers Auto-Target as a premium solution. Often referred to as one-click personalization, Auto-Target serves a highly customized experience by leveraging machine learning, specifically the Random Forest algorithm, to analyze the individual customer profile, as well as the behavior of previous visitors with similar profiles. This activity type works well with personalizing content, customer experience, user interface, functionality, and layout.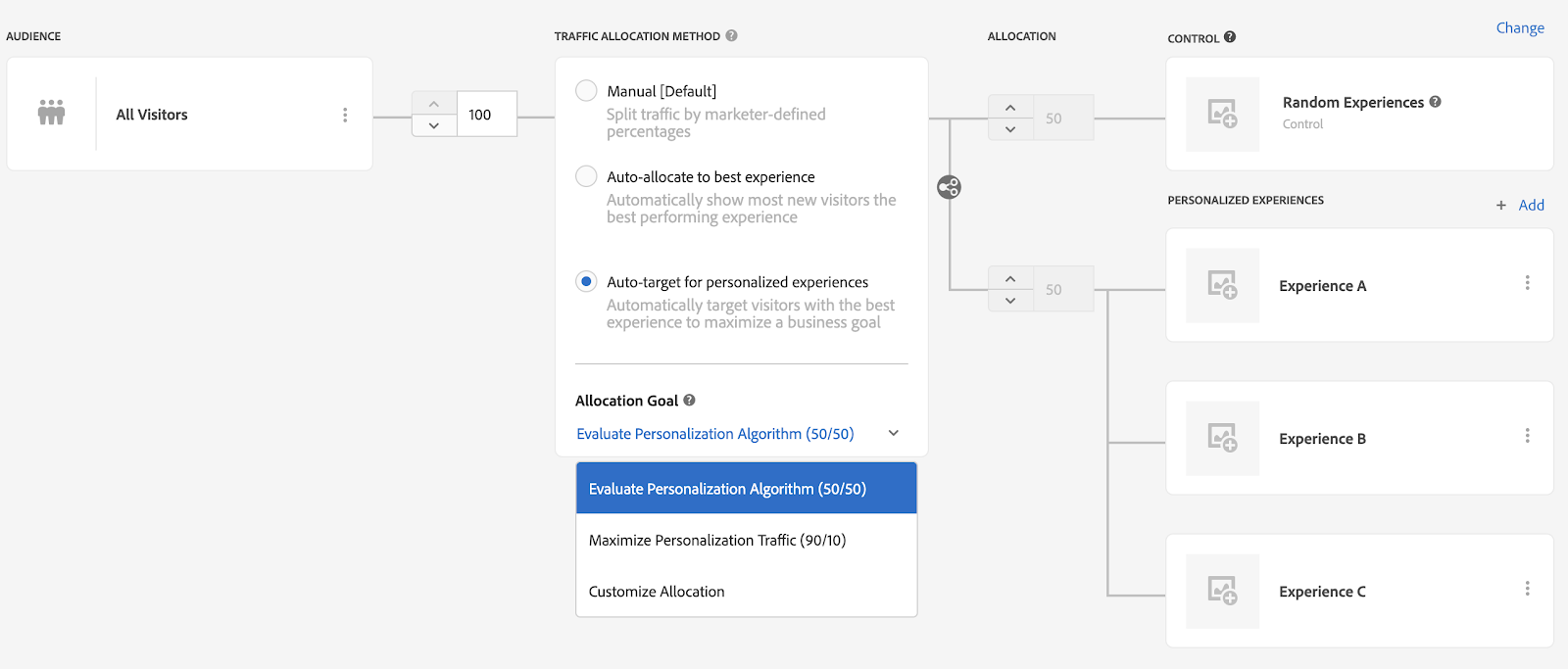 In contrast to traditional A/B testing, where the main purpose is to identify a single winning experience, Auto-Target focuses on providing the best experience for the individual customer. Furthermore, while traditional A/B test allocation is sticky (e.g. on subsequent visits, the customer continues to see the same experience they were originally bucketed in), Auto-Target adapts with changing visitor behavior to ensure the optimal experience is always shown.
It's important to note that Auto-Target shouldn't eliminate the use of traditional A/B tests. In fact, it's considered a best practice to first conduct an A/B test for the offers or locations your team is interested in optimizing. If the test fails to show a statistically significant difference, then an Auto-Target activity likely won't result in a lift as well.
To successfully utilize Auto-Target activities, strategy is a must. As part of this strategy, there must be a clear understanding of the success metric that will be used for the activity, including the corresponding impact this may have on additional traffic requirements. For example, revenue per visits require more conversions than other success metrics. Teams must also agree on traffic allocation between the control and personalized experience prior to launch. Finally, it's important to know whether targeted pages have sufficient traffic to support an Auto-Target activity, so that the machine learning models can work effectively.
Create the "Perfect Offer" with Auto-Personalization
Teams are often confused about the differences between Adobe Target's Auto-Target and Auto-Personalization activities. Both types of activities leverage advanced machine learning to determine the most favorable experience for each site visit. Similar to Auto-Target, to be successful with Auto-Personalization, strategy beforehand is a must. For example, it's important to evaluate traffic to the targeted page before starting an activity. 
The main difference between the activity types is that Auto-Target focuses on personalizing the whole experience, while Auto-Personalization seeks to personalize at the content and offer level. With offer-level targeting, Auto-Personalization takes a multivariate approach by automatically combining individual offers to form the best experience for that individual.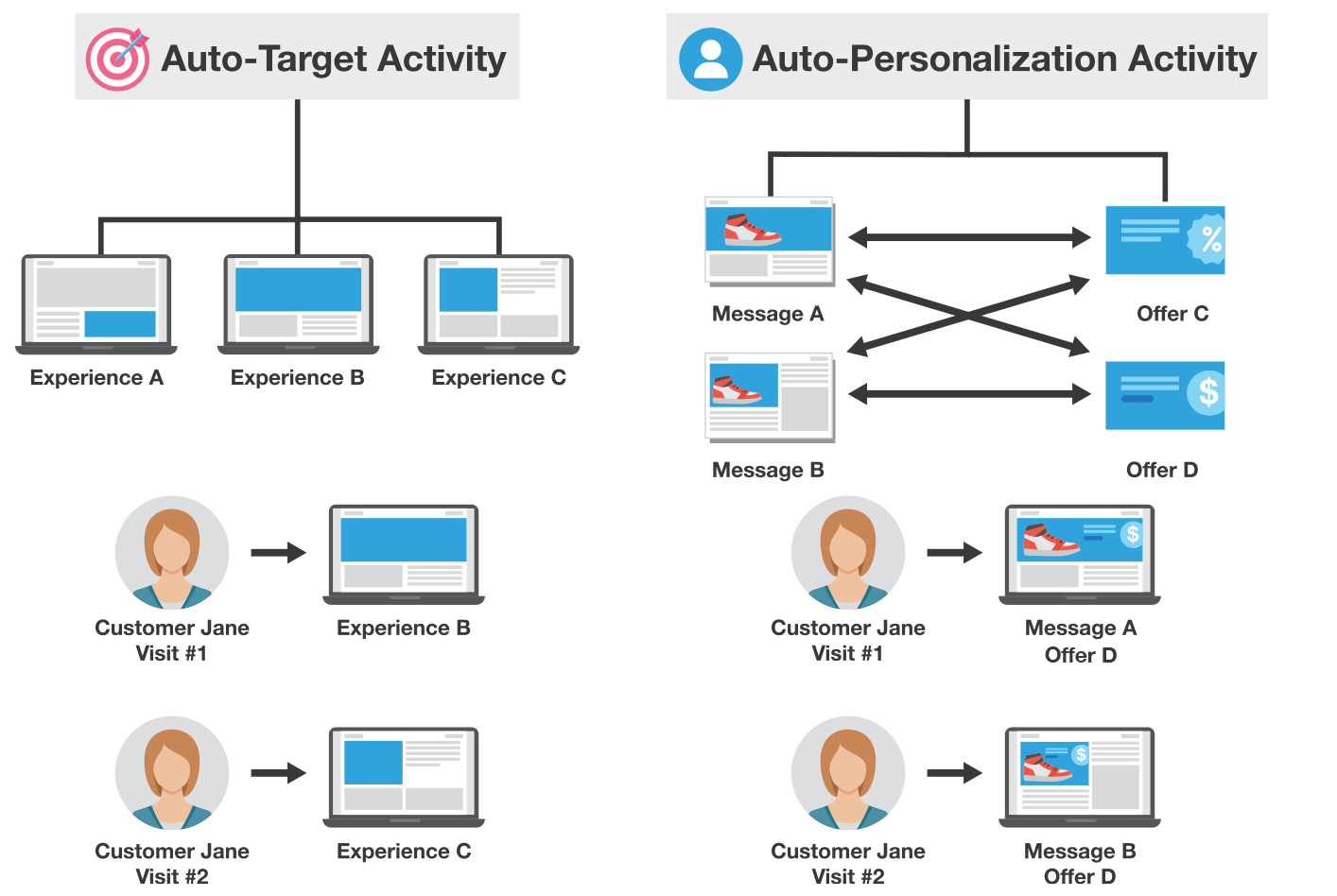 Because of this multivariate approach, Auto-Personalization activities tend to create more experiences and thus, will require more traffic than Auto-Target activities. In addition, if your team is looking to make structural changes to the CX (e.g. rearranging the position of elements on a page), an Auto-Target activity would be the recommended approach.
The primary benefit of Adobe Target's Auto-Personalization is that it doesn't require your team to identify what is the best experience prior to launching an activity. Machine learning takes on the heavy lifting by predicting the most effective content to present. Better yet, since an Auto-Personalization activity evolves as visitor behavior changes, it can be utilized in the "always on' mode for personalization.
Going Beyond Retail with Adobe Target Recommendations
Most organizations are familiar with recommendation-type activities, as it's primarily used in the retail industry. In general, recommendations are very useful in guiding visitors to items that they may be interested in based on previous behavior or other algorithms.
The main benefit of this type of activity is having the ability to serve real-time recommendations at the right point in the customer journey. 
Adobe emphasizes that the power of real-time recommendations extends beyond retail and can be utilized to drive personalized experiences across industries, including publishing, gaming, business-to-business, and travel.


Tip: For more examples of Adobe Target use cases, we suggest you take a look at these recommendations.
In addition, Adobe Target helps your team get started with Recommendations by providing out-of-the-box built-in audiences, criteria, design templates, and algorithms. For teams new to personalization or recommendations, this can help reduce the level of effort to get started in the short term.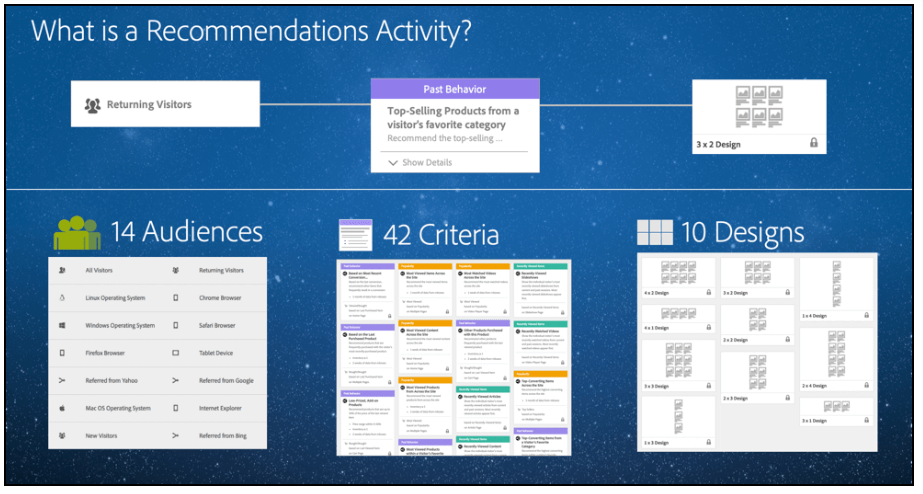 Furthermore, as your personalization efforts mature, Adobe Target provides flexibility for your team to customize and create your own items.
Scale Your Personalization Efforts with Adobe Target
It's critical for organizations to refrain from rushing to implement AI/ML without proper planning. Adopting the "crawl, walk, run" approach will put your organization on the path to success for the long term. When evaluating which personalization platform to implement to help execute your customer experience roadmap, it's essential to understand how this technology can help advance your personalization efforts over time and beyond the immediate needs. For many organizations, Adobe Target has already proven it has the capabilities to meet these needs.
When evaluating which personalization platform to implement to help execute your CX roadmap, it's essential to understand how this technology can help advance your personalization efforts over time and beyond the immediate needs.

Click & Tweet!
Oftentimes, the most challenging part in getting started with personalization and automation is ensuring your team has a solid strategy in place, including a firm understanding of what metrics to target and which activity type works best (e.g. Auto-Target vs. Auto-Personalization). If your organization is looking for a strategic partner to help drive your personalization efforts, our Adobe Target experts at Blast are here to help.