Analytics Blog
Supporting Leaders to EVOLVE

SEO Power Tip: Turn Off Google Instant Predictions
Did you know that the default Google search settings filter the results so one domain doesn't dominate?
The cool thing is this can be turned off and the unfiltered view becomes a powerful SEO research tool. The unfiltered view allows you to evaluate the relative strength of each listing, what tactics are being utilized, and most importantly, gauge how much effort and what type of tactics will be needed to move your listing up in the top 3 rankings. In case you aren't aware of why it is so important to be in the top 3 in search results, check out this excellent article on Search Engine Watch about the click through rates for Google search results.
In this post, we will show you an example of the unfiltered Google search results, explain why it is a valuable SEO tool, and provide instructions on how you can perform this research technique to assess the potential to outrank your site's competitive listings.
Behind the curtain: A whole new Google search result
You wouldn't expect it, but if you turn off Google Instant Predictions and change the 'search settings' to 100 results per page, you will see entirely new Google Search results. It isn't just the top ten pages of search results aggregated into one page of 100 search listings as you would expect.
For example, when you do a search for 'iphone' using this new setting, you will see that Apple has a lock on the first 48 results!
Note: The annotated numbers identify the top 10 search listings in the default Google search results.

Now this is search engine dominance!
Can you imagine if Google didn't apply the filter to limit the number of results that a single domain, like apple.com, can occupy? Nobody would ever stand a chance at gaining a spot on the first results page for the 'iphone' search query.
Plus, the user experience would be terrible because people would grow tired of having to click page after page to find anything non-apple generated.
Why are unfiltered search results valuable in SEO?
Going back to the default search engine result page for the "iphone" search query (screenshot below), you can see that it looks as you'd expect with Apple only holding the #1 and #2 positions. Notice the #2 listing is for the Apple Store – so the maximum of one unique domain listing in the top 10 holds true for highly competitive search queries.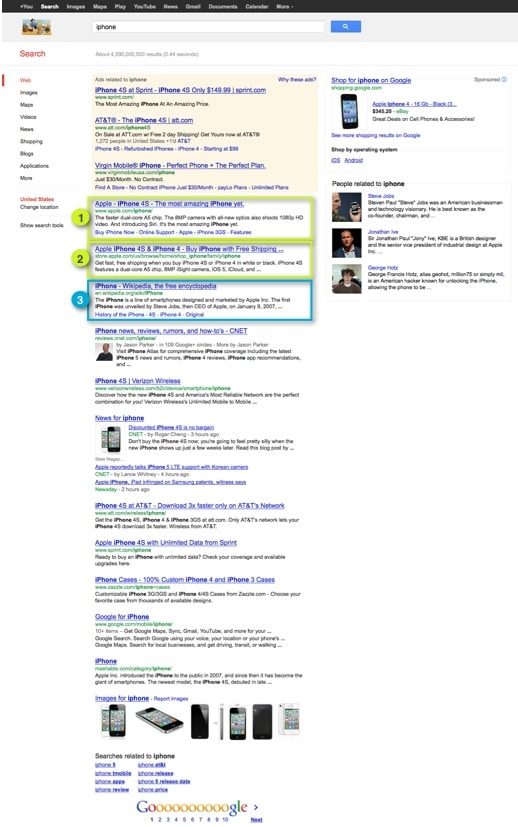 But what you can't see in the Google default search results, is the relative strength of each listing on this page.
The best reason to look at the unfiltered Google search results is so you can assess the potential to outrank your site's competitive listings and learn more about their on-site optimization strategies that you may be able to use on your own site.
Let's dive in and compare how Wikipedia ranks between the default and unfiltered search results.
Wikipedia is ranked #3 in the default search results, but it is actually #49 in the unfiltered search results. An important point to call out, is that Wikipedia holds six more consecutive search listing positions (#50-55). This shows that not only does Wikipedia have strong authority but it has multiple relevant content pages for this search query.
Thus, the unfiltered search results show you that Wikipedia has a strong hold on the #3 ranking, but is a distant competitor for the #1 ranking. Both Apple and Wikipedia have strong authority and a lot of relevant content for this search query, which means that their rankings are pretty much locked in and it would be very hard to outrank them.
Keep in mind that this is an extreme example that is intended to make this technique more obvious. Not many folks would be attempting to outrank Apple for the 'iphone' keyword.
Client case study anecdote
While working on a recent client project, we found that a competitor with a #1 search listing in the default search results held about 22 listing positions in the unfiltered search results. The #2-#4 listings on the default search results page each only held ~3 listing positions on the unfiltered search results page. With this small amount of related, quality content listings per domain, it was clear that if we create at least 12 additional quality, relevant, and optimized pages similar to the 22 listings for the #1 ranking site, we will have a great chance of moving our client from #5 to #2.
Why 12 additional pages?
Because 12 is about 4x the amount of well optimized, relevant, quality content pages that the #2-#4 rankings domains have, it helps close the gap on the #1 ranked competitor, and we know from past experience that this should be more than enough. Plus, these additional pages will deliver a solid increase in long-tail traffic as well.
Yes, long-term we can likely move our client into the #1 position by developing additional quality, relevant and optimized pages that help support and build up the targeted keyword. But for now it is a big win to quickly jump them up from #5 to #2 for their highest quality, highest volume broad keyword; with about half of the effort it would take to move into the #1 ranking. Work smarter and deliver results faster, right?
How to see unfiltered Google search results
In order to see the unfiltered Google search engine results page (SERP), you will need to turn off Google Instant Predictions in the search settings. Follow the steps below to see the unfiltered Google Search Results;
Open a private browser (instructions in this post on how to check search engine rankings accurately)
Go to Google.com
Click the Options Button (with a gear icon) in the upper right corner of the screen.
Click on Search Settings.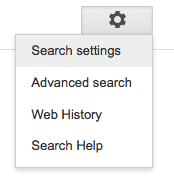 In the search settings you'll see a variety of options. The one we're focused on is specifically for Google Instant Predictions. The default setting is "Only when my computer is fast enough". With that setting the Google SERP (Search Engine Results Page) will show the usual 10 results – plus ads, news snippets, video and image thumbnails, local listings.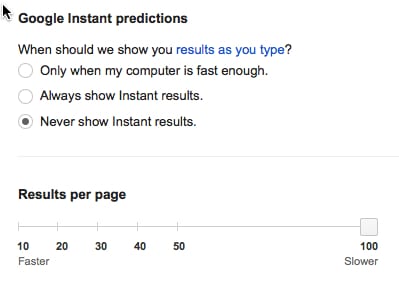 If you try to change the number of results shown per page, you'll see that you can't. But, and this is the heart of it all right here, if you change the setting to "Never show Instant results" you can then change the number of Results per page to 20, 30, 40, 50 or 100. Something to keep in mind is that the effects of the change increase as the results per page get higher. For the maximum effect and most valuable insight, set to 100.
But you may be asking, "what difference does this really make?" Well, actually it makes a huge difference. It does more than just change the number of results shown, it also removes the filter for limiting the number of results a single domain can have in the SERP.
After you click Save,



and then another click on OK (what the heck Google?), you are brought back to the new SERP and you'll see an entirely different set of results. It is not just the top ten pages of search results aggregated into one page of 100 search listings as you would expect.
Final thoughts
Overall, this is a simple technique for you to assess the level of effort required to move into the top 3 rankings, get ideas of what content you should create to attract more high quality visits, and help stakeholders appreciate the effort it will take to increase their rankings and monitor progress.
This is definitely not the end-all research method. There is still a lot of other research that needs to be done to get a solid idea of what aspects of SEO your site needs help with the most, but this is one research tool that should definitely be added to your SEO toolbox.
This technique doesn't answer all of the questions and leaves plenty open to experienced interpretation. As you play with it more you can get a better understanding of what the competition is doing and where they are focusing their energies. Combine this with other SEO Tools like Open Site Explorer to perform site authority analysis of the competitive domains and you can get an even better idea of how to get your site into those hard-fought top 3 positions in Google search.