Analytics Blog
Supporting Leaders to EVOLVE
Meaningful Differentiation – A Key to Improving Conversion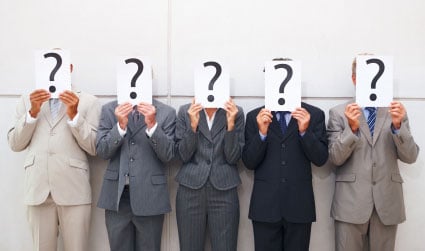 Can you quickly state your company's meaningful differentiation?
Is it really meaningful? Does it get to the heart of who you who you are as a company, or what you want to communicate to your ideal client? Does it explain why a potential client should choose your company over the other guy? Read on to see whether or not you have truly created a unique story that your company can rally around.
"Advanced" and "Innovative" – True, But Not Unique
When optimizing a website for improved conversion, a key question asked in our discovery process is, "what is your meaningful differentiation?" Few respond quickly and confidently.
Companies of all sizes struggle with differentiating themselves from their competitors. Many times, companies approach a differentiator as merely a product or service that they offer.
Here are examples:
We offer an "innovative process"
We have the "exceptional customer service"
We have a "quality product"
We have "great selection"
We will help you to "increase sales"
We'll help you "save money"
While these items are all good things for a company to communicate, they do little to explain the elements that truly set one company apart from another.
If any of these selling points can be easily lifted off of one company and set upon another, or even moved in to another industry altogether, then it's time to dig a little deeper.
Create a Unique Story

The idea behind meaningful differentiation is to find the "meat" behind the offerings. Creating a meaningful differentiator allows a company to truly stand on their own, to create their own unique selling points, rather than simply crowding around the already over-used industry buzzwords.
Meaningful differentiators go beyond just merely stating generic elements like "Save Money," and "Innovative process," they help to identify the truly unique offerings of a company.
For example, if we were to say something like our company offers "Advanced Analytics," what exactly does that mean?
Is it advanced because the technology is greater than the competition?
If so, how is it better, how is it different?
Is it advanced because the brain that put it together did so in a way that far surpassed the competition?
These are the questions and the answers that create meaningful differentiation. Thus, providing more credibility to the claims and/or value proposition of a company. It provides the why, the how, the where, the who, the what and the when. By digging a little deeper a company can now stand out within their industry. They can stand alone as an industry leader because they are the ones offering a unique approach and point of view, rather than just a re-purposed and repackaged version of the competition.
What's the difference between meaningful differentiation and a unique value proposition?
Meaningful differentiation is a strategic process to create your company's story. After you identify what sets you apart, you are ready to craft your unique value proposition, which is the central unifying message that helps you communicate your story. The unique value proposition is then used to steer the direction of your company's messaging. It gives the basis from which messaging and advertising decisions can be made. (i.e. "Does this brochure, landing page, ad communicate our unique value proposition?")
So who's doing it well?
BMW has found how to meaningfully differentiate themselves from the competition with their product name: "The ultimate driving machine – BMW"
The reason this phrase works so well is because each word is thoughtfully selected and incredibly meaningful. Each word leaves an impression, each word matters and adds value, and each word sets a tone. It doesn't just state what they do or what they offer.
How can I select meaningful differentiators for my company, product or service?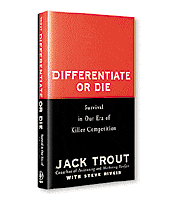 If you're feeling inspired to dig deeper into this subject, I highly recommend that you read "Differentiate or Die" by one of my favorite authors, Jack Trout. In his book he outlines 5 ways to differentiate yourself from the "other guy."
The 5 ways to Differentiate (from Differentiate or Die)
Identify – Dole added a label to the fruit
Personify – The Green Giant
Create a new Category – Tyson wanted to sell miniature chickens so they introduced Cornish game hens
Change the name – Chinese Gooseberry was changed to kiwi fruit and suddenly everyone wanted to eat them
Reposition the Category – Pork was repositioned as "The Other White Meat"
Additionally, Jack Trout wrote a great article in Forbes magazine which offers pointers to how to get started and not just be a "me too" company.
Creating the meaningful differentiators is what creates the story for the company to stand on. It is these stories that give credibility to the value props, it is the credibility that creates the trust, and it is that trust that ultimately wins the new customers.
If this strikes a chord with you then reach out to your brand strategy team and start challenging them to help you create meaningful differentiation. It will help you to more effectively execute your marketing strategies/tactics as a whole. Plus, it will specifically lead to better messaging (i.e. content) that naturally improves your website conversion rate.