Conversion/Revenue Optimization
Supporting Leaders to EVOLVE
Not getting leads or sales on your website?
Getting users to take the action you want requires identifying key business goals and indicators and then making strategic changes to improve performance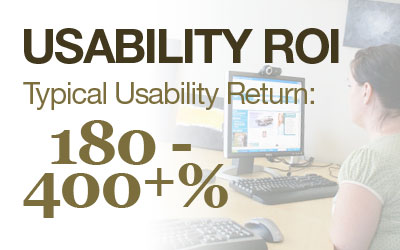 Conversion Optimization – Maximizing the Number of People Who Become Customers
There are specific strategies for optimizing a site so that the percentage of users taking action increases. Often a site doesn't need an overhaul to get dramatically improved results. Strategic web site optimization techniques can make seemingly small changes to your web site that result in dramatic returns on your investment.
For example, we have seen small changes such as changing the page heading, adding a relevant image, or changing the label on a form button increase the number of people who contact you for more information by 30-300%.
Usability – Making Web Sites Easy to Use
We hear it from every client, "We want this, that, and the other and it needs to be easy to use." If only easy to use were easy to execute. Fortunately, usability is our passion and our process is guided and validated by the user. We will make it absolutely clear what we want the user to do, set clear expectations, minimize distractions and design a straightforward path through the web site.
Even once we develop a web site that real users say is easy to use we know it can always be better. Thus we constantly measure what real users do and what users say after a site is improved to see how we can incrementally and measurably improve it further.
Usability Reviews
Are you too close to your site to notice the problems you have? Sometimes it takes a fresh set of eyes to notice the small roadblocks that keep your site from reaching its optimal performance. We regularly perform usability reviews that provide specific changes that will improve a site without a complete redesign.
Site Improvement Checklists
As part of any strategic or consulting service we provide easy to follow checklists. The action items can then be performed by your current internal or external web design team.
Key Tactics