Analytics Blog
Supporting Leaders to EVOLVE

How to get Unsampled Data from Google Analytics
For those of you who are using Google Analytics Standard on a website that receives over 500,000 visits a month, you are likely hitting a frustrating obstacle in your analysis; sampled data.
Want to make good business decisions? You need data you can trust. You can't trust sampled data.
While you evaluate upgrading to Google Analytics Premium, you ask; what can you do about sampling? Well there is a new solution that will help you easily obtain unsampled data from Google Analytics. And currently, we are offering free access to selected testers. Read on to learn more…
Why Sampled Data is a Problem
First keep in mind that the majority of the default reports in Google Analytics are not sampled. These reports have been pre-aggregated by Google's processing servers and no matter your date range you'll be looking at unsampled data.
However, when you start truly analyzing your data; you need to slice and dice it. To do this you will often apply advanced segments and/or secondary dimensions, which will often result in report sampling. Yet another trigger is when you want to use dimensions and metric combinations that are not available in standard reports (and are thus not pre-aggregated by Google during processing).
Key Takeaway: Three Main Triggers of Sampling (when combined with date ranges that include 500k visits or more):
Advanced Segments
Secondary Dimensions
Custom Reports (with dimension and metric combinations not pre-aggregated by Google)
This sampling can be a major problem because a higher sampling rate (meaning less of your actual data is used) combined with certain types of metrics leads to less reliable reports to use to make important business decisions.
Many analysts are frustrated with sampled data hindering the quality of their analysis. In this Twitter conversation (below), they are publicly sharing their concern of "…reliability going down the drain."
Analysts simply need data they can trust.
Sampled Data Accuracy
Google does do a great job in the sampling of certain data metrics. But be aware that the accuracy of sampled data varies substantially between different types of metrics.
Accuracy is Good for:
Accuracy is BAD for:
Revenues
Transactions
Goal conversions
If you are interested to learn more about the particulars of Google Analytics sampling, and how it specifically affects the accuracy of your reporting; read our post "Can you trust your Google Analytics data?"
Ecommerce Reporting Scenario
There are some things you can't report with sampled data; ecommerce is one of them. Let's imagine a situation where you need to report on something as simple as…
Ecommerce transactions and revenue. We would use the following dimension and metrics:
Dimension: date
Metrics: Transactions, transactionRevenue
If your website receives more than 500k visitors a month, you will get a sampled data warning similar to this when using a month long date range:

In the scenario above, no matter how much we increase the precision (by moving the precision slider), data will always be sampled. Reporting sampled ecommerce data is not an option. This is where Blast's Unsampler comes in.
What is Unsampler?
Unsampler is a SaaS product built by Blast Analytics & Marketing that allows you to export unsampled data from a Google Analytics Standard profile. It breaks your query into smaller date ranges and aggregates them again, thus avoiding sampling.
Obvious questions; "Why did we build Unsampler when other tools already exist to get unsampled data from Google Analytics?" The answer is simple. Existing tools did not provide reliable data or in some cases failed to work. We needed a reliable solution.
Unsampler is more expensive than competing tools because we developed it as an online tool versus desktop software (that has to be installed and is more complex to use). If you aren't ready to upgrade to Google Analytics Premium, Unsampler is a great way to access unsampled data with less investment.
How does it work?
Using Unsampler is pretty simple.
Login
Select your Google Analytics Account
Select your Google Analytics View (aka Profile)
Name your report
Set the start and end date
Add desired dimensions
Add desired metrics
Optionally, select segments from your account
Click "Generate"
After the report is finished processing, you can preview the report, and download a CSV file with all the unsampled data.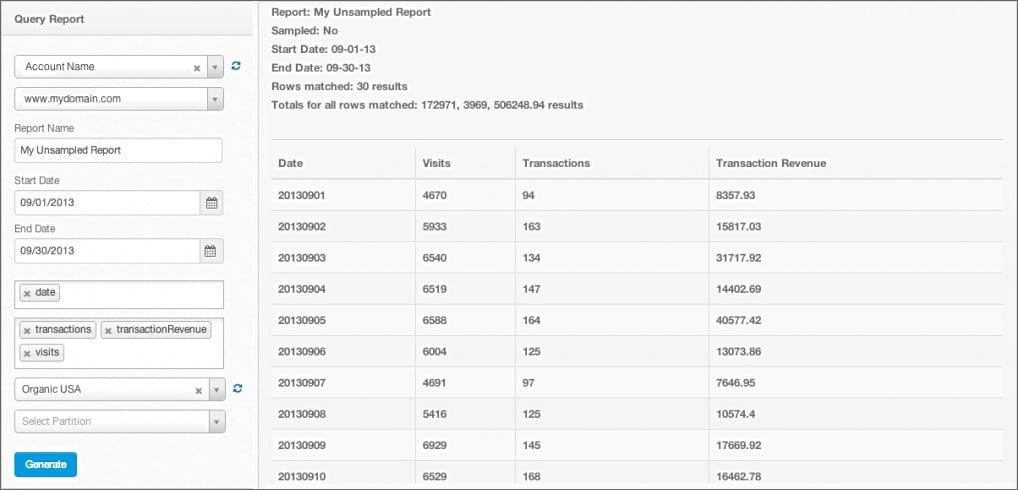 Exporting Google Analytics data with More than Two Dimensions
One of the other major benefits of using Unsampler is the ability to include up to 7 dimensions and 10 metrics in a single Google Analytics data export. Your ecommerce analysis will definitely benefit from the additional information provided by more dimensions.
We can use Unsampler to build a data extract with the following dimensions and metric:
Dimensions: date, sourceMedium, transactionId, productSku, productCategory
Metric: itemRevenue
Do you want to try Unsampler?
UPDATE: unSampler is out of Beta and is now live. You can sign up for free at www.unsampler.io!
Unsampler is fully functional but in alpha stage. If you'd like to be considered for selection as an alpha/beta tester, drop us a line at [email protected] with the subject: "I want to test Unsampler" and provide the following information:
your name,
company,
job title,
how you would use it (i.e. what data you would export from Google Analytics),
why you want to use it,
and why you would make a good tester.
Whatever you do, don't keep suffering with sampled data like Brandon (and other analysts):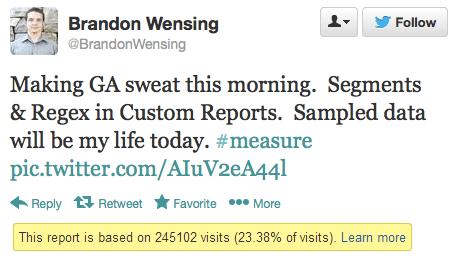 Get easier access to unsampled data!