Analytics Blog
Supporting Leaders to EVOLVE

Handy Google Analytics Reference Guide (80+ Tips, Definitions & Rules)
Need help remembering why Adwords clicks and Analytics visits don't match, or what the difference is between metrics and dimensions? Or are you studying for the GAIQ test?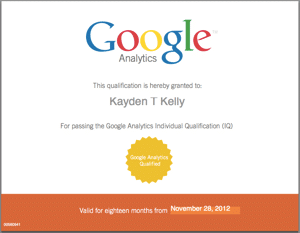 Our team finds that most people we train or work with have a hard time remembering many of the nuances of how Google Analytics works. Heck, I use Google Analytics all the time, and I forget many of these rules and definitions. Every eighteen months, when I prepare to renew my Google Analytics Certification I have to look them up again.
If you're looking for a simple reference guide to help you pass the GAIQ test and help you quickly access key concepts of Google Analytics long-term, then we have the solution for you. The Handy Google Analytics Reference Guide.
80+ Tips, Definitions, Rules & Resources
There are over 80 Google Analytics tips, definitions, rules and resource links distilled into the 2 pages of the reference guide. Plus, there is a Bonus RegEx reference page.
Sample Google Analytics IQ test questions
The following are a sample of Google Analytics IQ test questions and details of Google Analytics that many people have a hard time remembering for the test and months after they take the test. This guide addresses all of these questions and much more.
What is the difference between dimensions and metrics?
Which campaign tracking variables are required when manually tagging a URL?
What is bounce rate?
Where is ecommerce tracking code usually placed?
What is the difference between explorer and flat table custom reports?
What does _trackpageview do?
What kind of intelligence events are available in Google Analytics?
How is click-through-rate calculated?
What are the elements of the Event Tracking data model?
Does Google Analytics track visits to cached pages?
How do you attribute conversions to the original referring campaign?
Why can Adwords Clicks differ from Analytics Visits?
How can you ensure that clicks and visits match in your Adwords Campaign reports? (Hint: You can't!)
Some of these concepts are not encountered in the day to day use of GA, while others, like 'why adwords clicks and analytics visits differ,' are essential knowledge for users of Analytics.
Inspiration
We were inspired by…
clients requesting a simpler view of GA concepts
our team members taking the Google Analytics IQ test
and seeing others like Portent and Jay Taylor create Google Analytics cheat sheets.
With this inspiration we wanted to take the current cheat sheets one step further and provide a more comprehensive resource.

We originally created this for our Google Analytics training clients and team members as a sort of study guide or cheat sheet. However, we like to refer to it as a reference guide since it is useful for people who are:
new to Google Analytics
studying for the GAIQ test
and those of us who forget the esoteric details of Google Analytics.
Peek Inside the Guide
Here's a peek inside the Handy Google Analytics Reference guide and preview the 80+ tips, definitions, rules and resource links.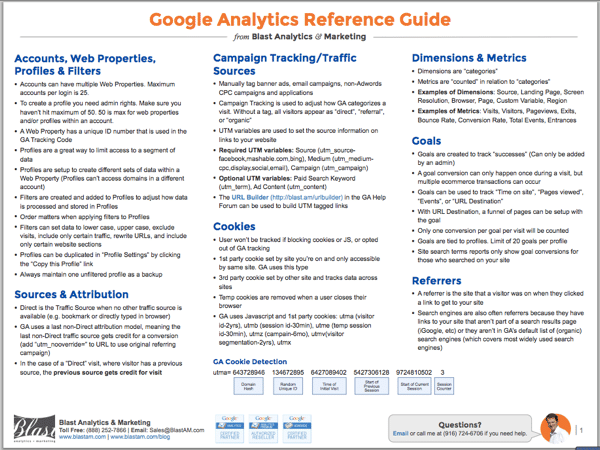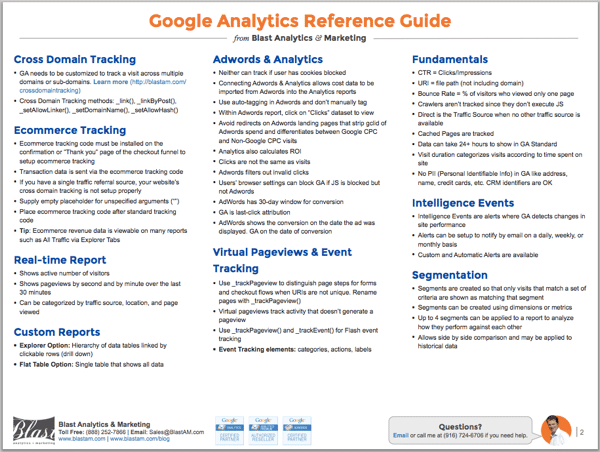 More specifically, this Reference Guide covers…
Tips, Definitions, Rules (and resources)
Fundamentals
Accounts
Web Properties
Profiles
Filters
Campaign Tracking
Traffic Sources
Sources & Attribution
Referrers
Dimensions
Metrics
Goals
Cookies
Cross Domain Tracking (link)
Ecommerce Tracking
Real-Time Report
Custom Reports
Adwords Integration
Virtual Pageviews
Event Tracking
Intelligence Events
Segmentation
Regular Expressions
Sample Patterns
Wildcards
Anchors
Escape Characters
Shorthand (Character Classes)
Ranges & Groups
Filter Group Accessors
Quantifiers
What this guide is intended for
The goal was a guide in the simple style of cheat sheet with a maximum of 2 pages for the general Google Analytics references and 1 page for the RegEx references. But we hope you and others will find this useful as a reference well beyond your desire to pass the Google Analytics IQ Certification Test.
What this guide is not intended for
This guide is not meant to teach you Google Analytics but instead meant to help you free up brain space to focus on more important tasks like performing analysis.

It isn't designed to help you cheat or pass the GAIQ test with just this guide. This guide is a supplement that will likely increase your test score but it is in no way a replacement for studying. The Google Analytics IQ Lessons (formerly called the Conversion University) and using Google Analytics are the best way to prepare for the test. This guide will help you study and remember essential concepts that will likely be on the test.
Download the GA Reference Guide
Download the Handy Google Analytics Reference Guide »
Next Version – Analysis Tips
In the next version of this Google Analytics Reference Guide, we plan to add a new page that will provide tips on how to be an analytics ninja that can identify insights and take action to improve business performance.
Until then here are some valuable analysis tips from Avinash Kaushik that are easy to get started with today.
Please Contribute
Whether you are an experienced analytics veteran or a newbie, please share your thoughts on how we can advance this first iteration of the Handy Google Analytics Reference Guide. Let us know if you have ideas to improve upon what we've included, to make additions, or otherwise make this an even more valuable resource.
If you have analysis tips to offer, for the next version, please share them in the comments below or reach out to us directly. Thanks in advance!
More GAIQ & General GA Resources