Analytics Blog
Supporting Leaders to EVOLVE

Guidelines for Publishing COVID-19 Content (or Not)
Well, the world suddenly became weird, and in an exhausting turn of events, many organizations scrapped their content plans and suddenly began writing about COVID-19. It's everywhere you turn, from your email inbox to in-app ads. And it makes sense; of course companies would want to acknowledge a (hopefully) once-in-a-lifetime pandemic that's affecting everyone, all around the world.
The majority of Blast's own marketing clients have asked for guidance on creating search-friendly content, and our recommendations so far have depended on each client's type of organization and objectives. What's appropriate for a healthcare association isn't going to be the same for ecommerce, software, or a fitness facility. However, according to our recent and thorough research, certain themes are emerging that apply across the board, and that's what we'll share here.
To Create, Or Not to Create?
In mid-March, Google announced that one of the ways they're trying to help is by making it easier for people to find authoritative healthcare information online. This includes "removing COVID-19 misinformation on YouTube, Google Maps, our developer platforms like Play, and across ads." 
This has led some marketers to shy away from any mention of the words "coronavirus" and "COVID-19" out of concern that these words have become poisonous and will cause the whole page (or ad) to be blocked. But according to this study, the majority of COVID-related keywords are "brand safe," and companies are passing up the opportunity to capitalize on the flood of pandemic-based searches.
To take advantage of this opportunity without getting content-blocked, be smart about how you create your assets. 
The Do's and Don'ts of COVID-Related Content
The number one most important thing, always and forever: think about user experience first. Will viewing your content incite anxiety, or promote a sense of peace? All Google algorithm changes are made for the benefit of the user, so keeping this in mind is a win-win-win.
The number one most important thing, always and forever: think about user experience first.

Click & Tweet!
Get the Data Before Your Start the Creative
Spending some time on Google Trends should help you understand what people are really caring about now. Looking at search volume trends rather than jumping into create what you think is cute will help you maximize the impact of your message.  
Blast has been monitoring COVID-19 search trends for a client that happens to be a federal healthcare association, and we've found that the nature of searches shifted over the weeks as more information was disseminated. In mid-March, the highest volume of searches was around coronavirus symptoms. Over the next few weeks, the theme shifted from symptoms to vaccines and tips, then stimulus checks and unemployment, and then N-95 masks. At the time of this writing, "how to make a mask" and "when will the coronavirus be over" are among the top searches, so posting an article about recognizing COVID-19 symptoms would be utterly passé. 
That's just an example; if your business or organization isn't in the healthcare industry, then don't limit your research to virus-themed keywords. Though it may seem like the only topic on everyone's mind, people also care about Chris Martin, the zonkey birth, and ham recipes.
To apply this to a business case, let's use an example of a small, fair-trade, organic cotton clothing company that I buy from now and then. I'm on their email list and enjoy finding out when they have sales or new arrivals. But lately they've been sending several emails a day, always with a message about supporting small businesses (i.e. hint hint). 
I understand what they're trying to say, but I think it's a huge missed opportunity. For one thing, their audience is made of people who care about sustainability and a living wage for the workers; they're already not buying clothes on Amazon. If they had spent some time poking around on Google Trends, they might've noticed there was recently a surge of interest on the topic of loungewear (see chart below):

This company could potentially make more sales by packaging up their selection of knit pants and t-shirts and marketing it as "quarantine chic." Hypothetically, this would be the stage to bring in the designers and copywriters and bring their data-based campaign to life.
The flip side of that coin is: don't seek search visibility for unrelated content. If keyword research indicates that thousands of people are currently interested in how Boris Johnson is doing, and your company sells gourmet cheese, don't think that you can successfully harness the Boris Johnson traffic to sell more cheese. Headings like "Fondue Recipes That Would Heal Boris Johnson" would just embarrass everyone. And you definitely don't want discomfort to be part of the user experience. 
Whatever you do, avoid the digital equivalent of this: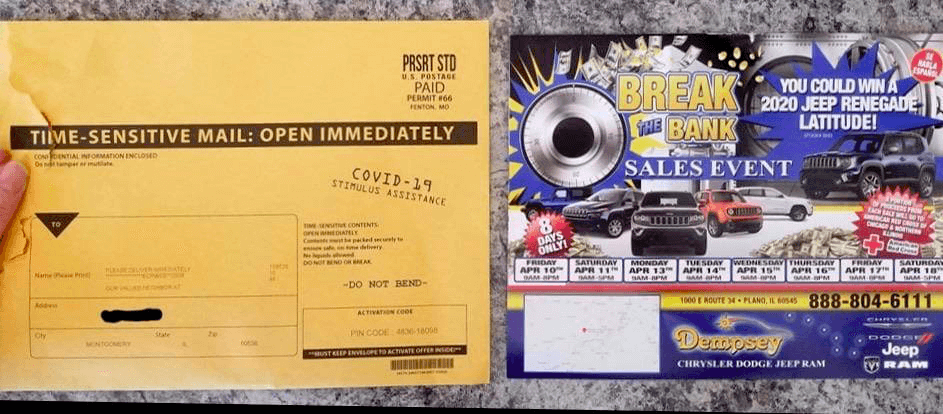 Speaking of Relevance
Do share specific information that's relevant to your product or service. If your business locations are temporarily closed, or new services are available online, your audience needs to know that. In this case, it's okay to serve that message in a highly visible format such as email or a notification bar on your website.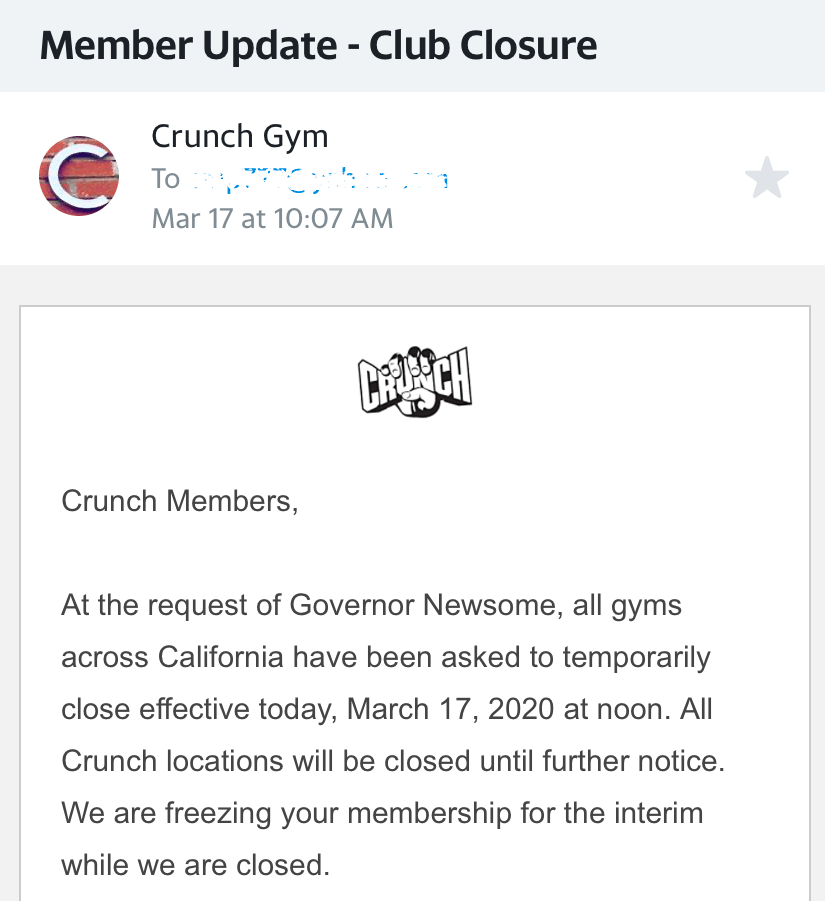 Don't send pointless emails. It really isn't necessary to inform your audience that you're aware of the global pandemic that's getting constant mainstream news coverage. Assume that each audience member is on multiple mailing lists and is getting e-blasted from not only every brand they've ever cared about, but from their work, schools, churches, political parties, insurance companies, credit card companies, nonprofits…you get it. Additional unneeded emails potentially do more harm than good, causing your customer to unsubscribe.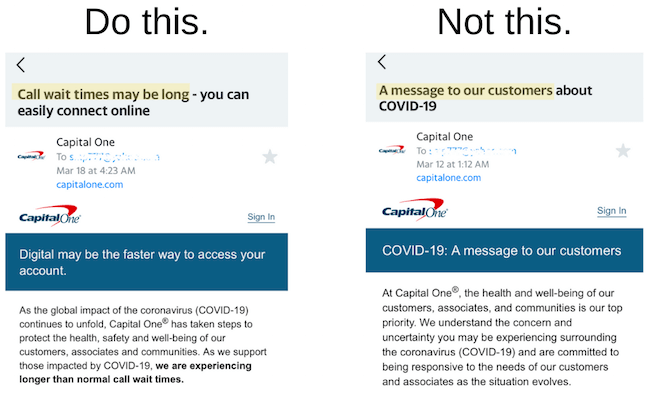 A better way to publish the "basic awareness" message is to create a page on your website and link to it with a visible, yet subtle, button on the home page. (What does "visible yet subtle" mean? Consider a call-to-action (CTA) bar at the top of the page that isn't screaming neon green. There's a time and place for screaming neon green, and that was MTV in the 80s.)
How to Present Your Brand
Explain how your product or service can benefit the user, without overemphasizing "these scary times." I know scare tactics are a legitimate marketing tool, but it would show a lot more class to emphasize how you're going to solve the user's problems. Consider tact, or diplomacy.
And congratulations to you if "ways your business can help the user" was the first thing you thought of in these scary times (she who makes the rules can break the rules). In some cases, the benefits aren't always obvious — you may not be a player in Big Toilet Paper —  but your services might help in some auxiliary way.

Notice that this telecom company did not say, "So you're working from home to avoid being attacked by a potentially lethal virus that has no vaccine and no cure and that has spread to every corner of the world and will be here for an indefinite period of time? You need high-speed internet!"
Do mention it if your company is donating time or money to charity. There are so many good reasons why, beginning with supporting the necessary services that charities provide. From a marketing perspective, it helps users feel like they're doing their part just by shopping. With a homebound, largely unemployed population, the decision of where to part with money is much weightier than usual.  
It also helps to strengthen brand affinity, especially if your chosen cause resonates with your customer. The Honest Company has donated a vast amount of diapers, wipes, and personal care products to families in need, which their usual customers can empathize with. This is an opportunity to inspire a sense of loyalty in customers that can last long after the pandemic.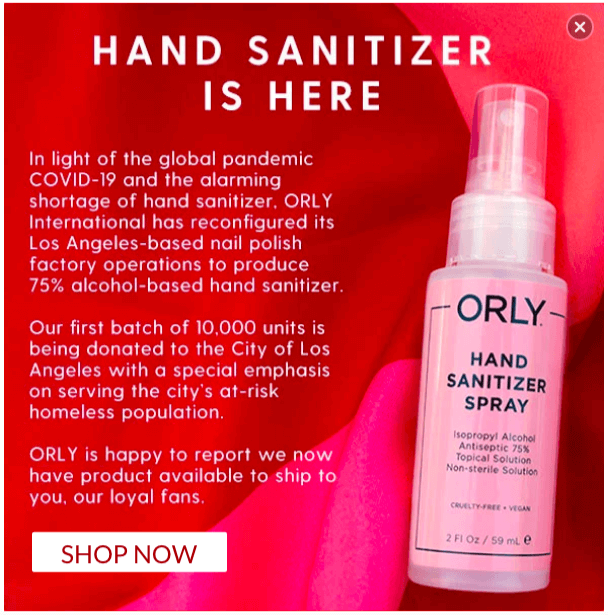 Customer journey tip: Some companies have included a link to a charity on their site, where the customer can go to make a donation. While this is admirable and well-intended, it runs the risk of the customer going to the site, making the donation, and not returning to the original site to complete the purchase. Aside from the fact that online customers are easily distracted under the best of circumstances, they may not want to go through two separate buying cycles. A better alternative would be for the brand to offer a portion of the sales to charity, even if it's as little as 10%, and keeping the customer on the site.
But don't make it about you. "A message from our founder" is going to be ignored, unless your founder happens to be Beyoncé. The example below would be much improved if they skipped the founder stuff and made the heading "Part of Your Purchase Supports Feeding America." Most people will only read the heading anyway, so it should be compelling.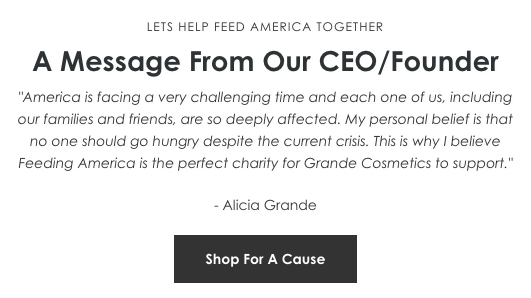 Vary your social media posts. There's no need to make every one sound timely and concerned. There's already enough information out there, and healthcare "tips" should only come from reputable healthcare sources. Most people don't want their feeds to be a wall of reminders. Be refreshing. Remember that people still care about ham recipes.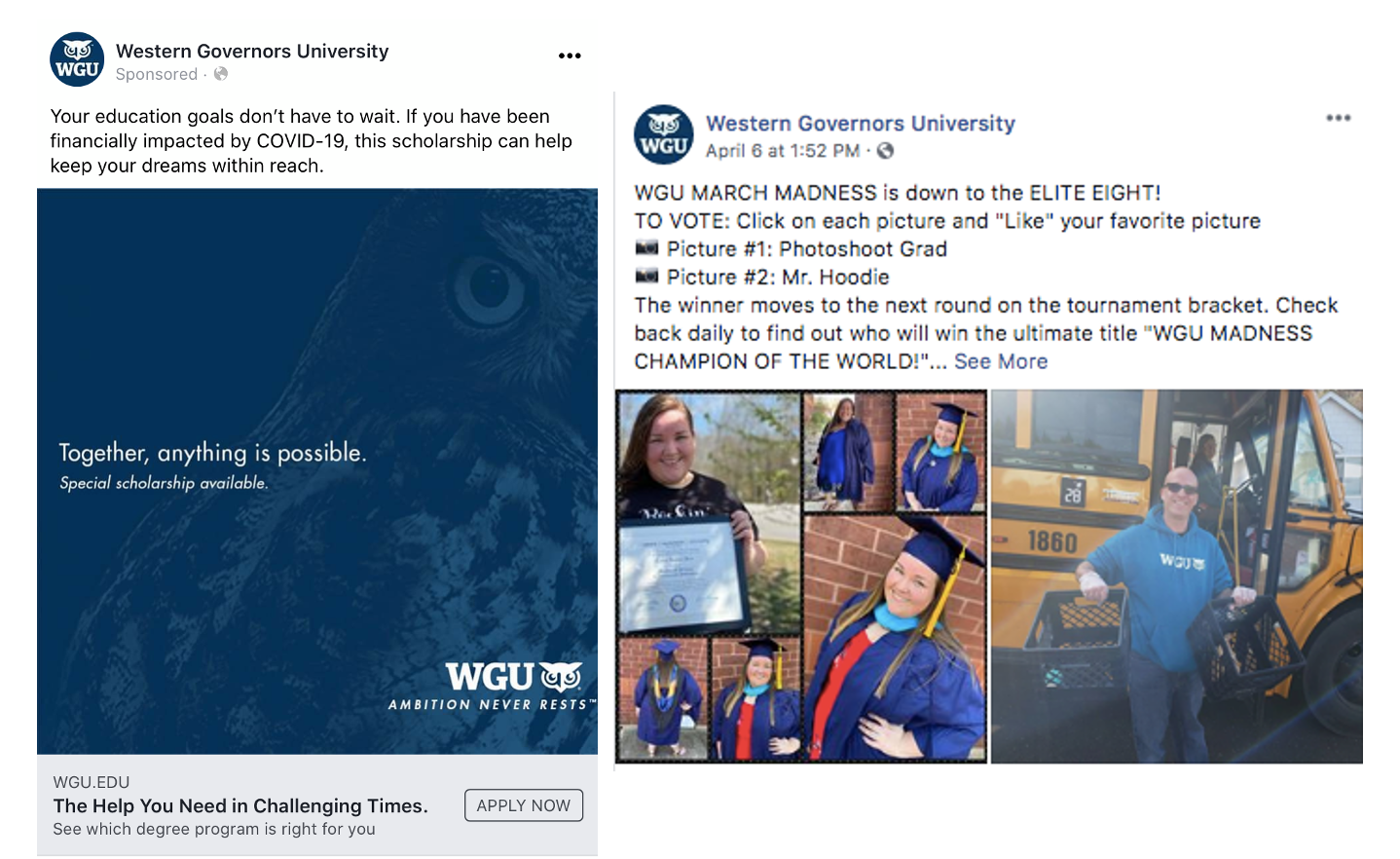 The (sponsored) post on the left is a highly appropriate, relevant use of COVID-19 messaging. The post on the right is just pure fun — and became a series with plenty of engagement.
Produce virtual events, such as webinars or online learning opportunities, if you'd normally have live ones. Not only do they keep the audience engaged with your brand and their brains, it helps them feel normal. The desire to grow and develop doesn't stay on pause for long.
However, don't include COVID in the topic if it isn't necessary. As an example, a local art gallery is hosting a virtual presentation on "Creativity During COVID-19." The virus doesn't change the nature of creativity, so why add a reminder? Something like "Creative Projects You Can Do at Home" would be innocuous, and have a longer shelf life.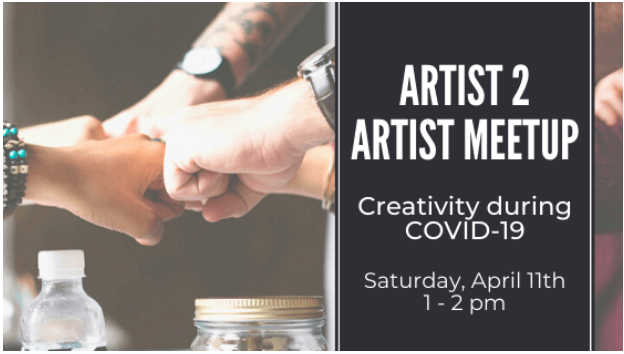 Basically, to the extent that you can, design the themes of your virtual events to be essentially the same as they would be if there wasn't a pandemic.
By the way, it isn't always wise to copy your competitors. Yes, you should periodically review their content and keep one wary eye on them, but don't assume they know what they're doing. This is especially true for small- to medium-sized businesses and nonprofits. Unless you know for a fact that they conduct thorough research and make decisions that are founded on data, then don't try to borrow their sauce. This is something to think about for all marketing campaigns, but especially regarding COVID-19 content. This situation is new for everyone, and there's no guarantee that your competitors are handling it in the most appropriate way. Time will tell which tactics will turn out to be "best practice."
Bonus for Healthcare Orgs: Schema
This tip isn't strictly about content — more like content's best friend. Google and schema.org collaborated on a new type of structured data designed to help important health announcements reach the top of the search results. If you represent a healthcare organization and aren't yet familiar with schema (a.k.a. structured data), this would be a good time to connect with a front-end developer and work to implement this small bit of code. 
Google has also created a new tech support group to help implement search engine optimization (SEO) tactics, but so far is "accepting only domains under national health ministries and U.S. state level agencies." 
Create with Confidence
There's definitely a strong argument for including COVID-19 content in your current strategy, as long as you do it wisely. If your only aim is ranking #1 and you pursue it at the expense of quality, you can end up paying for it with bounces, blocks, unsubscribes, and unfollows. Here's one final tip: if you're ever undecided about whether your COVID-19 content is worthy of publishing, there's a simple litmus test. How would you feel about it if you were on the receiving end?
…if you're ever undecided about whether your COVID-19 content is worthy of publishing, there's a simple litmus test. How would you feel about it if you were on the receiving end?

Click & Tweet!