Analytics Blog
Supporting Leaders to EVOLVE

Google Analytics V5 Custom Reports: What's New?
Google has dramatically increased the power of Custom Reports, in the public beta release of Google Analytics v5 (Version 5).
If you find yourself looking at multiple reports to draw insights or commonly filtering reports to get the right view of your data, then you'll want to use Custom Reports in Google Analytics.
Custom Reports in the latest version of Google Analytics (v5) now offer:
custom report filters (yeah!)
a new report view (Flat Table type)
side-by-side dimensions & up to 25 metrics (in Flat Table)
different dimensions & table types per tab
and more.
Unique Custom Reports that Focus on Goals
We recommend that you build custom reports focused on goals and outcomes. You will find that the standard reports in Google Analytics either lack goal and ecommerce conversion data or they exist on another tab, which makes it difficult to see the appropriate metrics side-by-side.
Google has built a great tool that has a number of default reports, but every business is different and they have to create default reports that satisfy the bulk of users versus your individual company — so don't stop at what Google gives you and instead learn how to leverage and build Custom Reports.
What's New in v5 Custom Reports?
Custom Report Filters
This is one of my favorite new features. Many of our clients, at one time or another, will call up and ask something similar to: "Can you build me a custom report that shows me just the performance of my product and category pages?"
In the past, I've built the report for them and then either filtered the report to include the product pages and added to their dashboard (which saves the filter), or I've provided them instructions on how to filter it themselves using complicated regular expressions.
This is now much improved with the new custom report filters. Further, it is not limited to filtering on the selected dimensions included in the report. As an example, you can create a report that includes 'Landing Page' as the report dimension and apply a report filter that looks for a specific value in custom variable slot #3. You can also add multiple filters to a report.

Table Types
In Google Analytics v5, there is now an option to choose the table type in the report. The table view you are accustomed to using in v4 is called "Explorer." In the Explorer view, you can drill down to another dimension if you have your report configured as such.
Within the Explorer view, you can have multiple metric groups. Each metric group has the same dimensions but can have a different list of metrics to show.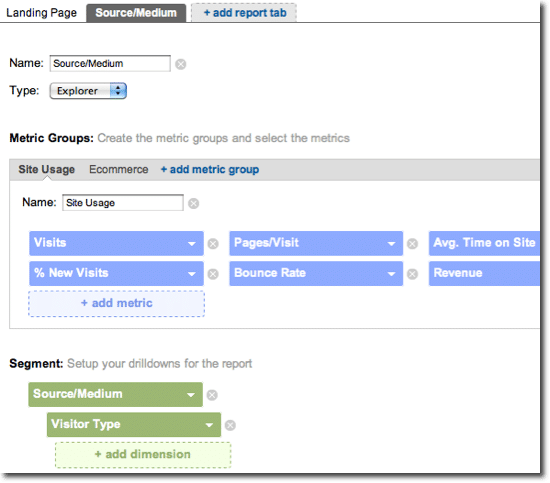 The new table type in v5 is called "Flat Table". This view allows you to place two dimensions side-by-side and then show data on up to 25 metrics (wow!). This type of report is useful in situations where you want to:
email the results of a report
print them out
or export.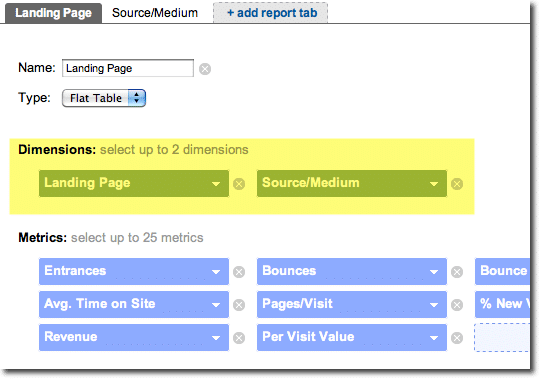 Different Dimensions & Table Types Per Tab
Continuing with the theme of granting more control over building custom reports and making them more customizable, Google Analytics now has the ability to specify different dimensions on each tab of the custom report as well as different table types (flat table or explorer) per tab.
As an example, let's say that I want to build a custom report called "Performance Report" so that I can run this single report and look at what is important to me. In the example below, I've created the following two tabs:
Landing Page – This extends the built-in landing page report to also show me average time on site, pages/visit, % new visits, revenue, and per visit value. This is a flat table view that also includes the source/medium so that I can see how landing page performance from various source/mediums perform.
Source/Medium – This is an explorer type table view (so I'll be able to drill down from source/medium to visitor type to view my data). I have two metric groups, "Site Usage" and "Ecommerce." Each is configured with several metrics that I want to see. I've even included Revenue on each of the tabs since that is important for me to understand from a source/medium perspective.
On the Landing Page tab, I can quickly understand where people are landing, where they are coming from, and how much revenue was made from the landing page and source/medium combination. I can also see the bounce rate, time on site, and other metrics that are important to me.

For this particular client, I have a custom profile created that uses several filters to rewrite all category pages, product pages, etc to distinct page URIs. That way, I can easily see an overview of these how these "page types" perform. A blog post on this technique will be written in the future.
On the Source/Medium tab, I'm more interested in the performance of each source/medium. As such, that is my primary dimension (though I can also drill down to the Visitor Type dimension to understand if these are new or return visitors). Each metric group has a different set of metrics.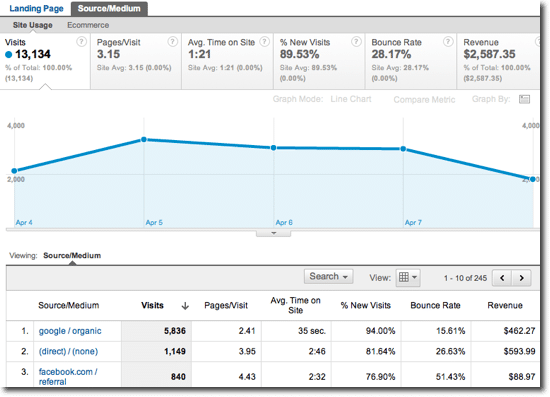 What's Missing in v5 Custom Reports?
While this is a beta release of the new version of Google Analytics, it is only fair to point out what is currently missing. This is unlikely the final release version, so hopefully this section of this post will become outdated over time.
PDF Export – This is not available globally currently.
Report Emailing/Scheduling – This is also not available globally currently.
Sharing –

There is no option in v5 to share a report you've created with another user.

You can share a report with another profile though. UPDATE 4/27/11: Sharing between users is now available.
Reorder Metrics – When building a report, if you later want to add a metrics to the beginning of the metric list, you have to remove all current ones and re-add them one-by-one instead of just being able to reorder.
Drill Down Issue – On an explorer report, if you click to drill down to a second-level dimension, there's no easy way to get back to the parent-level dimension. The only way I've been able to do this is by going back to the Overview custom report listing and running the report again.
Report Filters – If you have custom report filters applied to the report, after you run the report, it does not indicate anywhere in the interface what filters have already been applied. You must remember that your custom report has been filtered at the build-level.
Share your thoughts on these new upgrades to custom reports and let us know if you think they deliver the power you need. If there is anything else you think is missing, let us know! Being a Google Analytics Certified Consultant we will be sure to share your input with the powers that be at Google.
If you haven't already, read more about all the great upgrades in Google Analytics Version 5. Or check out our related Google Analytics posts on "How to Use Events as Goals" and "Term Clouds in Google Analytics."