Analytics Blog
Supporting Leaders to EVOLVE
How To Use Events as Goals in Google Analytics (V5)
Google Analytics (Version 5 Only) now allows you to use events as goals. If you are like us, you probably thought this day would never come!
Events as a goal type…why does this matter? Well, because you can now track more types of site interactions as goals.
Top 4 Benefits of Using Events in Goals
Track visitors who don't convert with traditional transactional or lead generation goals
More easily track Influencers/Advocates on your site
Measure "interactions" that can lead to better understanding of site engagement
My absolute favorite…Measure "interactions" in the early stages of the buying cycle that demonstrate the quality of the visits that increase the top of the funnel and ultimately lead to increased revenue producing goals.
How To Use Events as Goals in Google Analytics
Ready, to take a tour of how to use events as goals? We breakdown the setup into four key parts of an "Interactions" goal based on multiple event categories and actions:
Events as a Goal Type
Flexibility to Use Event Category, Action and/or Label
Event Value Conditions as Threshold Triggers
Use Dynamic or Static Event Values as Goal Value
#1: Events as a Goal Type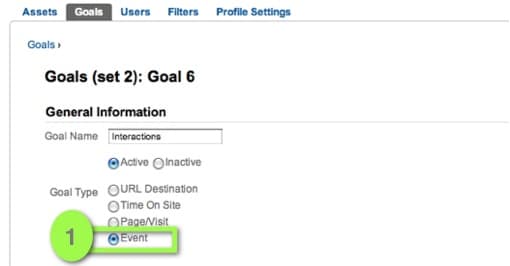 As you can see, there is now a fourth goal type option called "Event" on the goal setup screen. The three previously available goal types were limiting and didn't allow you to easily track user behavior that didn't initiate a pageview.
In Version 4 of Google Analytics, it was fairly easy to track basic site activity, as well as clear lead generation and sales funnel pathways as goals.
However, the challenge was tracking lower commitment site interactions that signal high levels of site engagement (without inflating pageviews via a virtual pageview call). It is these signals that help us measure the quality of visitors who are in the early stages of the buying cycle. Without this measure, clients often neglect these vital visitors and thereby don't see the value of investing in online marketing efforts to identify and drive good potential customers to the site.
#2: Use Event Category, Action and/or Label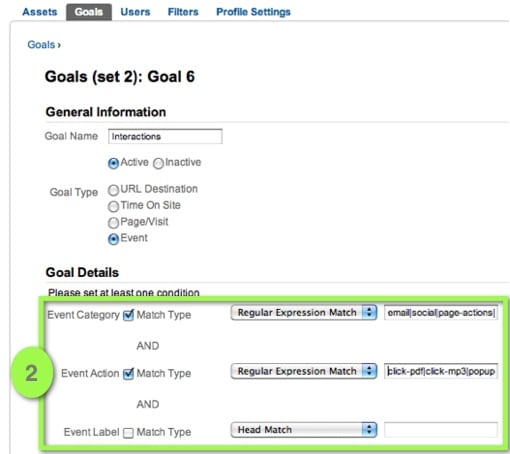 This is where the power lies in tracking events as goals. You can use one or more event category, event action and/or event label as a condition to trigger your goal. The simple matching options of "head match" and "exact match" are available, or you can use the awesome power of "regular expressions" to come up with sophisticated solutions that can match a variety of site interactions in one goal.
This is often the case when attempting to measure engagement. By the way, if you want to explore complex ways to consider measuring engagement check on Eric Peterson's post "How to Measure Visitor Engagement."
Some examples of site interactions you can track:
printing pages
emailing to friends
liking your site on Facebook
tweeting your site on Twitter
sharing your site on LinkedIn
bookmarking on Delicious & Digg
listening to audio
watching videos
using site tools (such as calculators, quizzes, etc)
downloading PDFs
commenting
rating
requesting a shipping quote
clicking the add to cart button
interacting with a slideshow (such as the rotating content on many home pages)
Keep in mind that many of these examples require additional tracking code setup.
#3: Event Value Conditions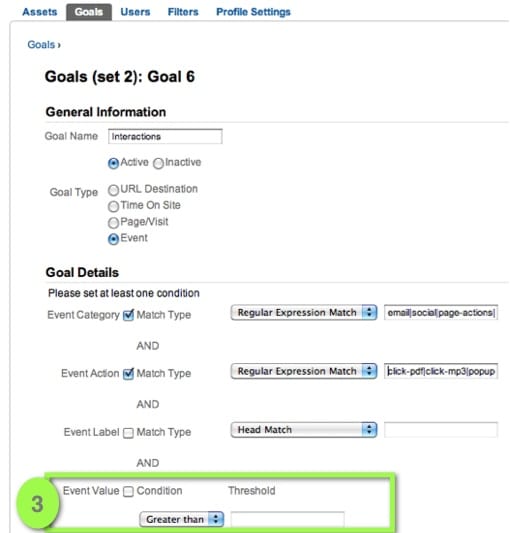 If the event value does not meet a certain condition (i.e. threshold) it won't trigger the goal. You can set the event value threshold to be "greater than", "less than" or "equal to" an event value. This allows all kinds of creative goal tracking solutions.
For example, you can measure video engagement and determine how many people watched a video for at least 2 minutes by enabling the event value condition and using a threshold greater than '1' (assuming you have properly set up event tracking for your videos). Note that we use '1' here because it is a condition of 'greater than' and event values are integers/whole numbers.
#4: Use Dynamic or Static Event Values for Goal Value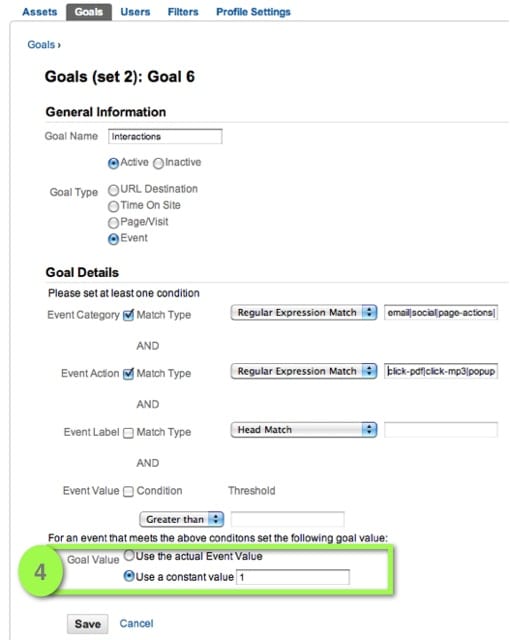 You now have the ability to pass in the actual event value (i.e. a dynamic value) for the event or you can have the goal value default to a constant value. Keep in mind this must be a whole number/integer.
Summary
If you have been waiting for better ways to measure overall and individual types of site interactions that help you to better understand user engagement on your site…then your wait is over.
The inherent custom nature of event tracking coupled with the flexibility of using the event category, action and label with regular expressions as the match type, allows limitless potential to create unique, creative goal tracking solutions.
Share your ideas, experience and questions for using events as goals below in the comments. Thanks for reading and make it a great day!