Analytics Blog
Supporting Leaders to EVOLVE
Google Analytics Focuses on Shopping & Merchandising Analysis (Part 4)
Enhanced Ecommerce Reports Promote Sales
This is part 4 of my 4 posts where I discuss the Google Analytics Ecommerce reports. Here is a look at the:
Internal Promotion,
Order Coupon,
Product Coupon,
and Affiliate Code reports.
Though this is the last in this blog series, I certainly anticipate future enhancements to the entire ecommerce suite of Google Analytics reports as retailers provide feedback in 2015 and infuse many wonderful new uses and ideas.
Marketing Reports (Part 4 of 4)
Drilling under the Google Analytics reporting menu for "Conversions > Ecommerce" is a new sub-menu dedicated to "Marketing." In my previous blog post, I looked at many product and shopping reports focused on both behavior and performance. Now we're more oriented on marketing and the analysis of promotional efforts.
Internal Promotion Report
Promotion effectiveness is the key concept you will be able to explore in this first report.
When you offer promotional codes the business questions that come to mind are;
how often are the promotional codes being offered to visitors, and
how often do the visitors take advantage of them.
In this first new report these two metrics will be tallied as promotional code "views" and "clicks." (Note: you will also be able to see a calculated "click-thru" rate.)
Two Distinct Scenarios
I see two distinct scenarios for how promotional codes can be used that might be worth highlighting as we examine this report.
The first scenario is where you dynamically present a promotional code based on some shopping criteria, e.g. a predetermined number of items in the cart that triggers a promotion for discounted shipping. In this case I can see the "view" count as being the number of times a visitor has created that shopping scenario which then presented the offer. In this use-case, the second metric of "clicks" then becomes a valuable way to see if visitors are taking advantage of the promotion. Consider the metric "clicks" indicating they started the checkout process and used this promotion.
But there is a second scenario to consider.
In hopes that I don't blur the lines and wander into "coupon" territory (more on that topic below), what if you sent the promotional code out in an email?
At what point do we consider counting the "views" event. For example, I get an offer in my inbox that states use the code "New Years" when checking out and receive $5 off any purchase of $50?
Here it gets tricky because the "views" count is kind of unknown. One could argue that the number of emails sent is the true value of available promotional codes, yet we will never get that number into this report.
Perhaps a better approach might be to tag the email with a parameter that can identify the promotional code in use, and then when the visitor comes in, we send the "views" count in. Again, here we have to count the "clicks" count when they started the checkout process and use this promotional code.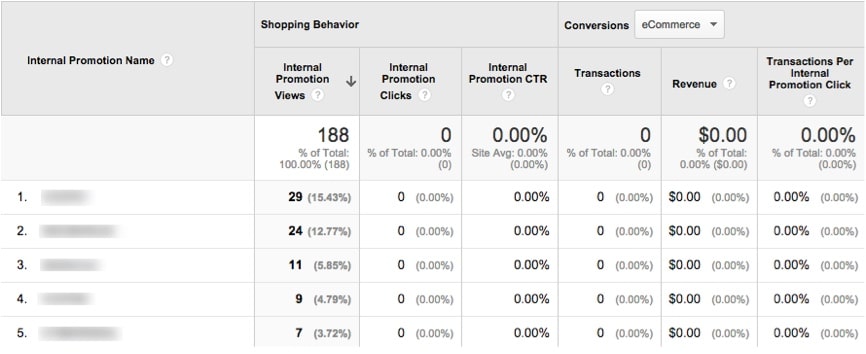 A quick glance of the new Internal Promotion Report (above) shows the views, clicks, CTR, followed by transactions, revenue, and transactions per click, all for each promotional name. Notice the cool "Conversions" drop-down selection option in the top right, which is set to "eCommerce" by default. You can also select to report conversions by "All Goals" or any individual goal.
Order Coupon Report
In traditional marketing terminology a coupon is a physical document or ticket that can be exchanged for a discount when purchasing a product.
While it's easy to envision sales incentives being sent through email (see promotional code topics above), the possibility still exists for traditional mail, in-store assets, and affiliate marketing to offer the consumer a deal—even when the topic is digital sales and marketing.
I believe this is the perspective now seen when viewing the new Google Analytics Order Coupon Report. This report is highlighting the revenues, transactions, and order values associated with the use of a coupon (spent virtually) when checking out. In this use-case there are no "views" or "clicks" of the coupon, rather, it was simply used or not when the sale is made.
While it's conceivable that a single coupon might be used multiple times, I suspect the use is more like a one-time use, per customer. Your use-case may be different. But, if you're like my clients, it will not be uncommon to see a lot of '1' transaction counts.

Product Coupon Report
Like its parent the Order Coupon, the Product Coupon is a child in that the coupon is only applicable for the one product as opposed to a discount off an entire order.
Here, it is more likely to be a many-to-one (visitor purchase to coupon) relationship. Picture a big box store sending out a physical flier with sales items listed, each product having a unique product coupon code.
The new Product Coupon Report highlights revenues at the product level, showing unique purchases for this code, and average product revenue per purchase. The "per purchase" column accommodates reporting on the "limit two" case scenario nicely.

Affiliate Code Report
Much like the order coupon report, the affiliate code report is designed to show revenues, transactions, and average order value. The difference here is we set the affiliate code according to your business model.
Do you have individual resellers or sales people? This report can provide a level of detail broken down to the appropriate division.

Conclusion
If you've followed this 4-part series on Google Analytics new Ecommerce Reports then perhaps you are seeing the depth of implementation and clean data tracking needed to utilize these reports to their fullest.
If you haven't read the entire series here are quick links to the other posts:
The team at Blast Analytics & Marketing would love to work with you and your online store (or other online presence) to tailor these Google Analytics eCommerce reports to suit your unique needs.
Keep in mind that these eCommerce reports can be utilized for non-eCommerce websites to do analysis that isn't possible with other Google Analytics reports. See the section on "Using Ecommerce Module for Non-Commercial Sites?" in part 3 for a non-eCommerce example. Post a comment if you have any questions about non-eCommerce implementations, or anything else for that matter.
Remember, there's no better way to increase your competitive advantage than with new data at your fingertips.