Analytics Blog
Supporting Leaders to EVOLVE

Google Analytics Shopping & Merchandising Analysis (Part 2)
Enhanced Ecommerce Reports Empower Ecommerce Retailers
Continuing on from part one in this four part blog series on Google Analytics Enhanced Ecommerce reports, where I discuss the new Ecommerce Overview report. I am now taking a first look at the Shopping Analysis reports.
First up, is the Shopping Behavior Analysis report, followed by a review of the Checkout Behavior Analysis report.
Spoiler alert…there is a valuable surprise that we uncover in the Shopping Behavior Report which simplifies creating custom ecommerce segments.
Shopping Analysis Reports (Part 2 of 4)
You have to love good visualizations, and Google Analytics does not disappoint me with these new reports. Imagine the traditional vertical funnel reports, now rotated to run left to right, and you have an idea of the new approach. Let's take a look at one of our client's data as an example and I'll make out a couple (not so obvious) observations.
Shopping Behavior Analysis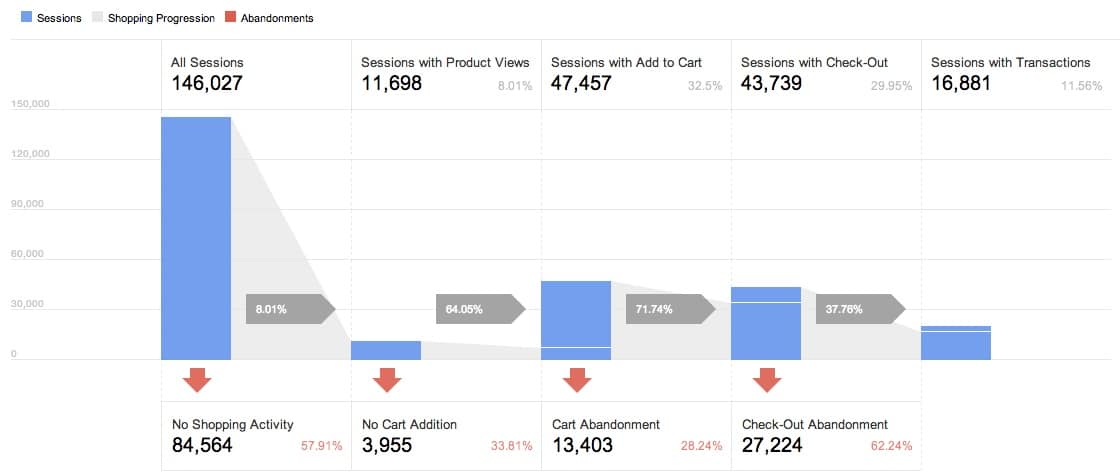 Even before my eyes naturally drift left to right, top to bottom, I get an immediate picture of progression and fall-off visually.  On the far left, I can see a session count for this period and the sessions where no shopping activity took place.
Progressing right I see the sessions with a "Product Views," followed by sessions with an "Add to Cart" event, sessions with "Check-Out," and sessions with a "Transaction."  Now if you are observant you might be asking, "Why are the sessions with 'Add to Cart' events higher than the 'Product Views'?"  Our client's site is designed in such a way that the "Add to Cart" are next to thumbnails presented on almost every page. The "Product View" counts kick in when the user drills down to a detail page making it very easy to add to cart without seeing a detailed product view.
This site is also different from many Ecommerce customer lifecycles, in the respect that users often keep a cart open for days or even weeks.
Another "Hold On, What's This" Moment
When I examined the Google Analytics Ecommerce Overview Report in my last post, I noted that there was a new section containing links allowing me to drill-down to examine various elements presented in the summary.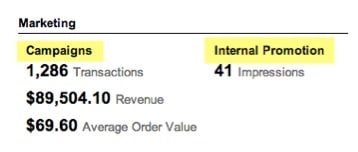 Here in this new shopping behavior analysis report, each column's bar and the detail under each are active links. Notice the thin white line?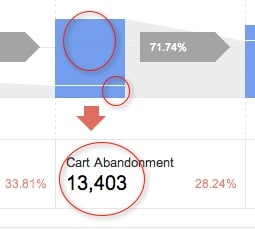 To my surprise, each of these areas is a link that will pop up a modal window, assisting me in the creation of a custom ecommerce segment based on sessions entering, sessions that include this funnel step, or sessions that exited this funnel step. Awesome!
If I had only one tweak to this report, it might be to make more prominent the final percentage, far right on top, showing me the overall sessions with transactions. Sure, I understand the design of the top of each bar shows me the progression through each step as a percentage, but this final percentage gives me a single metric of Ecommerce success.
Hello! We're converting 11% of sessions to transactions. Shout it!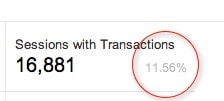 Rounding Out the Shopping Behavior Analysis Report
With all the fanfare surrounding the wonderful "horizontal bar chart funnel" visual, it's easy to miss the next section of the report. Here is a quick summary of session and abandonment metrics, defaulting to a breakdown by new users and returning users.

My new favorite option is the inline drop-down. Switching from defaulted selection of "User Type," I decided to take a quick look at this report by "Source." Perhaps for the first time, you can easily see metrics at each step of the shopping progression and ultimately conversion metrics by acquisition source. I love it.

Note that our client hit 15% for some sources where others were 0%. This is information we need to be sure their marketing department sees.
Checkout Behavior Analysis
Next up, the Checkout Behavior Analysis report is again a very cool alternative to how we have seen and used classic goal funnels. Though named as a "Checkout Behavior" report, it really is a "step-oriented progress" report where you first label each Ecommerce checkout funnel step from the start of a checkout process through order completion. Then use these step identifiers when sending Google Analytics ecommerce tracking data.
Creating Step Labels
Looking at the new Google Analytics administration screens, there is now a link to Ecommerce settings. One of the beauties of Google Analytics' new report is in the flexibility to create unique steps and labels that makes sense for your specific Ecommerce environment. Our client is not a traditional Ecommerce site. A cart may have items added to it over the course of a month, then once a month the order is fulfilled and products delivered or are available for pick-up at specific distribution locations.
Working with the client we identified the following series of key completion steps, beginning with our first step which occurs when the user clicks on a "secure checkout" button:
Start Checkout
Select Payment Option
Complete Order
Order Picked Up
Based on these steps, we entered labels within the Ecommerce setup screen: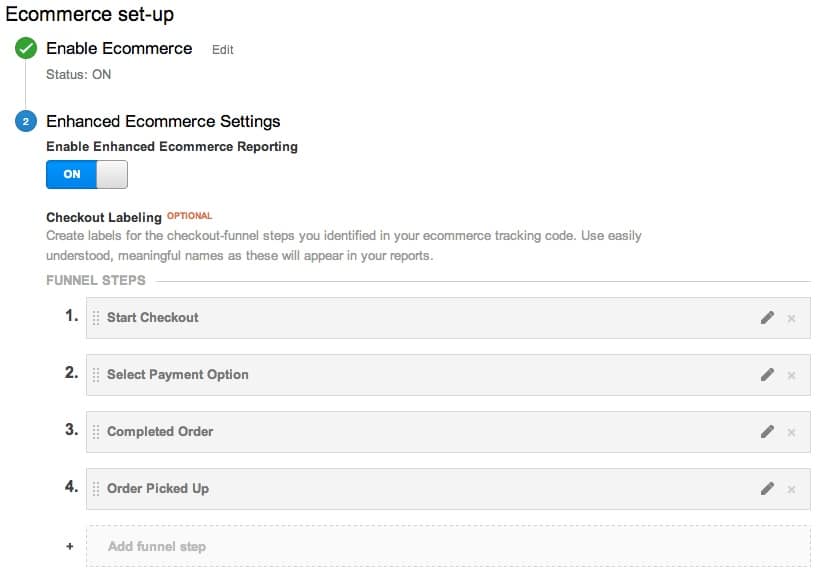 Note that within the setup screens Google Analytics now refers to these as "Funnel Steps," though not associated with conversions or goals—at least for now. I would like to think this is an area Google Analytics could build out.
Add Ecommerce Tracking Code Logic
Keep in mind creating a label is the easy piece. Each label represents new ecommmerce tracking code snippet that must added to your site. For our implementation, when we detected the start of the checkout, we captured the click event, identified it as part of the checkout process, and tell Google Analytics which step to track.

Once each step was defined, Google Analytics ecommerce tracking code in place, and enough data populated, we took a look at the new report for a first glance.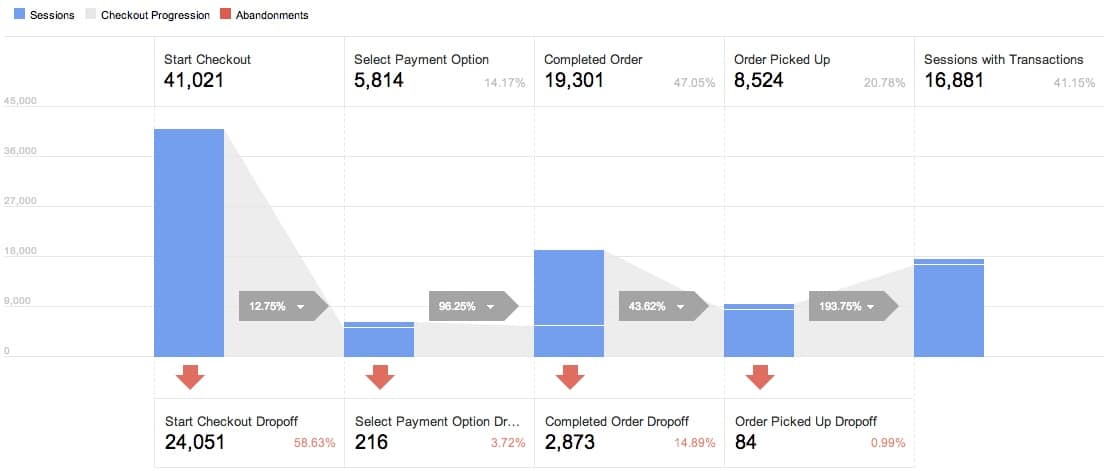 On our now customized report, we now see columns for each of the funnel steps we defined. The layout is very intuitive and completely designed around client's checkout process. Can I send a big "thank you!" to Google Analytics? 
I will point out the same observations I made when examining the previous shopping behavior report.
First, our session distribution may not match up to your expectations in a normal Google Analytics Ecommerce implementation, as it is normal for our clients to see more completed orders than payment option selections.
Second, I again note there is the ability to click on the bar itself, or the area at the bottom of each column, and create a custom ecommerce segment based on session at that funnel step population. Feeling rather brave, I clicked on one of the links, selecting my view, and I immediately see a revised funnel for only that segment. It couldn't have been easier. This custom segment is also named and saved, and can be used in order reports as well.
Next Stop, Product & Sales Performance Reports
IMHO, Google Analytics has become visually creative with the new reports and presenting metrics of importance to ecommerce merchants. I love that I can customize the checkout steps. The creative side of me wonders how many micro-steps I can dream up as part of the checkout process. My mind does tend to go off into the "what-if" scenarios.
In part 3 of this blog post series on the new Enhanced Ecommerce reports in Google Analytics, I will look at the Product and Sales Performance reports.
Please leave a comment below on what you think about these new reports, if you have any questions you would like us to address regarding the new Enhanced Ecommerce reports or anything else. Thanks for reading and please share our analytics blog and/or this post if you found it valuable.