Analytics Blog
Supporting Leaders to EVOLVE

Top 5 Use Cases of Google Analytics Flow Visualization
The Google Analytics team has announced an exciting new feature to both Google Analytics Standard and Google Analytics Premium. Flow Visualization is a new set of reports that will change how you visualize pathways throughout your site and as equally exciting, your goal funnels. It helps to answer the question: "How do people reach my site and what do they do once they get there?"
The base of this feature is nothing new. SiteCatalyst, Yahoo Web Analytics, WebTrends, and many others have had pathing reports for a while now. Flow Visualization extends beyond traditional pathway analysis reports through the use of imagery and powerful segmentation that makes actionable insight discovery a breeze in comparison. We've been using this feature since an early beta and the Google Analytics team has done what they do best by creating a feature that is both easy to use and very powerful.
There are three new Flow Visualization reports available only in the new Google Analytics interface (v5):
Visits Flow – Provides a graphical representation of your traffic sources and the paths through your site that your visitors follow.
Navigation Flow – Provides a graphical representation of your defined start and/or end node (customizable) and the paths to or from that your visitors follow.
Goal Flow – Provides a graphical representation of the paths your visitors took to successfully complete a conversion as well as where they dropped off.
On any of these three reports, you can apply one advanced segment (default or custom) and you can also change the dimension from the default 'Source' to pretty much any other dimension (keyword, ad groups, campaign, browser, region, custom variable, and more!). For the selected dimension, you can click on the customization icon to enter up to 5 items to filter (and group) on.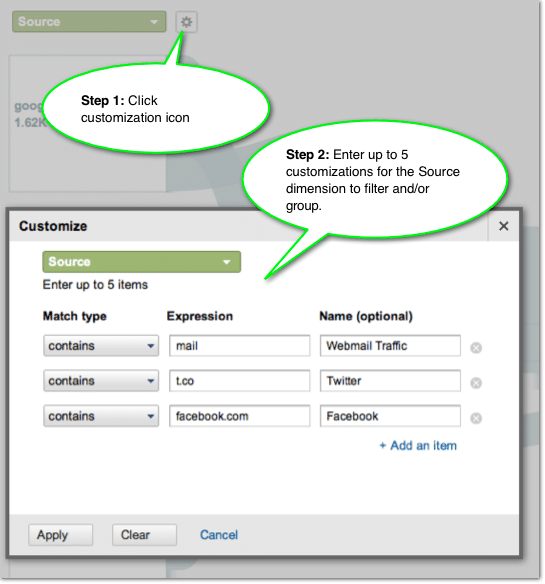 Top 5 Flow Visualization Use Cases
#1 – Goal Flow: Immediate Visualization & Goal Setup Validation
Historically in Google Analytics, you've always had to create your goal funnel and then wait to see the results for the future (forward-looking only). With the new Goal Flow report, you can create a new goal and immediately confirm that you've set things up correctly as well as view the historical data in the Goal Flow report to look at the pathways and conversion rates in that goal funnel. It is important to note that this is the ONLY report where you'll have historical goal data; the goal conversion dimension and other reports will NOT reflect this historical conversion rate. By the same token, if your goal flow changes over time and you alter the goal setup in Google Analytics, the historical data that you look at will only reflect the most current funnel settings. If you understand how this feature works, you can use it to your advantage for future conversion analysis.
This is a HUGE new feature that is very powerful and will greatly aid those users that forgot to setup a goal and realize that tomorrow they'll need to report on conversions from a month ago! While this shouldn't give you an excuse to not setup goals by any means, it is a feature to use in your arsenal. Lastly, I really like the looping connections in this report (see #2 below), so I'd likely keep one goal slot open for ad-hoc analysis of flow visualizations where looking at loop-backs is important.
#2 – Goal Flow: Looping / Backwards Traffic Visualization
The backwards traffic visualization in the Goal Flow report is one of my favorite new visualization tools. Below is a screenshot that does a better job describing what this new feature looks like. In this case, you can visually see the number of visitors that went from the cart page back to a product detail page. This is a great way to quickly analyze the flow during the checkout process and make actionable insights that you can then test and measure. In this specific screenshot, we have a page that shows related items to the user when they arrive to the cart, so that is likely contributing to a high number of users looking at additional items prior to completing their checkout.


#3 – Diagnose Site Issues
Just recently, I used the new Navigation Flow report in Google Analytics to help a client quickly figure out how visitors were getting to a specific page URL. They wanted to know how people were getting to a group of pages that had a specific querystring parameter in the URI. Without the Navigation Flow report, I would have to filter the pages report for that specific parameter value and then click into each, one-by-one and look at the navigation summary report. With the new Navigation Flow report, I simply define a page group (and I can use a regular expression — see LunaMetrics' excellent eBook) and immediately I can determine how people are getting to this URL and where they go afterwards. This custom node creation is a very powerful feature.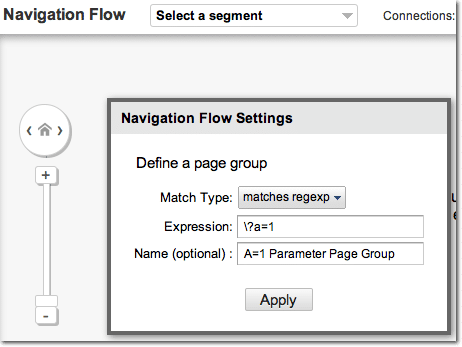 #4 – Segmentation to Quickly Perform AdWords Campaign Analysis
You can apply up to one advanced segment to the flow reports. As an example, you can select Paid Search Traffic (a default segment) and then switch the dimension on the flow report from Source to Campaign. Now, you are quickly able to view the performance of this traffic segment and easily highlight all traffic through a specific campaign. Measuring the performance of a campaign has never been easier!
#5 – Dimension Customization to Surface the Long-Tail
By using the dimension customization option, you can input a specific dimension value, such as traffic source, that doesn't get much traffic and normally wouldn't show on the flow report. This flexibility allows you to analyze the long-tail and get to more granular data. Just as easily, as mentioned higher up in this blog post, you can create groups or expressions to aggregate specific traffic sources (or other values for the selected dimension).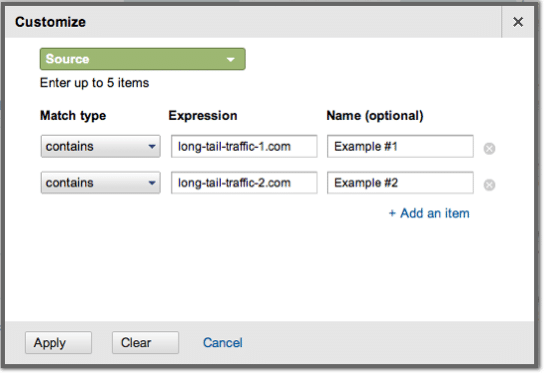 What We Don't Like
There is no way to save the page groupings that you define for the Navigation Flow report.
There is no way to save the dimension customization that allows you to enter up to 5 item definitions/names.
The new GA interface usually does a great job at keeping your position as you navigate between reports. It would be nice if I switch to another report and then come back to the flow report that it would remember which goal I was looking at as well as any dimension filters/customizations.
Data is sampled. You can select a smaller date range to reduce sampling.
You cannot export the data.
What do you think? Tell us what you do and don't like about the Google Analytics Flow Visualization. If you have interesting ways you have used the tool please share below in the comments.