Analytics Blog
Supporting Leaders to EVOLVE
WebAward for Best Airline Website with 70% Jump in Revenue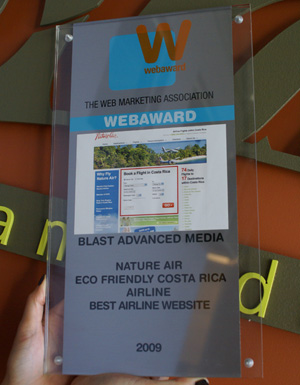 Blast Advanced Media received the Best of Industry WebAward For Outstanding Achievement in Web Development in the "Best Airline Website" category for strategic design and development on NatureAir.com, a site for the Eco-Friendly Costa Rica Airline.
Only one Best Website Award is given for each industry to the entry that receives the highest score in a given category. Blast is honored to have received such a highly prestigious award from the Web Marketing Association's 2009 WebAwards, a competition created to honor quality and excellence in Web development.
"Thank You," Web Marketing Association, for recognizing Blast's Web developers and marketers. We're proud, honored and absolutely thrilled! This gorgeous award is proudly displayed in our Roseville, CA office!
Thirteen is a lucky number, since this is the 13th year of the WebAward Competition. We are thankful that our work with Nature Air met such high standards of excellence.
We're especially proud to have has such a positive impact on Nature Air's online revenue.
Nature Air Online Revenues Jumped 70%
Nature Air engaged Blast Advanced Media to improve online revenues, search engine visibility and to increase website conversion. The goal of the website is to get people to book flights on NatureAir.com. In the website redesign and optimizaton, we made tactical changes and redesigned the site to vastly improve the overall user experience and provide clearer paths for users to book flights.
Blast used website optimization and usability testing strategies and improved search engine optimization to reverse decreasing online sales. In fact, the website is Nature Air's only marketing channel that is doing so well. Since the optimization of their airline website, Nature Air's online revenues are up more than 70% over their best year ever, despite the travel recession. Read Blast's Nature Air Case Study.
Thank you, Nature Air, for having such a strong commitment to your website and for working so closely with Blast to improve the user experience. You provide a great value to travelers. We want to give a shout out to you for being the "World's 1st Carbon Neutral Airline!"