Analytics Blog
Supporting Leaders to EVOLVE

Multi-Channel Funnels Provide Attribution Insight in Google Analytics
Note: Google Analytics has let us know that the feature called Multi-Channel Funnels discussed in this blog post is in limited pilot. That means that Google Analytics is testing the feature and its usefulness to a small group of trusted testers, and have not made any plans or a timeline for a full launch.
What is Multi-Channel Funnels?
When a conversion takes place in Google Analytics, it is attributed (given credit) to the last session and source that brought the visitor to the site when that conversion took place. This is a problem in the real world. A visitor will often take varying source paths across multiple visits before buying your product or filling out your lead form. Google is testing a new feature called Multi-Channel Funnels (as a limited pilot to trusted testers including Certified Google Analytics Consultants like us) that will help solve this problem.
Why is this Important?
Prior to Multi-Channel Funnels, your attribution analysis largely consisted of looking at the last-click. There are complex solutions to analyze previous sources that we routinely help our clients with, but overall there was no seamless solution to this problem. Savvy clients know that they should be looking at this data, but few have the tools to do so. Bringing this powerful feature to the masses elevates the entire analytics industry.
Purely looking at the last-click source doesn't give credit to the other sources that contributed to a conversion. This would be the same as giving your tip at a restaurant to the bus boy because he's the last person who helped you, even though your server did most of the work. Multi-Channel Funnels opens up the view to a larger part of your source attribution sphere.
How Does it Work?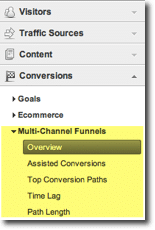 Google Analytics analyzes the past visits that took place and if the visitor did not convert, it counts this visit and associated traffic source data (source, medium, keyword, etc) as a potential assist/interaction that may lead to a conversion. If the conversion takes place, then the Multi-Channel Funnel reports will show these interactions (first-click source and everything in between) for up to a 30 day window. This is important to repeat that the conversion window will report on a 30 day history.
There are 5 reports under the Multi-Channel Funnels navigation menu (within the Conversions section). Again, this is a pilot release, so you likely won't see this when you log into your own account.
Overview Report
On the Multi-Channel Funnel Overview report, you'll find a recap of total conversions and assisted conversions. Assisted conversions are defined as conversions that required two or more visits to your site before the visitor converted.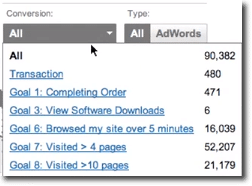 On the Overview report and any other reports in this section, at the very top, you can select whether you want to look at the data for a specific conversion (any of your 20 goals or ecommerce) or if you want to look at all conversions. Additionally, you can select to view just the conversions that had an AdWords visit contained within one the paths by changing the type from 'All' to 'AdWords'.
The overview report also shows a Multi-Channel Mix venn diagram that allows you select a combination of channels (source types) and view the intersection of that data.
Assisted Conversions Report
On the assisted conversions report, you'll find detailed data on how many conversions were assisted by each channel and the value of those conversions.

A valuable metric you probably won't initially be familiar with is called "Assisted / Last Interaction."
If the value is closer to 0, the channel functioned primarily as the final conversion interaction.
If the value approaches 1, the channel functioned equally in assists and final interactions.
As the value exceeds 1, the channel functioned primarily as an assist towards a conversion.
Top Conversion Paths Report
Visually, this is the most interesting Multi-Channel Funnel report.
At a glance, you can see the most common source paths that a visitor took that led to a conversion. There is also a lot of power and options in this report to look at keyword paths and campaign paths. If you are doing a great job at tagging your campaigns, then this will provide for some VERY valuable analysis.
For example, if you tag your email marketing campaigns, you may find that visitors come to the site via your newsletter and then later come back via an organic search (or maybe they come back via the same email in a different session). There is no reason to blindly make assumptions that a specific channel is not performing well unless you have the data to back it up — and Multi-Channel Funnels provides this data (in a 30 day window at least).
You can change the view to look at source/medium, source path, medium path, and other data (such as keywords, campaigns, ad groups, match type, and more).
You can also filter this report to look at specific path lengths (all, 2 or more, a specific count, or 10+).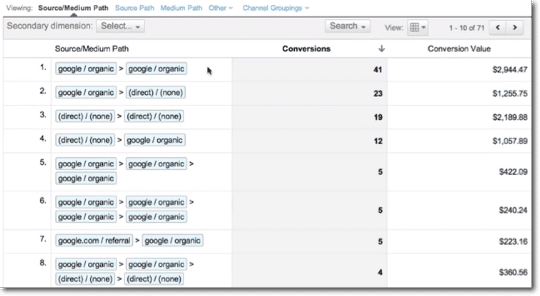 Time Lag Report
The Multi-Channel Funnel Time Lag report shows you the number of conversions that resulted from conversion paths that were 0, 1, 2, 3, etc days in length. Previously, if you had ecommerce tracking enabled, there was already a basic report that showed the Days to Purchase. This was not available for goals, so this is a welcome addition to the available reports.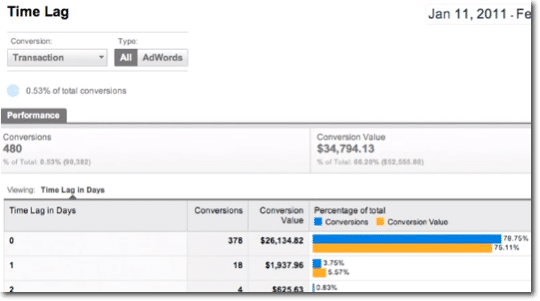 Path Length Report
The Multi-Channel Funnel Path Length report will show you the number of conversions that resulted from conversion paths that contained 1, 2, 3, etc channel interactions.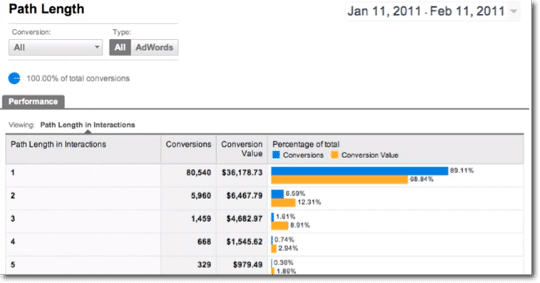 Custom Dimensions
On the Assisted Conversions and Top Conversion Paths reports, you create, save, and apply custom dimensions. These custom dimensions are a set of rules that allow you to group your traffic together.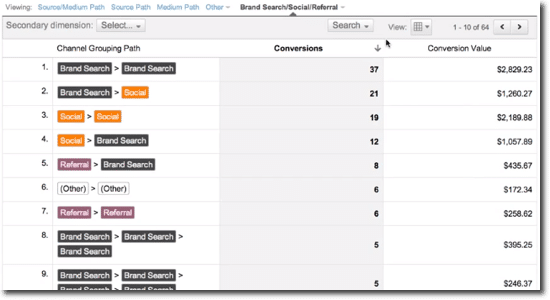 One great use for this would be to create a custom dimension that contains a rule to define what you would consider a keyword branded search (someone searching for your brand). You can define multiple rules per dimension and if none of the rules match, then you can specify a fallback dimension of either (Other) or a specific dimensions such as Source/Medium. This is very powerful to put some context around the data and intelligently group traffic. Another idea would be to define a rule for referral sources that contain mail in the URL and call it "Webmail Referrals."
Below is a screenshot of how you would set this custom dimension up: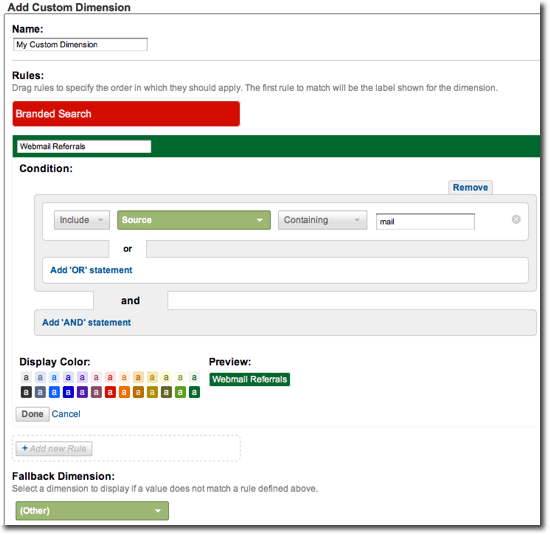 More Information
Leave a comment and let us know if you have any questions about Multi-Channel Funnels.