Analytics Blog
Supporting Leaders to EVOLVE
How to Remove Google Duplicate Listings (Finally)
Removing Google Maps duplicate listings is a struggle for many companies. If duplicates are not removed, they can create a customer service nightmare and adversely impact business revenues.
Finally, there is a newly successful, high-probability solution to get the duplicate listing removed. Google has really improved their processes and responsiveness to deal with duplicate listings. Below you will find step-by-step instructions on how to remove your duplicate Google Places listing.
Step by Step Instructions on How to Remove Duplicate Google Listing
Bonus – Google Maps Listing Performance Reporting
As a bonus, here is an example of a Google Places (aka Google Maps) performance reporting email. This is a great way to monitor activity of your Google local listing(s). It provides a quick view of the impressions (i.e. views) and actions taken. It is often a wake up call for people who don't expect people are utilizing their Google listings when they are or for those who didn't expect that their listing would be getting as much activity as it is.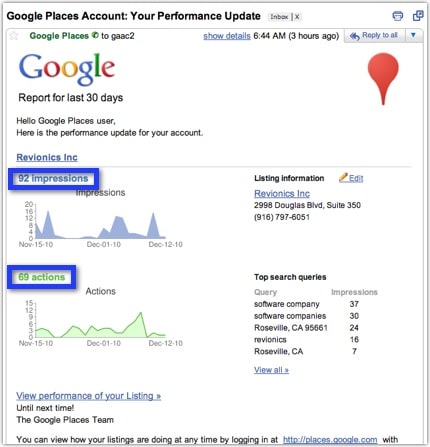 Please post your questions below. If you are interested in a Local Search Audit or more comprehensive Local Search Consulting please contact us at 1 (888) 252-7866.
Interested in additional resources to help you remove Google maps listings?