Analytics Blog
Supporting Leaders to EVOLVE

Google+ Local Is Now Friendlier to Healthcare
We caused a stir and Google responded with two positive changes to their Google+ Local Quality Guidelines that will help people get more accurate contact information for their healthcare providers.
Background
Five months ago, we blogged about the issues we've found with Google+ Local not being friendly to health care. The trend in the Health Care Industry is to have multiple departments and separate centers housed in one facility. These centers are run and managed independently of one another. The Google+ Quality Guidelines at the time allowed for only one listing for each facility. But, with no centralized reception area or phone number, this was often an impossible mandate.
Health Care organizations were being forced to decide between making changes to their real-life business models to fit the Google standard, or risk giving their members and potential members incorrect location information. Each health care organization we worked with had the same concern and each insisted that it had to change.
So, we took it to Google. We blogged, tweeted, reached out to other Local Search experts, and used the Google for Business forum to get our message out. We caused a stir, as we wanted to expedite this needed change.
Specifically, we reached out to influential local search blogger Mike Blumenthal and asked him to join the cause. He was happy to give us his support since he had also been running into the same issues.
Google+ Changes Local Guidelines
Recently, Mike reported that Google+ has now updated their Google+ Local Guidelines to address the issues we were facing.
The guidelines now allow for multiple departments to be listed at one facility:
"Departments within businesses, universities, hospitals, and government buildings may be listed separately. These departments must be publicly distinct as entities or groups within their parent organization, and ideally will have separate phone numbers and/or customer entrances."
This is the policy change that was needed!
Now, Google will reflect actual brick-and-morter locations instead of insisting that they change their business model to Google's predetermined format. We've already begun to list the departments at the health care facilities that we help manage so that searchers can get the best information possible.
Another Positive Change to the Guidelines
In addition to this change that we've been calling for, the updated Quality Guidelines also allow for another positive change that directly affects the Health Care Industry. The new guidelines state:
"Individual practitioners may be listed individually as long as those practitioners are public-facing within their parent organization. Common examples of such practitioners are doctors, dentists, lawyers, and real estate agents. The practitioner should be directly contactable at the verified location during stated hours. A practitioner should not have multiple listings to cover all of his or her specializations."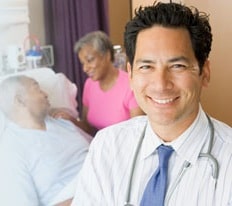 It is encouraging to see Google proactively address the need for an additional Google+ Local guidelines change. In today's world, many physicians practice out of multiple facilities within their organization. This change allows for these physicians to have separate listings for each location as long as their hours are listed correctly. This eliminates the need to choose a "primary" location for physicians.
These changes are bringing Google+ Local one step closer to being a reliable, accurate source of information for searchers.