Analytics Blog
Supporting Leaders to EVOLVE
Free & Fast Google Analytics
iPhone App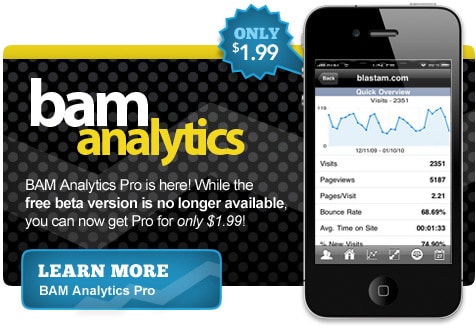 Our team launched our free Google Analytics iPhone app today. It is very basic to start but utilizing the Google Analytics API it provides fast access to your site activity within multiple accounts and profiles.
Being a Google Analytics Authorized Consultant, we frequently need to grab quick site metrics during a meeting and this iPhone app is all about giving you fast, anywhere access.
Google Analytics iPhone App Features:
App uses Google's Analytics API to retrieve your data quickly.
Date Ranges:
Yesterday
Last 7 days
Last 30 days
Custom Date Range
Analytics Reports display:
Visits
Pageviews
Pages/Visit
Bounce Rate
Average Time on Site
% New Visits
Coming very soon in next version
Top Landing Pages
Top Exit Pages
Top Keywords
Date Range Improvements so that date range is accessible from all pages and more easily changed
More to be announced…
Please share your ideas and feedback. We are excited about building this out into a fully featured app that will make all your valuable Google Analytics data quickly accessible.
Special thanks goes out to our iPhone App Developers Ryan Bertrand and Ken Colborn. Ryan did most of the development on this app. Even though there isn't much to the app at this point he put in a lot of hard work to get the foundation in place and get comfortable with the Google Analytics API so we can build it into a more robust app. Nice job, Ryan! You can check out some of his other useful and fun iPhone apps on iTunes like Fake'em Out Call, Text, & More.
Get the Pro version of the app now via iTunes: Google Analytics iPhone App or learn more about the new BAM Analytics Pro iPhone App