Analytics Blog
Supporting Leaders to EVOLVE
2012 MozCon – Day One Recap
Top 5 take aways from each MozCon day one presenters
Blast sent a contingent from our online marketing team to the 2012 SEOmoz MozCon conference in Seattle, WA. Rand Fishkin, SEOmoz CEO and arguably the most influential forces behind link building today, knows how to put on a conference. Over 700 link builders, marketers, business owners and other digital professionals have amassed for three days of talks by some of the best in the business. Day one is in the bag and we have the highlights for those of you not fortunate enough to make the trip.
Go to the MozCon-live site to download the full presentations for all of today's speakers. Check our blog again tomorrow for another recap of day two of the 2012 SEOmoz MozCon.
Rand Fishkin, SEOmoz.org, Welcome to MozCon 2012
Rand came out like a rockstar to a crowd of groupies. He got everybody into the groove and feeling good with some laughs. by reminding us all that SEO is indeed alive and just as important as ever. The SEOmoz team is bigger and badder than ever before and they're busy trying to make the digital marketing world a better place:
SEOmoz is going to be coming out with new product updates within the next 30 days.
A new personal Rand Fishkin blog that he's going to use to get back to his roots and let his words and imagination fly a little more freely: Moz.com/rand
Marketing job board: http://jobs.inbound.org
SEO is changing; content and social media are more important than ever. With so many social media networks to navigate the need for expert help is greater than ever.
A happy update that Rand's wife is well down the road to recovery after a serious health problem.
Paddy Moogan, Distilled.net, 35 Ways to Get Links
It's tough to open a conference, especially when it's meant to elevate the level of knowledge to an advanced group of professionals. Paddy Moody brought it though and not only shared a ton of very clever link building ideas, but he did it with pinache. He gave a whopping 35 real-world link building tips, but even more valuable was his advice to anybody trying to play in the link building game:
Link Building is not as easy as everyone thinks
You need influence/trust in order to get links to get links with good content alone. It takes time to gain that trust.
Build strong relationships with bloggers by asking them what content they want, instead of telling them, then create infographics based on what they say. Send them the finished product and they'll rave about it like a real team player instead of a paid lacky.
Research your competitors – Find where they: have links, guest blogged, sponsored events, etc. You can then reach out to those same willing sources.
Create a Google (or some other of your preference) profile page for your clients. Very high quality link sources, such as newspaper sights, often refuse to link to a homepage. They are much more willing to link to a profile page so create one and offer it to them.
Jon Coleman, REI, Build the Agile SEO Framework
Working for REI gives Jon and his team plenty of opportunity to get feedback from customers and test new ideas. Jon's talk highighted some solid, well-established business practices that no company should forget:
One thing at a time, waterfall development techniques don't work anymore. They're too slow
Embrace an agile development practice that is dynamic and easily customized and honed
Test, test, test. Use real people and listen to what they say
Be biased towards action; remove impediments
Stop chasing perfection. Mistakes will be made and that's good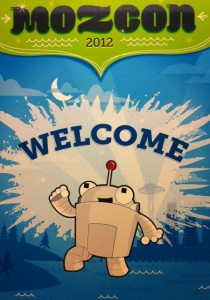 Jennifer Sable Lopez, SEOmoz, Community as Inbound
Jennifer works for SEOmoz and has gone from being the solo social media manager to community manager for the every growing team of marketers. Strong, outspoken and ready to help, Jen emphasized the need to be a part of the community and helping to nurture the community so it can grow:
It's a team sport – Everyone in the company needs to help and support the community
Test, Test, Test – Test everything to figure out what works best, then test again
Listen & Act – When someone gives you feedback make sure you act on it
Give 'em Props – If someone in your online community does something good, tell them thanks, publicly
Give a Sh.. Care – We are all human beings. Act like it and truly care for those in the community
Jon Henshaw, Raven Tools, How Relationships Drive link Building
Raven Tools is awesome. If you don't know that for yourself then you need to use it and figure that out. The team at Raven has come out with several big updates over the past couple of months and more are on the way.
Heres what Jon has to say about relationships:
Develop relationships naturally. Don't push and cajole. Don't be a stalker
Treat marketing relationships like any other relationship
People want to be heard, noticed and treated kindly
Don't always be selling something
BE GENUINE
Annie Cushing, SEER Interactive, Badass Excel Tips and Tricks for Your Data
Annie is the queen of Excel. Spend 5 minutes watching her talk about it and you can see she loves it and loves what it can do. That love has motivated her to know it better than you (and pretty much everybody else), but that's OK, she also loves sharing what she knows. Here are a few of her most helpful tips:
Format your Excel files to make really ugly data sexy
Use the Quick Access Toolbar to make formatting quicker
Use text filters to help clean up imported data
Use conditional formatting to highlight certain metrics
Add charts to help bring the data to life
Matt Peters, SEOmoz, Web Spam Research
Ever wonder who is behind all the crazy-advanced logic that it takes to make the SEOMoz index the powerhouse it is? Well, that's Matt Peters. The guys has a PhD in Applied Math and clearly loves what he does:
"Unnatural" sites or link profiles are moderately easy to detect algorithmically
mozTrust does a good job predicting spam links
A high percentage of non-branded external links are spam – Don't be afraid of branded anchor text
Overall, 17% of sites are penalized, 5% are banned
You are at risk to be penalized if you build obvious low quality links.
Will Reynolds, SEER Interactive
Without a doubt the best show of the day was Will Reynolds. I've mentioned that the other speakers love what they do, but Will LOVES what he does. The guys is a natural and he gets it in ways that few do. He's at a point in his career where he can create his own reality and it's an awesome thing to behold. He gave several great tips that we can all apply to our own lives and do our best to get to our own professional nirvana:
Stop talking to clients about "link juice"; they have no idea what that is and they don't care. Talk to them about revenue, conversions and other "RBS", real business sh*t
Stop utilizing tactics that don't generate revenue or conversions
Building followers is the new link building
Set up Google Alerts when you launch new, real content and reach out to those who get on the train
DO NOT press enter when you enter a search term in Google. Look at the suggestions that come up and use them in your content. Those are the things people are searching for
Micheal King, iPullRank
If there's one thing that can be said about Michael King it's that he knows how to bring it. The guy opened his presentation with a DJ and a rap about marketing; YES! THAT'S how you keep the energy going. Micheal is obviously a guy that has more creativity than he can even harness. Not only did he successfully pitch a new tool to Rand, he also announced several new tools he and his team at iPullRank are in the process of rolling out:
Content is the glue of inbound marketing
SEOs are not doing Market research as the should – They should be building out personas, researching customers needs, learning what the demographics are
"A major virtue of personas is the establishment of empathy and undertanding the individual who uses the product" – Donald A Norman
Focus on the story of the customer. Learn what they are trying to accomplish on your site.
Find out what your competitors are doing. You don"t want to be left behind.
UPDATE: Check out our other MozCon recaps:
Mozcon Day 2 Wrap Up – Including talks from Richard Baxter, Cyrus Shepard, Ian Lurie, Greg Boser, Rhea Drysdale, Marty Weintraub, Peter Meyers, Jenny Lam, and AJ Kohn
Mozcon Day 3 Wrap Up – Including talks from Martin MacDonald, Aleyda Solis, Mike Pantoliano, Jessica Bowman, Joanna Lord, Rand Fishkin, and Tom Critchlow