Blast Named Optimizely 2021 Experimentation Partner of the Year in North America
Supporting Leaders to EVOLVE

Award recognizes strong partnership focused on optimizing digital experiences.
ROSEVILLE, CA (October 6, 2021) — Blast Analytics, a strategic analytics consultancy supporting leaders to EVOLVE their organizations, has been named as Optimizely's 2021 Experimentation Partner of the Year. The award, announced during the Optimizely 2021 Partner Awards on September 16, 2021, further solidifies the partnership between the two companies, which work together to help clients optimize their digital experiences with data-driven solutions.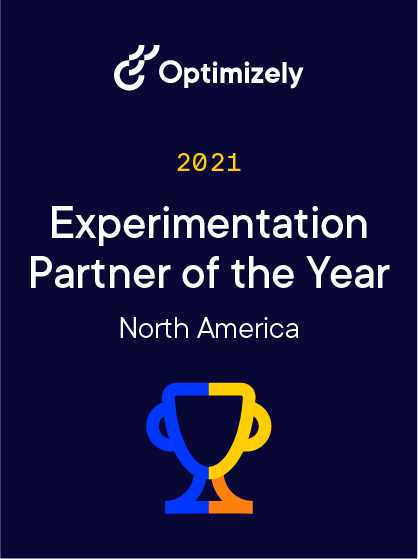 Specifically, the Experimentation Partner of the Year award recognizes Optimizely projects that drive experimentation, optimization, and personalization, in which Blast has a proven track record for delivering results. According to Optimizely, Blast is among a select group of solutions partners that has "successfully implemented or maintained digital experimentation solutions that enabled clients to deliver customer-centric digital experiences that drove engagement and significantly boosted conversion."
"We applaud Optimizely's dedication to help brands deliver a transformative digital experience, and we're thrilled to be recognized as their Experimentation Partner of the Year," said Roopa Carpenter, Vice President, Digital Experience at Blast. "Optimizely truly understands that to unlock the digital potential, brands need to invest in the right experimentation platform and collaborate with a strong partner who can strategize, execute, and ultimately drive short and long-term success for their experimentation efforts. Blast looks forward to the continued partnership with Optimizely so, together, we can help even more brands understand, optimize, and measurably impact their digital experiences."
As an Optimizely 2021 Gold Certified Partner, Blast not only helps clients in the procurement of Optimizely's leading Digital Experience Platform, but is a critical technology partner to help implement, optimize, and increase the return on investment of the platform. Our Optimizely consulting team has extensive expertise helping brands deliver superior digital experiences across all touchpoints to increase engagement, interactions, and conversions.
Using Optimizely to increase customer awareness and qualified engagement, Blast recently helped a major healthcare insurance client improve their benefits enrollment experience and results by employing personalization using Optimizely. Read more and see the results.
Learn more about our Optimizely consulting services.
About Blast Analytics
Blast Analytics is a strategic analytics consulting company accelerating the complex analytics journey and digital transformation for enterprise and mid-market clients. We solve clients' data challenges to help strengthen marketing campaigns, optimize digital experiences, increase competitive advantage, and, ultimately, EVOLVE their organizations. See our next evolution at BlastX.com.
About Optimizely
Optimizely is on a mission to help people unlock their digital potential. With its leading digital experience platform (DXP), Optimizely equips teams with the tools and insights they need to create and optimize in new and novel ways. Now, companies can operate with data-driven confidence to create hyper-personalized experiences. Building sophisticated solutions has never been simpler. Optimizely's 900+ partners and 1100+ employees in offices around the globe are proud to help more than 9,000 brands, including Toyota, Santander, eBay, KLM and Mazda, enrich their customer lifetime value, increase revenue and grow their brands. Learn more at Optimizely.com.
Contact
Blast Analytics
Joe Wuelfing, (888) 252-7866
[email protected]