Blast Chat – Google's Cookie Ban
Supporting Leaders to EVOLVE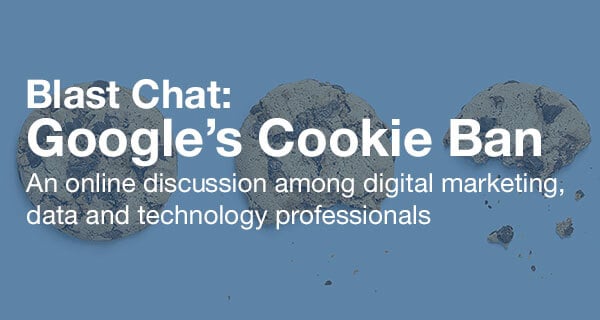 Google's Third-Party Cookie Ban Delayed — Get Ahead by Preparing Now
Join industry leaders for our next Blast Chat where we will discuss how Google's update will impact the landscape of customer data and personalization. In this casual conversation together, you'll learn:
What Google's announcement means for your business
What zero- and first-party data is and how to leverage them
How starting now may create significant competitive advantage
Thursday, August 26, 2021
11 a.m. PT
Space is limited, please register for the event today!
Can't join live? Sign up anyways and select "On-Demand" to receive the recording afterwards.
This event has already happened but Blast Chat on-demand video is available. Please fill out the form below to view the video.


The Landscape is Changing, Join the Conversation and Stay Ahead of the Pack
In a friendly, virtual setting, Roopa Carpenter (VP, Digital Experience) and Jer Tippets (Principal Solutions Architect) will discuss Google's latest third-party cookies ban announcement, how to take advantage of the extra time, tips to begin your first-party data marketing action plan, and how to incorporate zero-party data into your strategy. You'll have the opportunity to ask questions and interact with industry peers, including our experts, in this small-group setting.
Agenda
11:00 a.m. PT: Introductions
11:10 – 11:30 a.m. PT: Presentation
11:30 – 11:45 a.m. PT: Open Discussion
About Blast
Blast supports leaders to EVOLVE their organizations, helping you identify and solve unique business problems through analytics and marketing intelligence. Work with us to make decisions that are driven by data, but guided by experience.
Space is limited, so please RSVP for this event soon.
Once you submit this form, you'll be taken to a page that allows you to add this event to your calendar. You'll also receive a confirmation email.