Virtual Event – Blast Chat – State of the CDP
Supporting Leaders to EVOLVE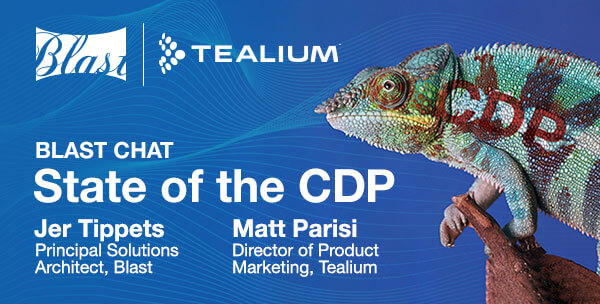 Top Takeaways to Help You Adapt to the New Digital Era
Join Blast Analytics and Tealium virtually on June 30, at 11 a.m. PT, for our next Blast Chat on the State of the CDP. In this casual conversation together, we'll discuss:
Valuable industry thought leadership and how marketers can utilize customer data platforms (CDPs) to adapt to the new digital era.
Wednesday, June 30, 2021
11 a.m. PT
Space is limited, please register for the event today!
This event has already happened but Blast Chat on-demand video is available. Please fill out the form below to view the video.


Join us virtually on Wednesday, June 30, at 11 a.m. PT, for our next Blast Chat — State of the CDP 
In a friendly, virtual setting, Jer Tippets (Principal Solutions Architect at Blast) and Matt Parisi (Director, Product Marketing at Tealium) will discuss why CDPs have become vital to marketing success, how marketers are adapting to change with CDPs, the requirements for a successful CDP implementation, and more. You'll have the opportunity to ask questions and interact with industry peers, including our experts, in this small-group setting.
Agenda
11:00 a.m. PT: Introductions
11:10 – 11:30 a.m. PT: Presentation
11:30 – 11:45 a.m. PT: Open Discussion
About Jer
Jer Tippets is a solutions architect at Blast with more than 15 years of experience in analytics, customer data platforms, and personalization. His favorite part of his job is simplifying the process and the data to help companies build authentic relationships with their customers.
About Blast
Blast supports leaders to EVOLVE their organizations, helping you identify and solve unique business problems through analytics and marketing intelligence. Work with us to make decisions that are driven by data, but guided by experience.
About Matt
Matt Parisi is the Director of Product Marketing at Tealium. He has more than 15 years of strategic marketing experience across both traditional and digital marketing channels, with an expertise in SaaS and Martech solutions. His experience spans industries working at consultancies and tech vendors.
About Tealium
Tealium connects customer data – spanning web, mobile, offline, and IoT devices — so brands can connect with their customers. Tealium's turnkey integration ecosystem supports over 1,300 client-side and server-side vendors and technologies, empowering brands to create a unified, real-time customer data infrastructure. The Tealium Customer Data Hub encompasses tag management, an API hub, a customer data platform with machine learning, and data management solutions that make customer data more valuable, actionable, and secure. More than 1,000 businesses worldwide trust Tealium to power their customer data strategies. For more information, visit www.tealium.com.
Space is limited, so please RSVP for this event soon.
Once you submit the above form, you'll be taken to a page that allows you to add this event to your calendar. You'll also receive a confirmation email.