Search Engine Optimization (SEO) Fundamentals Training
Supporting Leaders to EVOLVE
Want to learn best-practice strategies to maximize your organic search engine traffic, or find out why you're not showing up in the search engine results page?
Training Overview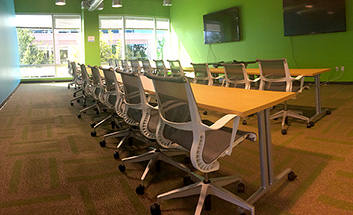 Think you know the basics of a good Search Engine Optimization (SEO) strategy? Think again. The SEO landscape has changed drastically over the past few years, and it continues to evolve through new technology and constant algorithm updates. In order to compete, you need to understand the new SEO landscape and the tactics that will provide real, long-lasting results. There are no shortcuts in modern day SEO. It takes an integrated effort, and this training will provide you with the knowledge and tools to succeed.
During this interactive and hands-on training, located in our freshly designed training room, we'll cover the fundamentals of a variety of topics and teach you how to implement an integrated SEO program. The skills you learn will be immediately actionable for your own website, and includes both on page and technical aspects, as well as an in-depth review of how SEO and content marketing work together.
Course Topics
The following topics will be covered in detail during the Search Engine Optimization training:
Keyword Research
Content Strategy
Internal and External Linking
SEO Tools
Technical SEO
Site Structure for SEO
Content Marketing
Local SEO
On Page SEO Best Practices
SEO Value of Social Media
What Can I Expect?
Our seasoned team will share their expertise and insights with you as they navigate you through the intricacies of Search Engine Optimization. Although not necessary, we encourage participants to bring a laptop to take notes and set up your own SEO tools throughout the training. Wifi access will be provided.
During this course, you will be provided with a take-away guide that contains a reference for basic concepts and terminology, along with an SEO best practices cheat sheet, lists of online resources, and more.
Also Included:
Catered lunch
Detailed Resource Guide
Expert guided small group exercises
Snacks

Talk to a SEO Marketing Expert Today
Call 1 (888) 252-7866 or Request a Consultation