Twice is Nice! Blast Wins Two Awards from Digital Analytics Association
Supporting Leaders to EVOLVE

Company wins Top Small Agency Award and Donna Treat wins President's Award at OneConference 2021.
ROSEVILLE, CA (October 6, 2021) — Blast Analytics, a strategic analytics consultancy supporting leaders to EVOLVE their organizations, was honored at both the company and individual levels at the Digital Analytics Association (DAA) One Conference 2021.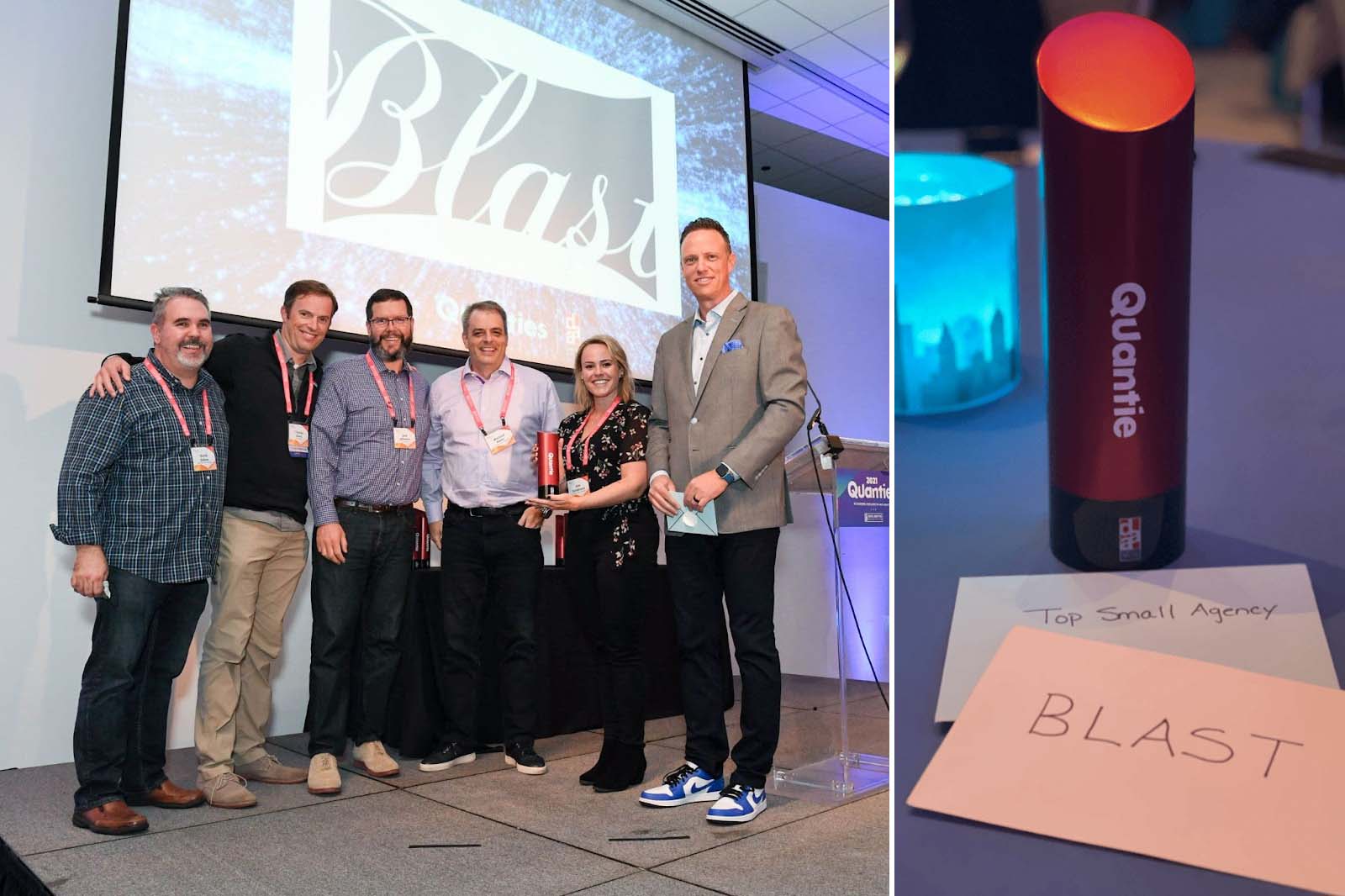 Blast Wins Top Small Agency
For the second time in three years, Blast was named as the Top Small Agency, recognizing the company's success in creating a measurable impact on our clients. Specifically, Blast has demonstrated industry leadership in delivering data-driven solutions and actionable insights to help clients improve their marketing performance and optimize digital experiences. Blast was honored with the same award in 2019.
Charles Davis, Vice President, Solutions at Blast, along with several other team members in attendance, accepted on the company's behalf at the DAA's One Conference Quantie Award program on Wednesday, October 6, 2021.
"The Digital Analytics Association's Quantie Awards represent the best of the best, so Blast is extremely honored to be selected among a group of outstanding, innovative companies pushing our industry forward, particularly in the area of digital experience," said Charles. "It's truly a testament to our exceptionally talented and devoted people, who continue to deliver measurable results for our clients."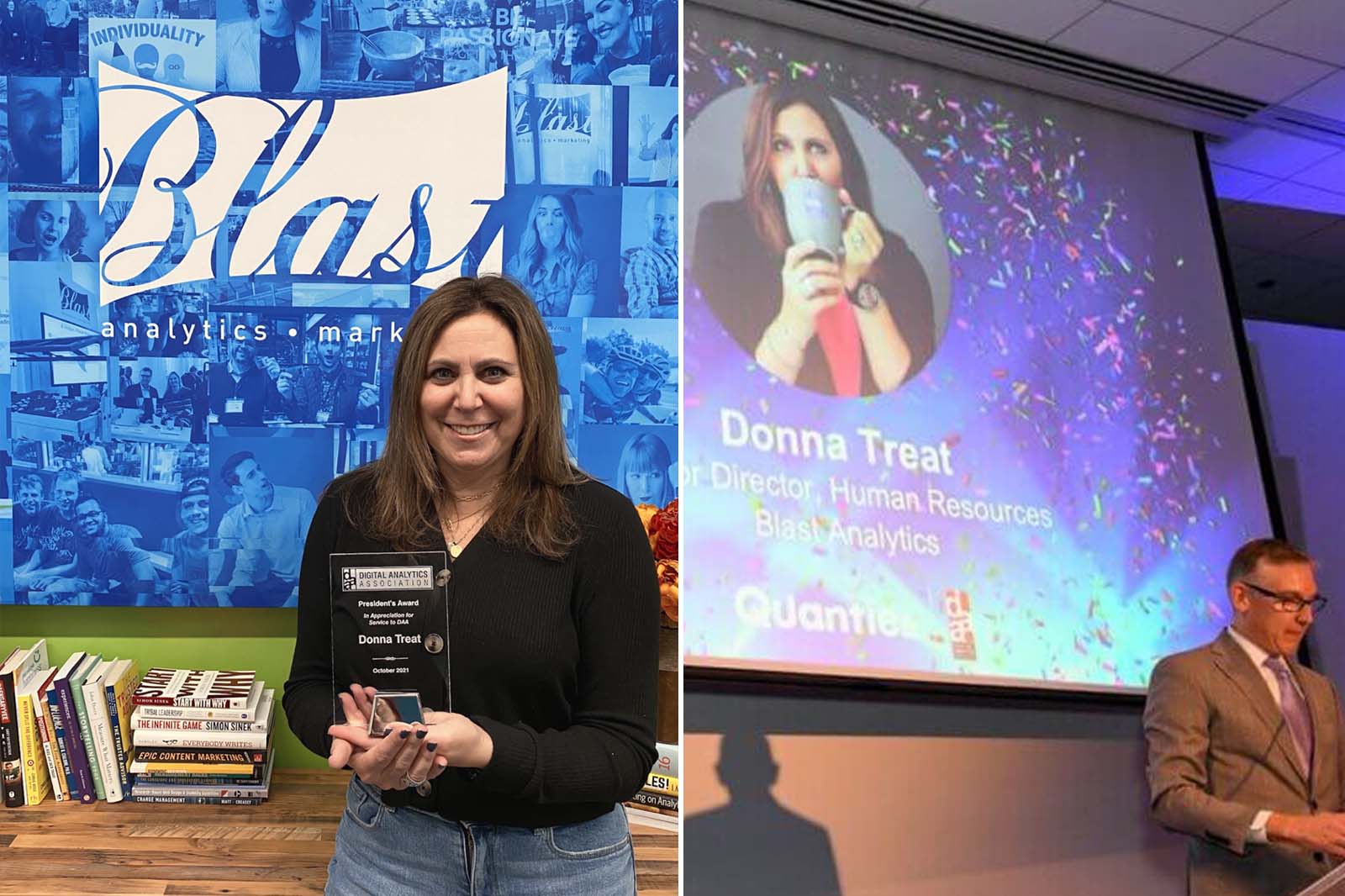 Donna Treat Wins President's Award
Speaking of those people, Donna Treat, Senior Director, Human Resources at Blast, was honored with the DAA's prestigious President's Award at the same ceremony. The award is given to an individual with exemplary volunteer service and impact to the DAA over the past year.
"It's my honor to present the 2021 DAA President's Award to Donna Treat, who has provided great service to our association in multiple capacities," said David McBride, Board President for the DAA.
Specifically, Donna has volunteered to lead the DAA's internal anti-racism task force and was instrumental in helping the DAA recruit and hire its new Executive Director, Kimberly Mosely.
​"I'm truly humbled to have my work recognized and be honored with the 2021 DAA President's Award," said Donna. "There are many others who share in this award, including my fellow DAA task force members, David McBride and the executive search committee, and certainly my teammates at Blast. The Digital Analytics Association is a great resource, providing a place to connect with industry peers, share knowledge, and learn from each other."
Congratulations to Blast and Donna!
About Blast Analytics
Blast Analytics is a strategic analytics consulting company accelerating the complex analytics journey and digital transformation for enterprise and mid-market clients. We solve clients' data challenges to help strengthen marketing campaigns, optimize digital experiences, increase competitive advantage, and, ultimately, EVOLVE their organizations. See our next evolution at BlastX.com.
With teammates sharing a purpose to "Make Your Mark" — on our company, teammates, clients, industry, and community — Blast has been named one of Inc. magazine's top 5000 fastest-growing private companies and is also a Great Place to Work-Certified company.
Contact
Blast Analytics
Joe Wuelfing, (888) 252-7866
[email protected]